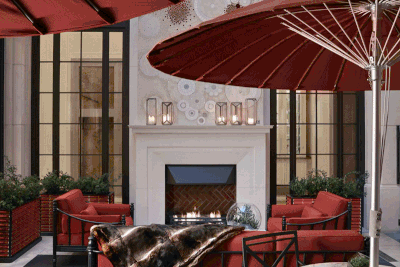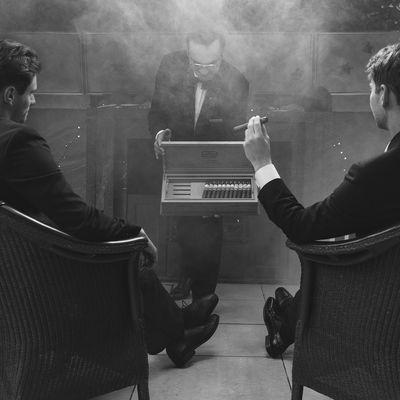 The Best Cigar Rooms In London

---
It might not be the healthiest pastime, but dapper gents have long been partial to an occasional cigar. For the full experience, you need to visit one of London's cigar rooms. Tucked within top hotels, here are the city's best – plus some pro tips on what to know when you get there…

Photography Corinthia Hotel, The Lanesborough, No. Ten Manchester Street
A few months ago, the Connaught hotel opened a cigar room tucked away behind a secret door in its Red Room bar. Guests can drop in and shop the collection with the help of the cigar team, or settle into walnut club chairs to try a selection of cigars presented on a marble altar. There are more than 170 Cuban cigars to choose from – including rare and vintage varieties – all stored in an Italian humidor curated by Adam Lajca, one of only 33 Masters of Havana Cigars in the world. The lounge has a Swiss extraction system which continually cleans the air to stop the space getting too smoky. Order classic cocktails from the bar or choose from rare spirits in the drinks cabinet, including vintage Japanese whiskies and rums.
Carlos Place, Mayfair, W1K 2AL
Visit The-Connaught.co.uk
The Wellesley Knightsbridge
The Wellesley Knightsbridge hotel is home to Europe's largest collection of cigars, worth more than £1.5m. Its in-house expert Giuseppe Ruo is a fount of knowledge, and can advise on everything from varieties and brands to spirit pairings. The hotel's humidor is rumoured to have cost £500k, hosting an impressive collection of cigars from brands like Montecristo and Cohiba, as well as limited-edition Bolivars. Head into the main lounge with its heritage feel and opulent interiors, or enjoy an evening on the terrace. You can also book a two-hour cigar and cognac experience with the team.
11 Knightsbridge, SW1X 7LY
Visit Marriott.co.uk 
Father and son duo Edward and Eddie Sahakian are two of the world's most famous cigar experts, so you can trust you'll be in good hands at their lounge and shop within the Bulgari Hotel London in Knightsbridge. Cigars are sourced from Edward's private collection which he's amassed over the last 40 years – look out for rare Havanas you'll struggle to find elsewhere. Experts fly in from around the world to see the impressive humidor and learn about the brands behind the glass, including the Davidoff 80 Aniversario, Gran Reserva cigars and a near-complete range of Cuban Davidoffs. You can even bring in your own cigars to be stored and aged. 
171 Knightsbridge, SW7 1DW
Visit BulgariHotels.com
As you'd expect, The Ritz's cigar lounge is a classy affair. The art-deco furnishings, leather chairs and artwork pay homage to some of the hotel's most notable guests, including Sir Winston Churchill, Charlie Chaplin and Sir Roger Moore – all of whom shared a passion for fine cigars. An expert from the team welcomes guests through the hand-crafted walk-in humidor where you can see the cigars in situ, including a selection of the hotel's own cigars which are hand-rolled in the Dominican Republic using tobacco from Cuba and South America. Settle down with a whisky, cognac or rum before browsing through cigar accessories in the shop, including at-home humidors. 
150 Piccadilly, St. James's, W1J 9BR
Visit TheRitzLondon.com
The Lanesborough has a heated outdoor cigar terrace which is open year-round. Guests can sit in leather armchairs to try various brands curated by the hotel's cigar sommelier, Neil Millington. There's an extensive selection of Cuban and pre-Castro cigars in the walk-in humidor – some even date back to the early 18th century. The hotel offers regular masterclasses where guests can learn how to prepare, cut, light and smoke the cigar, or how to curate their own collection at home. The Garden Room has an excellent drinks menu featuring wines from the hotel's cellar, inventive cocktails and cognacs, as well as sharing dishes if you want a bite to eat. 
Hyde Park Corner, Knightsbridge, SW1X 7TA
Visit OetkerCollection.com
No. Ten Manchester Street
Want to impress your mates on your next night out? Start the evening with whiskies and cigars at Marylebone's No. Ten Manchester Street Hotel, which has an excellent range of hand-rolled Havanas. Guests can relax in the lounge or smoke on the heated outdoor terrace to try a sampling selection chosen by the team, or individual cigars like a Montecristo, Cuaba or Sancho Panza. It's also one of the only spots on this list where you can smoke your own cigars, provided you follow the £25pp minimum spend rule. Order bar snacks, pizza and pasta from the terrace menu, followed by whisky flights.
10 Manchester Street, Marylebone, W1U 4DG
Corinthia London's al fresco restaurant The Garden is a buzzy spot in summer, but during the winter months it's an altogether cosier affair. The hotel's head cigar sommelier is in charge of the walk-in humidor that stores hundreds of cigars said to be worth millions of pounds, from rare Havanas to a Davidoff Dom Perignon. Other brands on offer include Cohiba, Romeo Y Julieta, Partagás, Vegas Robaina and Por Larranaga, the oldest Habanos brand still in production. Guests can order Alpine-inspired dishes from an à la carte menu alongside hot cocktails, whiskies, cognacs and rums. 
10A Northumberland Avenue, Embankment, SW1A 2BD
Visit Corinthia.com 
Ready to light up? Giuseppe Ruo – in-house cigar expert at The Wellesley Knightsbridge hotel – gave us a rundown of what you need to know…
What are the different types of cigar, Giuseppe?
01
Robusto
Example: Romeo y Julieta Reserve
The most popular size of cigar, it can be smoked in around 45 minutes. It has a medium body with notes of toasted nuts, spiced coffee and leather.
02
Toro
Example: Montecristo White
These kinds of cigars are meant to be savoured. With a medium body, the flavour notes vary as you smoke them.
03
Corona
Example: Highclere Castle Edwardian
The most standard-looking type, a corona is a great entry-level cigar. Rich yet mellow with notes of caramel.
04
Panatela/Lancera
Example: Joya de Nicaragua Antano
Robust cigars with a rich and heady profile.
05
Churchill
Example: Cohiba Dominican
Full-bodied cigars with flavours that change as you smoke them. These tend to have notes of coffee, spice and leather.
What are the most popular types?
It's down to personal preference but the most popular cigars smoked at our hotel are Hoyo de Monterrey Epicure No. 2, Romeo y Julieta Wide Churchill, Partagas D4, Bolivar Libertadores and Cohiba Robusto. For me, the only cigars worth smoking are from Cuba. If you're new to cigars, begin with something simple like an H Upmann Half Corona, Cohiba Siglo 1 or a Montecristo No. 5.
Talk us through the different cigar sizes…
Some brands like Cohiba or Trinidad have their own sizes, but the most common sizes from smallest to largest are: Mareva, Corona, Robusto, Double Corona, Sublimes and Salomones. Bigger isn't necessarily better, though they do tend to pack in more tobacco than a thinner one.
What is the 'body' of a cigar and does it matter?
When we talk about the body of the cigars, we mean the strength of each cigar. It definitely matters, as the bigger the body of a cigar, the stronger it is.
What are the best brands to know about?
Cohiba, Montecristo, Romeo y Julieta and Partagas. If you're after a rare, really special cigar, try Don Candido, Don Alfredo, or Cuban Davidoff Dom Perignon.
"Cuban cigars aren't cheap but you don't need to spend a fortune to smoke a good one."
How much should you pay for a quality cigar?
Cuban cigars aren't cheap but you don't need to spend a fortune to smoke a good one. At the Wellesley, we stock cigars from £25 to £15,000. The rarer the type, the more expensive they are.
How do you prepare a cigar for smoking?
Firstly, prepare yourself by making sure you have a comfortable chair, your favourite drink and a book to hand. Once you've chosen your cigar, cut the end and light it.
Do you remove the band before you smoke it?
Personally, I don't because removing the band could damage the cigar, but it does just come down to personal preference.
How do you cut and light a cigar?
You need to cut your cigar before smoking it. Get a very sharp cigar cutter (doubled blade ones are the best) and cut 2mm of the cigar cap, being careful not to damage the skin. To light it, use long old-style matches or a butane lighter, which is much more precise.
How do you smoke it?
The number one rule is to never inhale the smoke. Most cigars are about 30 to 40 times stronger than a cigarette, so you don't want to bring the smoke into your lungs. You simply want to enjoy the smoke for a few seconds to get the full flavour. 
Can you relight a cigar?
A good cigar takes time to smoke and sometimes it does go out so there's nothing wrong with relighting it if that happens.
Are there any warning signs of a bad one?
Yes, there are a few signs to look out for. If the cigar is too dry or too humid (which you can feel by touching it) it will affect the flavour in a bad way. Also, if the cigar is too hard to touch there will be a chance it won't draw properly. Always check that your cigar skin is intact without any cracks or it will open up while you smoke.
Finally, what do you pair a cigar with?
My favourites are Italian espresso, San Pellegrino water and a classic whisky – Macallan is my go-to.
For more about the Wellesley Knightsbridge and its collection of cigars, visit Marriott.co.uk
DISCLAIMER: We endeavour to always credit the correct original source of every image we use. If you think a credit may be incorrect, please contact us at [email protected].