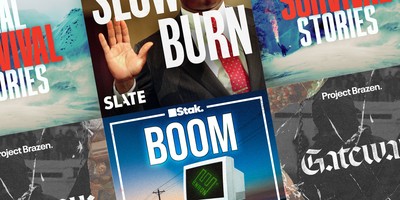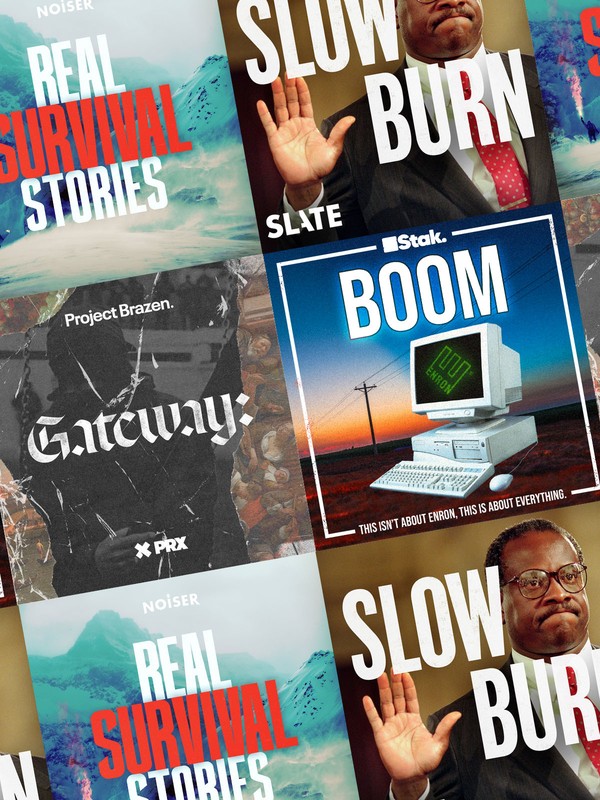 12 New Podcasts To Check Out

---
It's been another bumper season for podcasts. From dark true-crime series to gripping stories from the world of sports, here are 12 recent releases that deserve your time…

Gateway: Cocaine, Murder & Dirty Money In Europe
In this six-part series from Project Brazen, host Mitchell Prothero explores Europe's cocaine crisis through the dramatic stories of cartel leaders, policemen, journalists and victims caught in the middle. From RPG attacks on newspaper offices to the slaughter of entire families, the war on drugs has arrived on Europe's shores. Over the past decade, the ports of Rotterdam and Antwerp have turned into global gateways for cocaine. Think Miami in the 1980s, but with even more drugs. From the bizarre world of crime bloggers to the hierarchy of coke smugglers, this fascinating series lifts the lid on Europe's dirty habit.
Listen here
Ever wondered what you would do if you found yourself lost in the wild? In the desert, the jungle or the mountains – would you make the right choices to stay alive? Real Survival Stories talks to people who have survived deadly situations, like being trapped under a glacier or stranded in the South Atlantic. Don't miss the third episode when a paraglider finds herself in a nightmare scenario when a huge storm rolls in. Sucked into the clouds, she's pelted by hailstones the size of oranges. As lightning cracks around her, she's higher than Everest and nearing the cruising altitude of a jumbo jet. A gripping listen. 
Listen here
Sports Explains The World
Wondery produces some of the best podcasts out there, so it's worth signing up to its subscription service for access to exclusives like this new sports series. Sports Explains the World introduces some of the wildest sporting tales you've never heard. From an unemployed history teacher turned CIA agent and Uganda national basketball coach, to the teenager who invented a mythical athlete then watched him sign a million-pound deal, the stories will reframe your perception of American sports. Loaded with on and off-field drama, each episode is told by award-winning journalists around the world. 
Listen here 
Season one of Boom was set at the turn of the millennium in the HQ of Enron, a multi-billion-dollar American energy company. Drawing on the music, films and trends of the late 90s, the drama followed finance manager Jim Yang after he received an email from the future. A company, Morris Capital, wanted Enron's money and Jim had no choice but to help them. In season two, Jim goes further down the rabbit hole. The millennium is barely an hour old, and Jim finds himself hiding in a Vegas casino as federal investigators storm the building. He's accepted the fate that his new paymasters have scripted, but is his paranoia beginning to catch up with him?
Listen here 
Before he became one of the greatest NBA players of all time, LeBron James lived with a local youth football coach who introduced him to basketball when he was nine years old. This new 12-part series on The Athletic NBA Show is about LeBron's life, career and impact on the sport and American culture. Over a dozen sports journalists detail the highs and lows of LeBron's basketball life, including the amazing moments from his high school days and early Cleveland Cavaliers career.
Listen here 
How did a high-flying academic become one of Ireland's most prolific bank robbers? John O'Hegarty was destined for great things. He studied philosophy at the prestigious University of Leuven in Belgium before completing a master's in psycho-analytic studies at Trinity College, Dublin. On the day he politely robbed his first bank, he crossed over into a world where his education became meaningless. It was his point of no return – but it wasn't the moment that changed everything. That came two years prior on a winter's afternoon in 2002 when an accident would alter the course of several people's lives and ultimately lead John to become one of Ireland's most notorious criminals. 
Listen here 
Famous faces narrate real-life stories in Curio's new audio series. In the first 80-minute episode, James McAvoy tells the story behind 2016 film War Dogs, which follows the unlikely rise of teenagers Efraim Diveroli and David Packouz as they earn millions from the international arms trade during the Iraq and Afghanistan wars. The pair are living the high life when they find themselves in over their heads after landing a $300m deal to supply Afghan forces. Olivia Colman and Naomie Harris narrate other stories in the series. 
Visit Curio.io
Mark the start of the football season with this new podcast featuring the Match of the Day trinity of Gary Lineker, Alan Shearer and Micah Richards. The series combines topical debate with funny anecdotes from their careers. Expect commentary on match highlights and reader questions about who the hosts would most liked to have played with, who they've been starstruck by and which opponents they feared the most.
Listen here
Smoke Screen: Betrayal On The Bayou
Smoke Screen is an investigative documentary series about people with complex motives and morals. Season seven focuses on Chad Scott, a DEA special agent turned cartel mole. A few years ago, he ruled the streets north of New Orleans, controlling a network of snitches by convincing people he arrested to work for him as informants. Chad would stop at nothing to put drug dealers behind bars. He won awards at the DEA, but his willingness to bend the rules earned him a terrifying reputation on the streets. When one of the guys on Chad's team is caught dealing drugs, his right-hand men betray him and confess everything to the FBI. 
Listen here 
This BBC Sounds series explores one of Britain's most callous and brutal killings. Gerald Corrigan was a 74-year-old retired lecturer who lived on the Welsh island of Anglesey. In April 2019, Gerald stepped outside to fix the satellite dish on his roof. Ten minutes later, he was shot dead with a crossbow. A baffled North Wales police force tries to piece together the bizarre events. There's no motive, no clues, and almost no evidence. Then a lead suspect emerges after a burnt-out luxury car is discovered in a quarry – a critical mistake from the killer. 
Listen here
Slow Burn examines some of the biggest issues in America. Series eight dives into one of the country's most powerful figures today, Clarence Thomas. Nearly every issue of national consequence has his fingerprints all over it, from voting rights and gun laws to abortion access. But nothing about his journey from rural Georgia to the Supreme Court was inevitable. Host Joel Anderson traces Justice Thomas's surprising path from youthful radical to conservative icon. You'll find out why he came to despise the race-based admission policies that personally benefited him, how he credited his political rise to the Black self-sufficiency preached by Malcolm X, and what the American people didn't hear during his explosive confirmation hearings.
Listen here 
Over My Dead Body: Gone Hunting
Series four of Wondery's Over My Dead Body tells the story of Mike Williams, an estate agent who went missing on a hunting trip on Lake Seminole, a reservoir straddling the Georgia-Florida state line. The cops said he was eaten by alligators, but his mother suspected foul play. She spent the next few years conducting her own detective work, putting ads in newspapers and persuading the local community to come forward with new information. When police reopen the case, they discover the truth about his marriage and his best friend, and an unbelievable betrayal starts to unravel.
Listen here 
DISCLAIMER: We endeavour to always credit the correct original source of every image we use. If you think a credit may be incorrect, please contact us at [email protected].