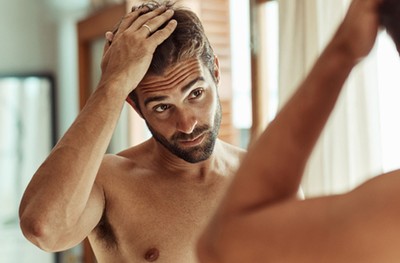 The Best Styling Product For Every Hair Type

---
Dry or greasy, thick or thin, your hair type should determine the styling products you use. SLMan asked a couple of experts to run through the options and advise on what works best with what…

SHORTER HAIR
"For texture, fullness and thickness without using many products, use sea salt spray on short hair followed by a clay to hold the look in place. As a general rule, always pick a water-based clay as it washes out easily and doesn't clog. Also, avoid using oils (like avocado or argan) on short hair as they can leave your hair looking and feeling greasy." – Sait Koca, head barber, ADAM
LONGER HAIR
"After drying your hair into your preferred style, finish with hairspray. Use argan oil regularly, which will nourish the hair but ensure you don't apply this directly to the roots. Also, consider pomade for a wet look, but don't use a lot of this product as it can create clumps. Evenly distribute it through the roots while avoiding the ends." – Sait
 
"Longer hair needs a bit of extra care, so use nourishing products to help maintain hair health." – Ian Harrold, American Crew
 
THIN/THINNING HAIR
"For fullness, use a hair tonic plus sea salt spray and finish with a matt clay. Just be sure to use your product of choice sparingly. Don't use pomade and try to avoid wearing hats as this can pull on your hair, causing strands to fall out." – Sait
 
"Definitely use matt finish products rather than shine-enhancing products as they can make the hair appear lank." – Ian
THICK HAIR
"If you want to achieve a wet look use a pomade followed by a gel, which helps reduce fluffiness and improves the hold. For a matte look use matte clay plus hair spray." – Sait
 
"You will need a little additional control so try using a base product like a gel or clay. This will add support and help prep your hair before adding any finishing products." – Ian
WAVY HAIR
"At ADAM, our go-to product for wavy hair is a sea salt spray, which will help keep your waves looking fresh and tidy." – Sait
 
"If you have wavy hair, always use a moisturising shampoo to prevent frizz and shampoo up to three times a week to remove oils and residue without weakening the hair at the root." – Ian
CURLY HAIR
"Scrunch your hair regularly if air drying. If you're using a hair dryer, use a diffuser. If you want to keep curls, use a curl cream when your hair is wet. Also, go to a trustworthy barber. Curly hair can be difficult to cut, so ensure your barber is experienced and knows what you want." – Sait
GREASY HAIR
"Use a dry shampoo to combat grease but be aware this can create a lot of dust and may give you flakes. Alternatively, embrace it and go for a wet look using pomade." – Sait
 
"Greasy hair needs to be washed daily in lukewarm water. Make sure you only lightly massage the scalp, you don't want to stimulate the already over working sebaceous gland. When it comes to styling, try dry matt finish products."  – Ian
DRY HAIR
"Use a leave-in conditioner or hair mask – preferably with coconut oil in it – once a week to help increase moisture. Also reduce the frequency with which you use heated appliances as they dry your hair. If you do have to use heated appliances, ensure you are using a heat-protective spray. For a sculpted look, go for a paste – use a little more than normal and it will give you a sleeker look." – Sait
 
"If you don't want to opt for a mask, rinse your hair in the evening and condition it again before towel-drying it then leaving the second layer of conditioner in to work overnight." – Ian
FOR A NATURAL LOOK...
"Use a protein spray. This makes it easier to brush and will give you a great natural bed-head look that isn't too unruly. You can also add a small amount of sea salt spray for texture." – Sait
FOR A QUICK NO-BRUSHING FIX...
"If you have short hair, take a very small amount of your favourite clay and rough your hair up. Do this when your hair is dry so there's no need for brushing. For longer hair, spritz some sea salt spray and leave it to do its thing." – Sait
ADAM opens its eighth London barber shop in Spitalfields this weekend. To book an appointment at one of them, head to ADAMGroomingAtelier.com.
Check out American Crew's full range of products at AmericanCrew.com.
DISCLAIMER: We endeavour to always credit the correct original source of every image we use. If you think a credit may be incorrect, please contact us at [email protected].