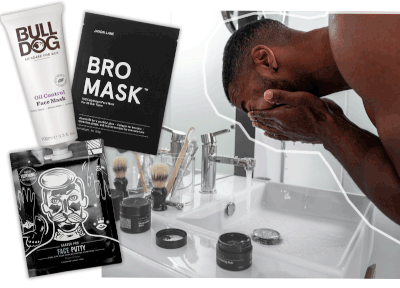 A Man's Guide To Face Masks

---
In just five years, the value of the men's grooming market has quadrupled. The latest product to catch the eyes of male skincare pioneers is the face mask. SLMan asked Kyle LaFond, founder of premium skincare brand American Provenance, and Ieva Strautniece of the Gentlemen's Tonic barbershop and spa in London, for everything you need to know. Because, if you've got extra time indoors on your hands, now is a good time to experiment…

So what actually is a face mask?
Kyle: "A face mask is a mixture of ingredients that help protect and purify the skin. The first known commercial facial mask was created in England in the 1800s and that's exactly what it was used for back then too."
Why might a man use one today?
Kyle: "Depending on the ingredients, many masks can help rejuvenate, moisturise and regenerate facial brightness and skin elasticity."
Ieva: "They're also one of the easiest ways to improve your skin condition – though it's important to remember that face masks are only one step in your skincare regime. Use them in addition your everyday routine."
And there are different types of mask?
Ieva: "Yes…
Brightening masks
Great for dull skin with pigmentation. They lighten the skin, giving an instant radiance boost which leaves the skin glowing.
Charcoal masks
These peel-off masks normally containing activated charcoal to draw out impurities. Best if you have oily skin with blocked pores.
Exfoliating masks
Good for removing dead skin cells from all skin types. They usually containing enzymes and fruit acids for gentle exfoliation.
Clay masks
These are for oily, acne-prone skin with blocked pores. They absorb excess oils, unclog pores and reduce the appearance of enlarged pores.
Moisturising masks
Use them on any skin type that lacks moisture at the time.
Nourishing masks
Rich with a creamy consistency, these often contain oils and are best for dry, flaky skin.
Gel masks
Finally, gel masks are great for oily, dehydrated skin because they are not too heavy, don't contain oils and will not congest the pores."
It sounds like they can do everything. Is there a difference between a face mask and a professional facial?
Ieva: "Using a mask at home will extend and maintain the results of your skincare regime. If you have a facial using professional products, your skin is deeply cleansed and massaged. Facials normally use active ingredients that can reach the deeper layers of the skin."
How often should you use a mask?
Ieva: "It depends. You can use sheet masks up to four times a week. Cleansing, clay-based masks are recommended for use once a week."
What's the best time to use one?
Ieva: "Either morning or evening, but they are best after a shower, when skin is clean and pores are opened – this will improve results."
Do you need to shave beforehand?
Kyle: "A freshly shaved face may make removing the mask easier, but shaving is an exfoliant as well, so applying a mask directly after may cause irritation. Preferably, do not shave prior to using a clay-based mask. And, for gents with beards, only apply masks to the cheekbones, temples, forehead and nose."
 
Is there any other prep you should do?
Kyle: "Just use a gentle facial cleanser to remove any product on the skin."
Any side effects to be aware of?
Ieva: "You may feel a slight tingle and tightening feeling while the mask is on and you could have mild redness for 10 to 20 minutes after removing it, but this is all quite normal."
 
Does more expensive mean better?
Kyle: "Not necessarily. Always be sure to check the ingredient list. There are many masks that contain high-quality ingredients that are more expensive to produce but, if an expensive mask ingredient list starts off with water, it might be worth skipping."
 
Not water then, but what are the key ingredients to look for?
Kyle: "Always read the ingredient list. As well as excessive amounts of water, avoid masks containing synthetic ingredients, preservatives, parabens, phthalates and other harsh chemicals."
 
Ieva: "The active ingredients you want include hyaluronic acid, vitamin C, amino acids, collagen, enzymes and natural oils."
And what if you have sensitive skin?
Kyle: "Avoid products that use synthetic ingredients and the ubiquitous term 'fragrance' or 'parfum'. Fragrance is considered proprietary so the ingredients included do not have to be stated. Many fragrances include synthetic ingredients and harmful chemicals like phthalates and parabens."
 
Are there different masks for different ages?
Kyle: "Marketing will tell you there are, but good skincare products should be ageless."
 
Ieva: "As we age, we lose moisture in our skin and volume, so the main focus should be on hydration. The best anti-ageing masks are the one that contain hyaluronic acid and collagen."
Sheet masks versus peel-off masks – anything you need to know?
Ieva: "Sheet masks are usually hydrating and will deeply moisturise the skin. A peel-off or scrub-off mask is normally a cleansing one that helps to remove dead skin cells."
 
Kyle: "Single-use sheet masks are popular, but they create a lot of waste. Wrappers often aren't biodegradable and will be in landfills for generations. Natural, clay-based masks can gently cleanse and brighten, without harsh chemicals or preservatives."
Last but not least, what's the best mask for a hangover?
Ieva: "After a heavy night, your skin and body is dehydrated – same as if you'd been on a long-haul flight. Your skin loses moisture. The best masks for this are the hydrating sheet masks because they usually contain ingredients that help restore hydration and protect the skin. Just remember not to leave the mask on for longer than recommended. If a sheet mask is left on for too long and starts to dry out, it might start to draw moisture from skin."
Visit GentlemensTonic.com and AmericanProvenance.com
Check out SLMan's pick of the best face masks...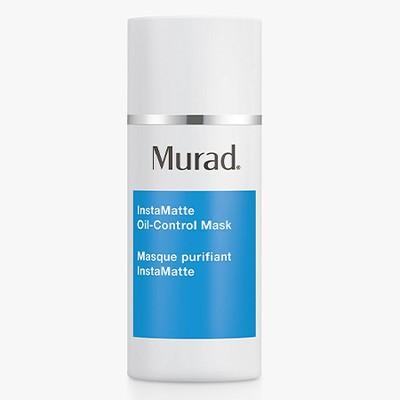 Oil Control Mask,
£32
|
Murad
Best For... Charcoal Ingredients
DISCLAIMER: We endeavour to always credit the correct original source of every image we use. If you think a credit may be incorrect, please contact us at [email protected].