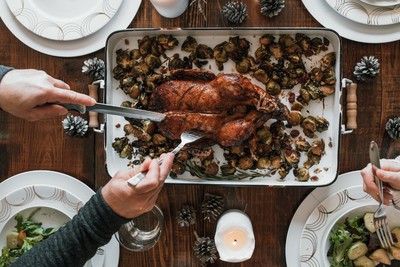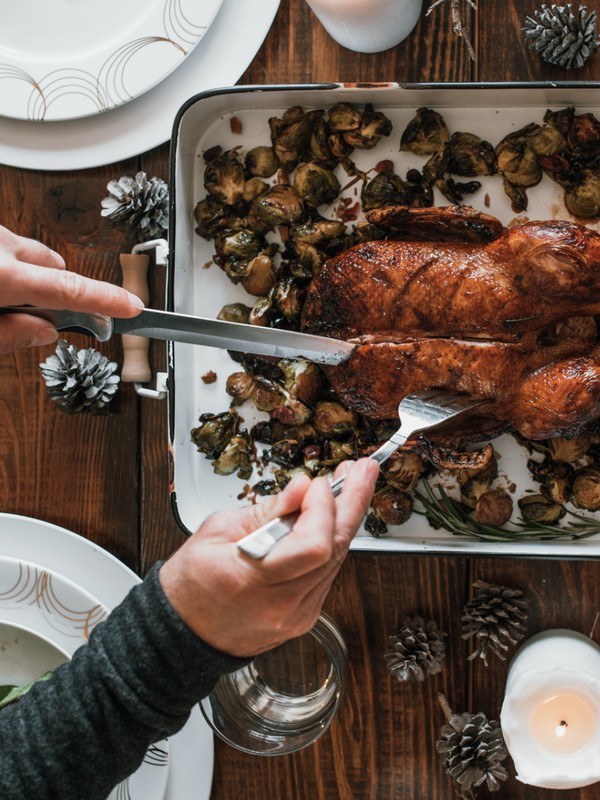 14 Christmas Cooking Tips From The Pros

---
Whether you're a novice or a seasoned cook, it's always good to have some expert advice to hand when it comes time to make the most important meal of the year. That's why we asked the head chefs at some of the UK's best restaurants to share their tips and twists on the festive classics – from Christmas pudding and turkey alternatives to excellent gravy recipes.

Photography
STOCKSY UNITED/MELANIE DEFAZIO
Tommy Banks
Chef Patron of The Black Swan & Roots
"Miso sprouts are a great way to add flavour to the divisive veggie. Halve them and roast them flat-side down until they are really crispy. Mix them together with some white miso paste and water (or resting juices from the meat) until you get a thin paste. Toss the sprouts through the paste and cook for a couple more minutes. You'll get a serious umami hit."
"Do you have lots of leftover cranberry sauce? Don't just chuck it! Bake a whole camembert in the oven (or a Tunworth which is my personal favourite) and load it up with leftover cranberry sauce, dried fruit and nuts and you've got a delicious post-dinner cheese course (if you can manage it)." 
Visit TheBlackSwanOldstead.co.uk and RootsYork.com
Paul Ainsworth
Chef Patron of Paul Ainsworth at No.6, Caffè Rojano & The Mariners
"For the ultimate roast potatoes, boil them in salted water then leave them to steam in the colander before giving them a good shake to rough the edges up. Season all over with English mustard powder and sea salt. Add to a hot tray with duck fat, a few sprigs of thyme, rosemary and crushed garlic and roast until golden and crispy."
"I always suggest cooking the legs of the turkey separate from the crown. I like to fill them with sage and cranberry stuffing, wrapped in tin foil at a lower temperature oven of 120°C for a longer period of time to keep them moist, and allowing you to focus on cooking the crown or breast at a hotter temperature for a shorter time."
Visit Paul Ainsworth.co.uk
Richard Corrigan
Chef Patron of the Corrigan Collection
"A tip for a calm kitchen at Christmas is to keep it simple with your vegetables. Just one or two root veggies will do – you'll save on hob space and on the washing up. Take carrots: keep them whole, and throw them in with your roast potatoes with some olive oil, thyme, salt and pepper. The caramelisation brings added flavour, and it makes plating up so much easier. That way you can concentrate on the main event. If you're looking for a showstopper to put on the table, a beef wellington is a true festive delight."
"Do you have leftover bread sauce? I like to take mine and make it into a savoury bread pudding. Take about half a pint of bread sauce, add two eggs and mix well. Pour the mixture into a terrine mould or loaf tin and bake it slowly in the oven. Chill and serve sliced, topped with turkey breast or cold ham." 
Visit CorriganCollection.com
Helen Graham
Exec Chef of Bubala Spitalfields & Soho
"For a vegetarian main course, cooking whole vegetables that you can pimp up with sauces when they come out of the oven is a great way of saving time. I love slow-roasted celeriac to which I usually add tahini and slow-roasted onion cooked down with sumac."
"Winter is a really great time for citrus. A touch of last-minute acidity and salt can really elevate dishes. Ingredients like bergamot and green citrus are great. I suggest zesting any green citrus you can get your hands on. Adding this at the last minute to roasted vegetables like brussels sprouts or carrots will add another dimension of flavour."
Visit Bubala.co.uk
Skye McAlpine
Chef, Cookbook Author & Founder of Tavola
"Keep it as simple as possible: cook a couple of things that you really love rather than going overboard and trying to make lots, which always ends up being stressful (for you and your guests). Make lists with timings of when you're going to do what, so that when it comes to Christmas Day, all you have to do is follow the steps. Go all out with pudding: my favourite is snowy panettone cake. The recipe is in my cookbook, A Table for Friends, but basically you slice a shop-bought panettone crossways, as if you were cutting across a Victoria sponge, then sandwich it back together with whipped cream, cover the whole thing in soft meringue (so it looks like a snowy mountain) and burnish it with a blow torch. You can add a few redcurrants and berries to top it off, if you like. I can't tell you how spectacular it looks – and how good it tastes. Finally, use fruit, cakes and sweets to decorate the table. They look pretty and festive, last longer than flowers – and you can eat them when you're done."
Visit SkyeMcAlpineTavola.com
Greg Marchand
Chef Patron of Frenchie
"Instead of boiling your broccoli just cut little florets and blanch them from raw to give them a beautiful, caramelised flavour and nice crunchiness. Then, season with clementine's zest."
"Looking for something different from a classic turkey? Use a nice duck, buy it one week in advance, and dry-age it in the fridge to get a crispier skin. I usually roast mine with honey, fennel and coriander seeds."
Visit Frenchie.com
Lucy Carr-Ellison & Jemima Jones
Founders of Wild by Tart
"Always brine your turkey the day before cooking – this tenderises it and ensures it's full of flavour. Remember to use lots of Christmassy ingredients like orange, cloves, bay, cinnamon sticks and rosemary to season."
"Cavolo nero tossed into crisped chilli and garlic; cumin and lemony roasted carrots with crumbled feta, nigella seeds and chopped coriander; a bubbly cheesy number from the oven – these are all great sides. We also love Ottolenghi's sweet potato and sage gratin, or a citrusy crunchy salad of shaved fennel – something to slice through all the heaviness."
Visit WildByTart.com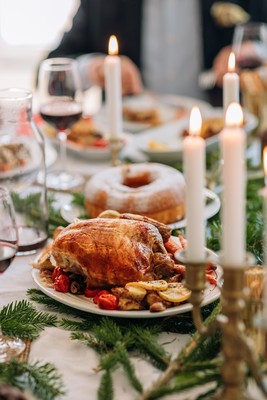 STOCKSY UNITED/STUDIO FIRMA
STOCKSY UNITED/PIXEL STORIES
Gordon Ker
Owner of Blacklock
"We're never not cooking gravy in the restaurants; it takes us a good week and plenty of love to prepare each batch, so it's certainly something to think about ahead of time when planning your Christmas meal. To make the perfect gravy, start with beef jus and add meat trimmings for extra decadence. Give yourself plenty of time to reduce it slowly and don't rush, because the thicker it gets, the better it tastes. Top it up by using a glug of madeira for added vigour and don't forget to save any juices yielded from roasting your meat – just pour them in." 
Visit Blacklock.com
Chet Sharma
Chef Patron of BiBi
"We're big fans of the traditional goose in the Sharma household. Not only is it almost impossible to cook badly, but the copious amounts of fat you strain off give you the best fat for roast potatoes for the next few months! It is important to really give the bird time to come to room temperature before cooking, so leave it out of the fridge for a couple of hours and also let it rest for at least an hour before carving."
"Warm your plates! Such a small tip but so important for well-rested meats. Meat should never be piping hot and steaming, as that's a sure sign that it is overcooked. Nor should it 'bleed' as that just dries it out. All the heat in a good roast needs to come from the gravy and from having warm plates. This is something even the most seasoned cooks can forget when a table is pre-laid."
Visit BiBiRestaurants.com
Asimakis Chaniotis
Exec Chef of Pied à Terre
"I always make a cheat's Christmas pudding on Christmas Eve; it's very similar to a rum baba but the mixture is spiked with festive spices and the alcohol is in the sauce instead. It's an easy all-in-one recipe that can be made in a standing mixer, then divided into individual moulds to prove, before baking in the oven for a maximum of 15 minutes. I make a brandy cream sauce to go with them, and like using Metaxa because of my Greek heritage!"
Visit Pied-à-Terre.co.uk
Chris Leach
Chef & Co-Founder of Manteca
"When it comes to sprouts, don't score, it's a waste of time, but also don't blanch. Roast from raw and toss with a vinaigrette – Dijon and sherry vinegar will work well here."
Visit MantecaRestaurant.com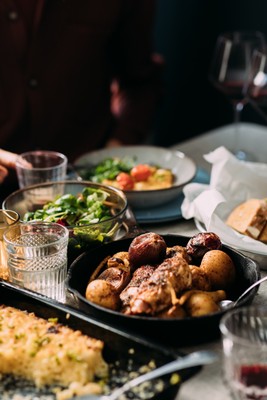 STOCKSY UNITED/STUDIO FIRMA
Jacob Kenedy
Chef Patron of Bocca di Lupo
"I like to make Christmas pudding gelato with the leftover Christmas pudding – just fold crumbled Christmas pudding through softened vanilla ice-cream or gelato and re-freeze."
Visit BoccaDiLupo.com
Nigel Haworth
Chef Patron of The Three Fishes
"If you start trying to be adventurous with your Christmas dinner, it can quickly go wrong. Enjoy it, play it safe and do the simple things well. Buy fewer, better-quality ingredients rather than going overboard with one of everything. Cut down on some of the vegetables – it can go on and on, and it's probably unnecessary to serve so many. Do a few and do them well rather than stressing about making every vegetable. To preserve the beautiful colours of your vegetables, blanch them off to refresh them on Christmas morning – it's an alien concept to some people but that's how restaurants work and, if you are cooking for a big group, the same rules apply."
"Do a cold starter so you don't have to be cooking and plating something last minute – a good-quality smoked salmon and prawns with avocado is an easy option. Keep it simple."
Visit TheThreeFishes.co.uk
Judy Joo
Owner of Seoul Bird
"I always cook the stuffing on the side, never in the bird. Kimchi adds a deep complex flavour and a serious umami hit, so I make an exquisite kimchi sausage stuffing alongside our turkey. It is that little extra kick that transforms the dish into something extraordinary and memorable."
Visit SeoulBird.co.uk
DISCLAIMER: We endeavour to always credit the correct original source of every image we use. If you think a credit may be incorrect, please contact us at [email protected].