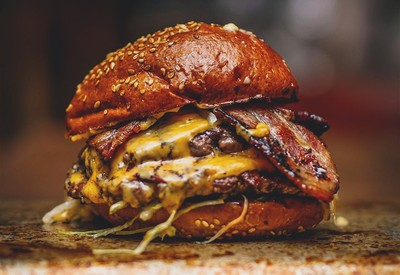 18 Of The Best Burgers In London

---
Ahead of National Burger Day on Friday, we've plotted the best spots around town to get your fix. From classic cheeseburgers to venison patties topped with béarnaise sauce, here are the places doing burgers properly.
Photography MAC AND WILD
Flank, Victoria
From humble beginnings as a Brighton pub pop-up, Flank has remained true to its ethos of serving nose-to-tail cooking. While a permanent London site is in the works, the team is currently hunkered down at Market Halls in Victoria. Expect to tuck into burgers topped with St Giles cheese, dill pickles, onion jam, crispy onions and homemade burger sauce.
Visit FlankLondon.com

Yen Burger, Borough Market 
Around the corner from Borough Market, Yen Burger is a stylish little spot, all dark grey walls, wooden tables and dinky stools. Alongside Asian-influenced cocktails, it serves burgers that meld American burger culture with Japanese ingredients and flavours. The 'Yen Supreme' burger features a 100% wagyu beef patty, fresh pickles, smoked turkey bacon, cheddar and a shiso leaf. This is fusion done right: its fluffy bao-like bun delivers a flavour and texture combo you'll start to crave in all your burgers.
Visit YenBurger.co.uk 
Baba G's, Various Locations
With spots at Vinegar Yard and Pop Brixton, Baba G's – a former winner of Channel 4's Million Pound Menu – is the place to go for Indian-inspired 'Bhangra' burgers. We love the 'Baba Naga Deli' burger best – think lamb patty, crispy onion bhaji and spicy naga chilli burger sauce in a black onion seed brioche bun. It's hot, in a great way.
Visit BhangraBurger.com
MEATliquor, Various Locations
Way back in 2008, the MEATwagon was a burger van in a Peckham industrial estate carpark. After its theft came #MEATeasy, a three-month pop-up above an abandoned pub in New Cross. Eventually the first permanent MEATliquor restaurant opened in W1 and the rest is history. Now with 12 sites, the team's signature serve is the 'Dead Hippie'. Decadence in a bun, it features two mustard-fried beef patties covered in melted cheese and adorned with pickles, lettuce, Dead Hippie sauce and minced raw onions. The cocktails aren't bad either.
Visit MeatLiquor.com
Patty & Bun, Various Locations
With several locations dotted around London, and now a restaurant in Brighton, Patty and Bun is a must-stop for burger lovers. With its retro open-plan interior, wooden tables, brick walls, graffiti drawings and neon lighting, the Hackney branch is particularly cool. Our menu favourite? The 'Ari Gold': in a brioche bun, a 35-day-aged Aberdeen Angus patty is loaded with gooey American cheese, smoky mayo and home-pickled red onion rings.
Visit PattyAndBun.co.uk
Hawksmoor, Various Locations
This restaurant group doesn't just serve great steak; the burgers are pretty tasty too. Seasonally changing specials are solid options but, for those in the know, the star of the show is undoubtedly the 'Hawksmoor Hamburger'. Served with triple-cooked chips or an English lettuce and herb salad, the burger itself comprises 100% grass-fed beef from traditional British breeds, with small nuggets of bone marrow for extra flavour. Diners can choose from Ogleshield cheese or Colston Bassett stilton.
Visit TheHawksmoor.com
 
Burger & Lobster, Various Locations
There's a clue in the name, but this mini chain of nine restaurants keeps things pretty simple: lobster, lobster roll and a burger. There are variations on these three dishes, including a veggie option, but the 'Original' burger is still the best. Made from Nebraskan farmed beef, it comes with tomato, house-made pickles, onions and a secret sauce. Our tip? Add bacon and cheese.
Visit BurgerAndLobster.com
Burger & Beyond, ShoreditcH
As street-food traders, the Burger & Beyond boys prided themselves on ageing and butchering the best home-reared meat. Now they've brought all their expertise to four permanent spots in Shoreditch, Camden, Chiswick and – more recently – Wandsworth. Trendily decorated and with a well-equipped bar, the team's repertoire of burgers features vegetarian, fish and fried chicken alternatives in addition to three aged-patty options that use meat from the team's own farm. The highlight of the menu is the 'Bougie Burg', with its two aged patties, cold-smoked American cheese, onions cooked in beef fat, bone marrow-infused mayonnaise and steak sauce that runs like gravy.
 Visit BurgerAndBeyond.co.uk
Shake Shack, Various Locations
US burger chain Shake Shack opened its first London outlet back in 2013 and that Covent Garden Piazza branch is still its flagship. Despite large indoor and outdoor areas, queues can still be as substantial as the 'SmokeShack' burger. This regular cheeseburger is topped with applewood-smoked bacon, piquant peppers and sweet, slightly spicy Shack Sauce, all served up in a little waxed paper jacket. Ideal when you're in need of something quick and tasty.
Visit ShakeShack.co.uk
 
Mac & Wild, Various Locations
Once a street-food sensation serving up Scottish wild game to Londoners, Mac & Wild now operates out of two restaurants: one in Fitzrovia, the other on Devonshire Square. But fret not: the wood tables are rough-hewn, the bricks are bare and the meat still comes from co-owner Andy Waugh's dad's estate. Its best burger brings together one beef patty and one venison patty, sandwiched by masses of cheese and a ton of pickles. The 'Veni-Moo' is, unsurprisingly, a bestseller at both restaurants.
Visit MacAndWild.com
Meat & Shake, Tooting
Red leather booths and bare bulbs give the restaurant an American diner vibe to offset its more refined food. The imaginative menu at Meat & Shake includes burgers infused with truffle, which arrive in their own smoky chamber. The 'Luchador' is a Mexican mix of nachos, jalapenos and guacamole with a 35-day dry-aged beef patty from Macken Bros of Selfridges. Brilliant sides seal the deal – just bear in mind this halal-friendly diner is alcohol-free.
Visit MeatAndShake.com
Honest Burgers, Various Locations
The rapidly expanding Honest group now has its own butchery outfit. It uses chuck and rib-cap cuts in its burgers, and the meat is hand chopped as opposed to minced. Flat patties are served pink and everything comes with its excellent rosemary seasoned chips as standard. You can't go wrong with the splendid simplicity of Honest's eponymous original. The prime-beef patty is generously fatty – good news for flavour and juiciness – and is served with crisp bacon, mature cheddar and a freshly baked bun.
Visit HonestBurgers.co.uk 
Mother Flipper, Various Locations
Come weekends, Mother Flipper turns burgers at Brockley market on Saturdays, then Victoria Park market on Sundays. Hunt its stall down for a twisted take on the classic American hamburger. Double patties make this a seriously big eat, with each bap also struggling to contain stringy cheese, crispy strips of sugared 'candy bacon' onions, BBQ sauce and tomato relish.
 
Visit MotherFlipper.co.uk
 
Haché, Various Locations
This popular Parisian-inspired all-day dining concept now has seven sites, each serving everything from brunch and coffee to burgers and cocktails. From its much-loved burger menu, we like the 'Steak Canadien' (melted mature cheddar, maple bacon jam, smoked bacon, mustard mayo, beef tomato, red onion and rocket); 'Steak Truffle' (truffle aioli, caramelised onions, gruyere and truffle shavings); and 'Steak Le Fumé' (caramelised onions, smoked bacon, gruyère, celeriac coleslaw and ketchup, presented in a smoke-filled dome).
Visit HacheBurgers.com
Lucky Chip, Various Locations
Spanning Islington and London Fields, the two branches of Lucky Chip serve everything from classic cheeseburgers to fully vegan offerings. Of the lot, we love the Mexican-inspired El Chappo burger best. Combining an aged beef patty with a heady mix of smoked bacon, blue cheese, roasted jalapenos and aioli, it is sharp, salty and smoky – and packs a huge flavour punch.
Visit LuckyChip.co.uk
Blacklock, Various Locations
Blacklock now has sites in Soho, Shoreditch and the City. Its menus are heavy with chops and they do an excellent Sunday roast, but the unexpected ace up its sleeve is the 'Blacklist burger'. Inside a soft sesame bun, you get a juicy patty loaded with sliced gherkin and onions caramelised in vermouth, plus a slug of mild sriracha-laced burger sauce. Don't forget a side order of crispy beef-dripping fries.
Visit TheBlacklock.com
 
Dip & Flip, Various Locations
With Wimbledon joining the Battersea Rise original, there are currently two permanent Dip & Flips. The Dip & Flip burger itself is the team's signature dish. A beef patty is smothered in cheese and served in a shiny soft brioche bun – just as you'd expect from any trad burger. But there's a kicker here: thin slices of gravy-dipped roast beef. Mustard, dill mayo, ketchup and pickles are all there too, but it's the accompanying bowl of thick gravy that makes this one a showstopper. Perfect after a couple of pints.
Visit DipAndFlip.co.uk
DISCLAIMER: We endeavour to always credit the correct original source of every image we use. If you think a credit may be incorrect, please contact us at [email protected].