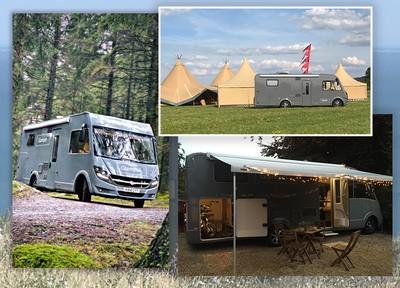 How RVs Became A Cool & Practical Travel Option

---
RVs tend to have had a bit of a bad rep in the UK, but there's a new breed on the road now and lockdown has seen a surge of interest in them. SLMan spoke to Lucy Caillé, MD of GlamperRV, to find out what it's really like to holiday in a motorhome…
You've probably had a pretty busy summer?
It's been a crazy summer. We're a relatively small business with a bespoke product and we're always fully booked over summer – usually right through to October – but this year has been very different. We were pretty heavily booked early on then the bookings stopped at the end of February. Those bookings disappeared when festivals and events got cancelled, but we managed to replace them with people looking to go on European holidays. Then, of course, they got cancelled but other people wanted to travel in the UK. So it's been a topsy-turvy season – a real rollercoaster ride.
How did you get into the RV business?
It was about six years ago and I really didn't know a lot about RVs. I liked adventures but I didn't think I liked camping. However, my husband's French, his family had a caravan and they went camping all the time. I'd never been camping except on the odd occasion when it's the only option – climbing a mountain in South America, for example. My husband wanted to show me what a caravan could, that it didn't have to be a white box on wheels and that you didn't have to always be completely off-grid – you could still enjoy regular little luxuries like an espresso machine onboard.
Anyway, we looked at a few options, invested in a £75k motorhome and took it straight to the paint shop and added a few contemporary decals of our own. That's not usually the first thing you think of doing with a new motorhome, so it was a bit risky, but I thought it looked good and we started getting stopped at fuel stations. People wanted to know where we got this on-trend grey RV from.
What happened next?
We made a decision. In 2015 I gave up my day job, set up a website, hired in some talent and ordered another customised RV for the next year. We had a clear vision that we wanted to create something that was much like a Sunseeker yacht than what people traditionally think of as a motorhome. The net curtains have gone, so have the Teasmades and we also rip out the seating. We put in our own leather upholstery and look carefully at the styling inside and out so everything feels high end. Now we rent and sell our bespoke RVs.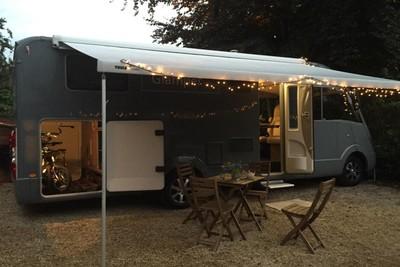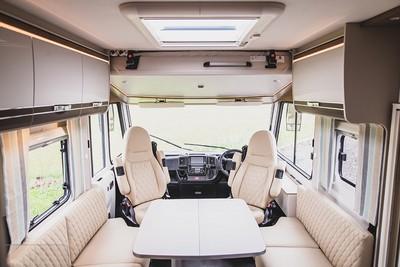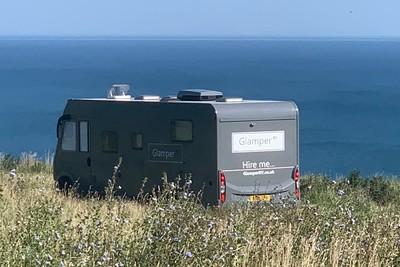 And is RV the right terminology?
I think so. When you say 'campervan', I think more of a VW or a Ford Transit that's been converted. RV is American originally, going all the way to the days of landed gentry travelling around with servants in 'recreational vehicles'. In the UK now, though, RV is an A-class motorhome and I think it means something similar around the world – that's why we went for it.
Why do you think motorhomes have had a bit of a dodgy reputation in the UK?
I think there's a lot of confusion about what they are. That's partly because this country hasn't been great at opening its arms to RVs. We don't have the facilities that you'll find in the likes of France and Germany, where they really are a part of life. If you go to France with an RV, you know there are going to be parking facilities very close to the town centre.
Can it be difficult taking one around the UK?
Not really. Motorhome sales in the UK are growing year on year and have been since well before lockdown. There are lots of places that encourage them and offer parking facilities because they want the tourism. In normal years, I'd just advise booking campsites in advance if you're travelling in the summer holidays.
What sort of licence do you need to drive one?
For all of ours, it's just a regular driving licence. You have to be over the age of 25 but, other than that, simply be aware you're driving a big vehicle with a greater braking distance. They're automatic transmission, which makes it easier, and they have these great big wing mirrors so you've got great visibility, as well as rear camera sensors.
Are they gas guzzlers?
I don't think they are. Ours are based on a Fiat Ducato chassis and you can expect to average around 28-30 mpg on a long drive. If you're already used to driving something like a 4x4, you might be pleasantly surprised.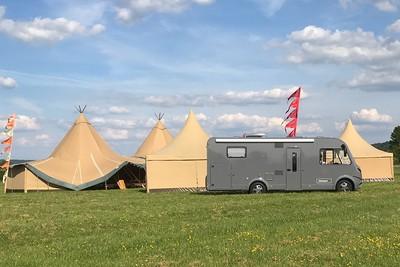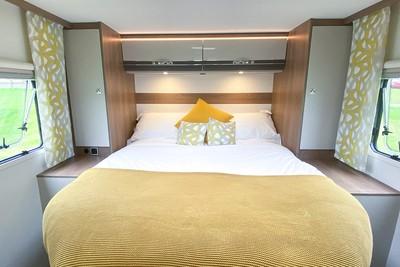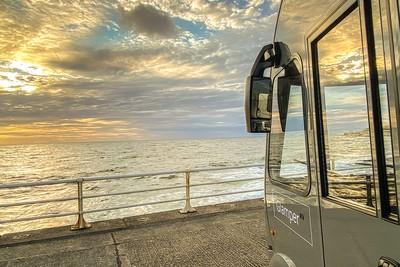 And what is it you get from an RV holiday that you can't get elsewhere?
I think it's freedom. I just had a customer come back from two weeks in Scotland. I think he went to one campsite; apart from that he was just, well, camping wherever he stopped. He had everything with him, so he could do that. There's nothing quite so liberating as knowing you've got your food and your bed in the middle of nowhere. You really can get away from everything.
Who are your customers?
We get a lot of families over the holiday period, but we also get a lot of couples – our rental customers are probably a bit younger than the average motorhome customer. In a typical year, around a third of our bookings would be couples, a third would be families and a third would be for people going to festivals and events.
And where do they tend to go?
This year, it's mainly been trips around the UK. It seems to be going in waves: I've just had people heading off to Norfolk and Suffolk; in the next few weeks, we've got customers heading off to Devon and Cornwall; then it's up to Scotland and Wales. The great thing with an RV is, if everyone's going somewhere at the same time, you can go in the opposite direction. That East Anglia coast is so beautiful and I think people have switched plans to go there because they've thought it'd be a bit quieter. And, of course, you can always be guided by the weather: if it's raining in Scotland, go to Wales instead.
Where do you think you'll go next?
I think it might be the Yorkshire Moors. It's an area I don't really know, and I like to try and go to places that are a bit different. We've got two children who are 10 and 13; they're coming with us on this one but sometimes, especially in January and February, it's great for the two of us to get away somewhere really remote on our own.
Finally, what does the future look like for the business?
I think there's going to be a dent in overseas or long-haul travel for the next few years. If anyone's planning a big adventure, instead of Australia or South America, they might be looking more seriously at taking an RV around Europe for a couple of months, going to places no one would have thought about before.
We've also just started to see a new interest in people buying our RVs as home offices. If you travel for work, or are having to work on a particular site, they've got everything you need – including mobile wi-fi – and you don't have to worry about public transport. Compared to a regular home office, the costs are obviously high, but you do get to do other things with an EV – like go on holiday! So this could be the next exciting new area for us.
To find out more about GlamperRV's customised vehicles, head to GlamperRV.co.uk
DISCLAIMER: We endeavour to always credit the correct original source of every image we use. If you think a credit may be incorrect, please contact us at [email protected].