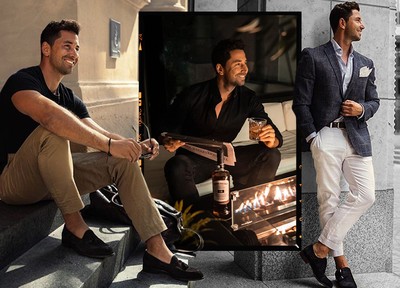 Style Rules With This Dapper Influencer

---
From crisp clean suits to comfortable knitwear, German influencer Ulf Ho's Insta feed contains all the style inspo you need for autumn. He spoke to SLMan about excessive shoe collections, style icons and male bum bags…

Photography
Instagram.com/_Ulf_Ho
My style is very simple, classic and timeless. It all depends on my mood and the occasion. One day you might find me in a black leather jacket with black pants and boots, and the next day in an elegant, well-tailored suit. To define your own style, you have to know what colours suit you. I know my colours very well, so you will never see me in bright shades like red or yellow. My outfits always contain earth tones like brown, beige and green.
 
I have three top rules for good style. One: wear what fits, so know your measurements. I´m not a big fan of oversized clothes; likewise I don't like anything too tight. Two: keep your outfit simple and accessorising to a minimum. Simplicity is the key. Three: choose the classics over trends. Stick to timeless styles that work 99% of the time instead of following every silly little trend. Being trendy doesn't automatically make you stylish.
Brown leather Chelsea boots are my most recent purchase. I'm obsessed with the look at this time of year. A long, cosy scarf is on my autumn/winter wish list. I mean a really long one. Long enough that I can wrap the scarf a couple of times around my neck for very cold winter days.
My everyday outfit formula is simple and comfy. For example, white sneakers, chino pants and a simple shirt. And I wear those earthy colour tones I mentioned a lot. For me, no jewellery is necessary – just a cool watch with a leather bracelet.
I would never wear a bum bag around my chest. It's been a trend in Germany for a while now, but I really don't like it at all. Definitely not for me.
I have a lot of clothes that I never wear. I probably only wear 20% of my wardrobe 90% of the time. I have a lot of pieces I really love, but I think my favourite piece in my wardrobe is a light brown summer suit made of linen. I love to combine it with just a white t-shirt and brown slippers. Simple, elegant and timeless.
 
I have a lot of shoes. At least 50-60 pairs. I have a weakness for white sneakers and Chelsea boots. I also have a couple of really elegant pairs of business shoes that look great with my suits. When I see a nice pair of white sneakers online or in a store, I'm always tempted, but I've actually stopped buying new pairs. I've finally learnt it's not actually necessary to buy every pair I fall for.
 
I'm not a big fan of jewellery for guys. I never wear rings or bracelets. In my opinion, the only jewellery a man should wear is a nice watch. I prefer to go for high-quality watch brands than cheap watches.
 
I'm really not a shopaholic. I don't like to go to stores that much. I buy more online for sure, because it saves me a lot of time. I've also really started to think twice before I buy something new. Most of the time the answer is a clear no. I only buy something if I really really want it. I usually don't go for high prices or high-fashion brands. It´s not necessary to spend 100-200 euros on a t-shirt. It's all about the way you wear your clothes.
"I usually don't go for high prices or high-fashion brands. It's all about the way you wear your clothes."
David Beckham has great style. He's been an icon for decades and he's never followed trends. He has the ability to set new trends by staying true to his own style in such a natural and effortless way. I really appreciate that because it's so rare. I also love David Gandy's style. It's how he wears his clothes that sets him apart. He regularly tops best-dressed lists and it´s easy to see why. He is as at home wearing a perfectly tailored three-piece suit as he is rocking jeans and a t-shirt.
 
If I could only wear one brand again? That's easy! I love Suitsupply. From suits to casualwear, it's exactly my kind of style. I have to avoid going to their stores because when I walk into one there's a a danger I could buy every single item.
DISCLAIMER: We endeavour to always credit the correct original source of every image we use. If you think a credit may be incorrect, please contact us at [email protected].