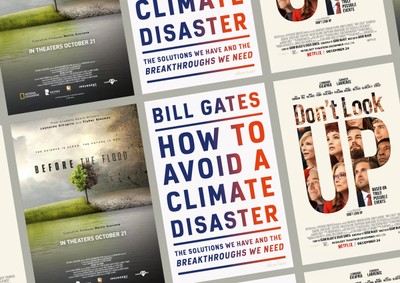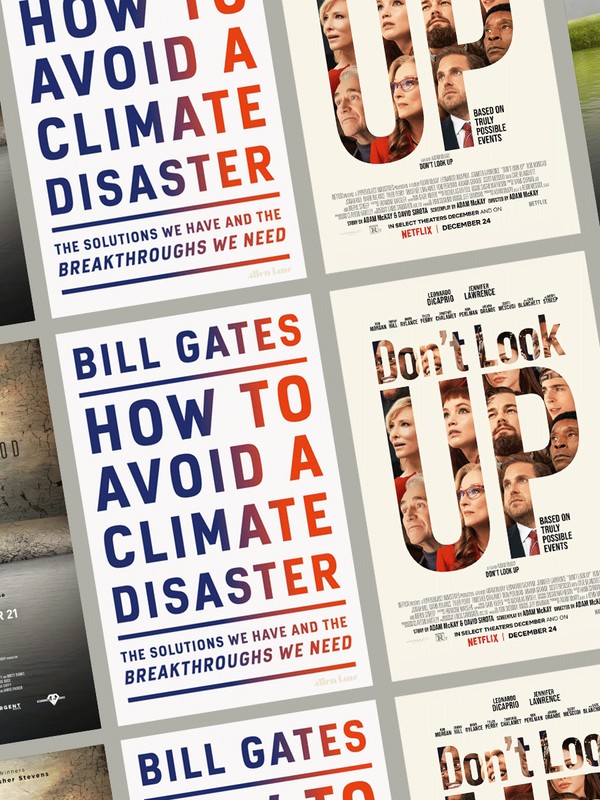 The Best Books, Podcasts & Films on Climate Change

---
It's the hot – and getting hotter – topic that's defining our era. But with so much being written, said and (sometimes) done about climate change, there's a lot to keep on top of. For anyone who doesn't know where to start, these are the books, podcasts and films to know…

George Monbiot – (Re)Genesis
For journalist and climate activist George Monbiot, revolutionising our approach to food is key to addressing the future of our planet. In this Sunday Times bestseller, he argues farming is the world's greatest cause of environmental destruction – and also the cause we are least prepared to talk about. Until you read his book, of course.
David Wallace-Wells – The Uninhabitable Earth
In this overview of the climate crisis, you quickly realise it is much, much worse than you think. David Wallace-Wells articulates the severity of the climate crisis in a way which feels suitably uncomfortable. The Economist said in its review that "some readers will find Mr Wallace-Wells's outline of possible futures alarmist. He is indeed alarmed. You should be, too". Margaret Atwood and Matt Haig are also among those to implore you to read this book. It might not be the most reassuring of reads, but what The Uninhabitable Earth certainly does is brief you on why the climate crisis matters.
David Attenborough – A Life On Our Planet: My Witness Statement
David Attenborough is the definition of a national treasure. He's devoted much of his life to wildlife broadcasting, and his Planet Earth and Blue Planet documentary series hold particular places in the British public's hearts. And, naturally, when he urges that more needs to be done on environmental issues, we ought to listen. This book is based around his speech for the opening of the COP26 climate summit last year and serves as an optimistic call to action to "restore the wonderful world we inherited".
Bill Gates – How To Avoid A Climate Disaster
Bill Gates might be one of the world's richest men, but he's also concerned with how the world can get to zero greenhouse gas emissions before a climate catastrophe hits. In this book, he draws on his own understanding of bringing innovative ideas to market, and explores technologies that are currently helping address the problem, as well as looking ahead at what else needs to be done. For a big business perspective, this is one to read.
TEDxLondon Climate Curious
If you find the current conversation surrounding climate change worrying, confusing or even boring, TEDxLondon hosts Maryam Pasha and Ben Hurst have you covered. In each episode, they speak to the world's leading and most relatable climate scientists, as well as those taking action on the frontline. Topics range from why cities are key to addressing the crisis to why we need to think systemically rather than individually. If you find TED talks engaging, this is an important one.
Sounds Like A Plan
Sounds Like A Plan has a niche focus. It asks the question we have all asked ourselves at one (probably adolescent) point in our lives: can music save the world? Well, the hosts of this podcast think so. Each episode features a conversation with a music industry figure – from musicians, producers, record labels, festival organisers and data analysts – who is taking action on climate change. The issue at hand might be desperately serious, but this is where to go if you want a lighter listen.
BBC Radio 4 – 39 Ways to Save the Planet
In a podcast series completed this summer, BBC Radio 4 dedicated 39 episodes to 39 different ways of saving the planet from climate breakdown. Those ideas include a hydrogen fuel revolution, zero carbon farming, low carbon crisps – there's even one whole episode on Arnold Schwarzenegger's favourite ways to save the planet. With each episode running at 15 minutes or less, this is an easy way to inform yourself of what we can all do.
BBC World Service – The Climate Question
As an existential threat to humanity, the climate crisis poses some massive questions around how we might live now and in the future, and what we need to change. The Climate Question takes things one big question at a time, diving deep for answers to anything from 'Can we engineer rain to help solve climate change?' to 'What does net zero really mean?'
Before The Flood – Disney+
For the Hollywood take on climate change, this documentary is executive produced by Martin Scorsese and features Leonardo DiCaprio visiting various regions of the world to show the many different impacts of climate change. It also tackles climate change denial and the damage that is doing around the globe.
Available to watch on DisneyPlus.com 
Don't Look Up – Netflix
From the director of The Big Short and Dick Cheney drama Vice, Don't Look Up divided audiences last year with its thinly veiled satire of the current response to the climate crisis. With a looming comet approaching Earth and looking set to destroy human civilisation, its portrayal of economic and political indifference among celebrities and the media could feel uncomfortably realistic. Others found it ham-fisted and condescending. It's always worth making up your mind yourself.
Available to watch on Netflix.com
Kiss the Ground – Netflix
Narrated by Hollywood actor Woody Harrelson, Kiss The Ground focuses specifically on the Earth's soil and how it may be crucial to combating climate change and preserving the planet. Amid all the doom and gloom that is usually associated with the threat of climate breakdown, it is reassuring to hear that all is not yet lost. Finding hope and inspiration in the power of soil to sequester carbon and reverse the effects of climate change, this is a must watch.
Available to watch on Netflix.com
I Am Greta – iPlayer
The most famous face of the climate change movement is still only 19 years old. At 15, she started her own school strike, spending her Fridays outside the Swedish parliament to call for stronger action. In this documentary, her remarkable journey is charted from those beginnings to her giving a speech to the UN in 2019 after travelling to New York on a carbon-neutral boat.
Available to watch on BBC.co.uk
All products on this page have been selected by our editorial team, however we may make commission on some products.
DISCLAIMER: We endeavour to always credit the correct original source of every image we use. If you think a credit may be incorrect, please contact us at [email protected].