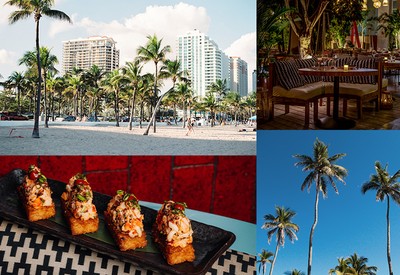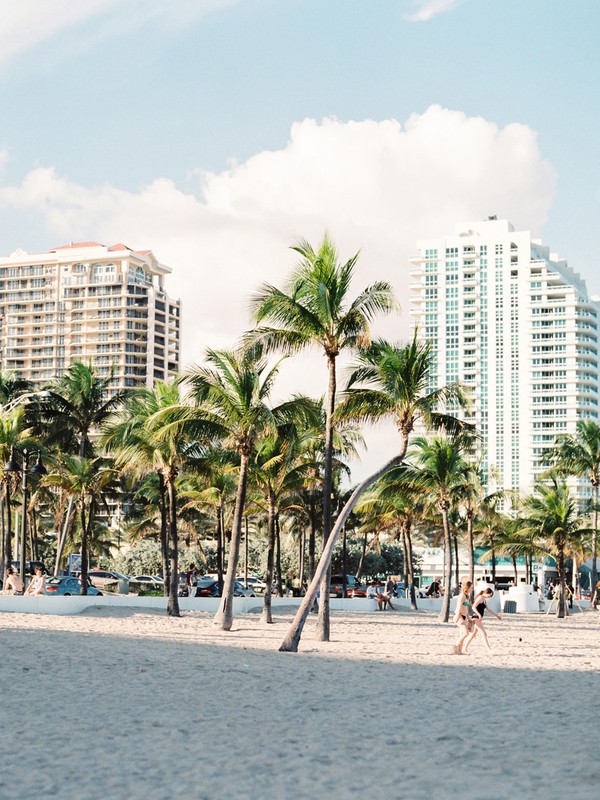 An Insider's Guide To Miami

---
Few people know Miami's party scene like Purple, head of VIP relations for David Grutman's empire, not to mention the city's coolest restaurants and under-the-radar spots. We asked him for his top recommendations…

I moved to Miami right after hurricane Andrew in the early 90s. Before that, I'd visited with my family on a trip to Disneyworld, where the Miami weather and vibes captured my parents' attention. When we finally moved, I cried for two weeks straight and thought about running back home to Costa Rica. Now, there's nothing I don't love about the city. The sunsets are beautiful and the people are really friendly. 
One of the best things about the city is its energy. As soon as you touch down, you feel it right away. It has a mix of tropical and city vibes, particularly if you want to stop by Brickell, a downtown neighbourhood which has a cool New York edge.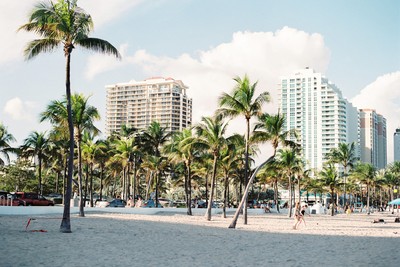 My favourite neighbourhood is the Design District. It's not far from where I live in downtown Miami. If I need a cool outfit for the weekend, I have all the best stores right there on my doorstep.
My favourite beach is South Beach. But I don't like the crowded side, I like to go a little north between 19-23 Street on Collins Avenue and take a day bed outside The Setai. It's a little quieter and more relaxing.
I buy my coffee from OTL in the Design District. Cortado and French toast are a must – just make sure you grab a table outside to enjoy the good morning weather.
My go-to restaurant is Papi Steak. There's no better vibe or atmosphere anywhere in the city. It's the best food, and you're guaranteed a great time. As well as quality steaks, you can order dishes like stuffed lobster tails, grilled crab and wagyu pastrami.  
For a special meal go to Bellini at Mr C hotel in Coconut Grove. It's on the top floor and it overlooks Biscayne Bay which has an amazing view. I always order the bolognese lasagne – it's out of this world.
For something casual I recommend Brickell City Centre. Since I'm very family oriented, I like to have a quick meal here at Casa Tua Cucina (a great Italian restaurant), then enjoy a movie at the CMX Theatre which has those great reclinable seats.
For a cool date night go to Komodo in Brickell. I can honestly say you'll have one of the best meals of your life, but you can also enjoy the great cocktails and the cool sounds of local DJs. Think Asian fusion dishes, wagyu steak and sushi. Plus, you can be having dinner next to the top celebrities on any given night. What I'm trying to say is, if you're trying to impress someone, this is the spot.
If you want to party go to Miami Beach. Since the 90s it's been the reigning champ of nightlife on this side of the world. You have some of the greatest clubs and crowds from all over the globe.
My favourite hotel is obviously the Goodtime Hotel, owned by Pharrell and David Grutman. It couldn't have been placed in a better location, in the heart of South Beach. You can party at weekends when the top DJs are in town or relax for hours at the restaurant and bars. Don't forget to stop by Strawberry Moon where you'll find great drinks and cocktails – including the 'Purple Reign' made with tequila, ginger liqueur, yuzu juice and shochu.
For a great nightclub I recommend Liv. Some of the biggest names in the music industry play or perform here week in, week out, year-round. Before you die, you have to go – put it on your bucket list now. 
The coolest music venue is probably Story. Much like Liv, it hosts huge industry names and has an amazing atmosphere. It will go down in history as one of those places where people always had a good time. 
My favourite Miami DJs are Cedric Gervais, Mednas, Luke Alexander and Apache. They're all local and what they've done for the Miami scene should never be forgotten. They know how to please the crowd and make you dance all night long.
The best beach club is Nikki Beach. It's always been a favourite of mine for its great food and the music they play throughout the day. Not to mention you can walk to the beach from your table because it's so close.
If you want somewhere cool and under radar go to The Key Club in Coconut Grove. It opened recently and the food and atmosphere are amazing. It does the most delicious seafood plates, sushi, and epic desserts like a pina colada pavlova. 
For cool menswear go to the new Amiri store in the Design District. Amiri uses some of the best fabrics in its designs, and I love the jeans and t-shirts. There's nothing Mike Amiri can't do – he can make any man look cool.
If you really want to shop go to The Webster. It's one of the few stores where you can be shopping next to someone famous at any time of the day. There are two locations: one on the beach and one in Bal Harbour where you'll find cool menswear brands and designer names like Loewe, Acne Studios, Saint Laurent and Aaron Young. 
Sneakerheads will love all the cool stores near Miami Beach like the consignment store Flight Club and Yankeekicks. They stock hundreds of cool pairs you won't find online – keep your eyes peeled for the sneaker conventions throughout the year too. 
My favourite gallery is Romero Britto on Lincoln Road, the famous shopping strip in South Beach. Romero Britto is one of my favourite artists and you always feel welcome every time you walk in. There's always someone to show you around all the cool art pieces and installations.
One place you can't miss is Nixon Beach. You can only get there via boat or yacht, so it's best to plan ahead for a day trip. I'd head out there on Sunday – our national boat day. Either with family or friends, taking a yacht out on Sunday with the Miami weather hits different. I'm so blessed to live in a city surrounded by beautiful water.
DISCLAIMER: We endeavour to always credit the correct original source of every image we use. If you think a credit may be incorrect, please contact us at [email protected].