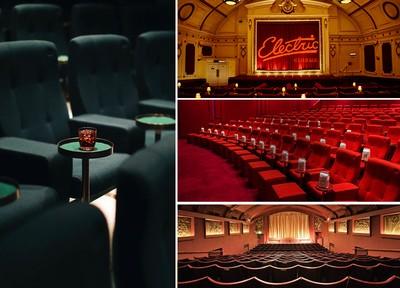 London's Best Boutique Cinemas

---
Welcome to the golden age of the boutique cinema. Facing stiff small-screen competition, more and more London cinemas are elevating their offer to filmgoers. From the leather armchairs in the Electric to the royal boxes at Curzon Mayfair, this is your area-by-area guide to the capital's true 'picture palaces'.

NORTH
Art House, Crouch End
In a red-brick former music palace, this multi-arts venue shows a mix of the latest hits and more thoughtful selections across two screens, each with fewer than 100 seats. Arrive early to make best use of the café-bar, which doubles up as an exhibition space.
Everyman, Hampstead
The original link in the ever-growing Everyman chain, this Hampstead destination exudes the laid-back luxury for which the group has become known. Take drinks from its bar into either of its two screens, where you can have food delivered to your seat – which might be an armchair or a sofa. The programme spans blockbusters to edgier foreign-language fare.
The Lexi, Kensal Green
Billing itself as – deep breath – the UK's first 'social enterprise independent boutique digital cinema', the Lexi is volunteer-run and all profits go to South Africa's Sustainability Institute. Currently fundraising for a second screen, it already has a gallery bar, where everything from the freshly dripped coffee to the house gin is hyper-locally sourced.
Phoenix, East Finchley
Launched as the East Finchley Picturedrome more than a century ago, the single-screen Phoenix is among the UK's oldest continually running cinemas. To mark its centenary, it opened a café-bar with balcony, and its auditorium regained its original vaulted ceiling and art-deco panelling. These now make excellent surroundings in which to catch the latest arthouse release.
 
PhoenixCinema.co.uk
EAST
The Castle, Homerton
The Castle Electric Theatre opened as an independent, single-screen cinema in 1913. After spells as a warehouse and snooker hall, the group behind successful pop-ups Hot Tub Cinema and Pillow Cinema ran a Kickstarter to return it to its original glory. Now you can order a Venerdi pizza in its handsome bar-restaurant, then settle in for the latest release or a slightly deeper cut from film's rich past or varied present.
 
TheCastleCinema.com

Genesis, Whitechapel
At one time, there were 33 cinemas in the borough of Tower Hamlets. A lot of them were razed, some turned into bingo halls, and Genesis itself lay derelict in the 90s. But it came back – and in some style. Head to Studios 4 and 5, with their in-auditorium bars, for sofas and armchairs that come with blankets and Ottoman foot stools.   
 
GenesisCinema.co.uk
 
Rich Mix, Shoreditch
Amid five floors of event and artistic performance spaces, this creative hub has a three-screen cinema. Grab Indian street food from its ground-floor Indigo restaurant on your way up to a screening of a new mainstream or independent film in this former garment factory. And feel good about it too – all profits go back into this charitable enterprise's community-focused mission.
 
RichMix.org.uk
 
Rio, Dalston
On Kingsland High Street, the Grade II-listed Rio occupies a site with a cinematic heritage stretching back to the silent-movie era. Fully restored to 30s art-deco glory, it's an atmospheric spot to catch a movie. Last year, it opened the Ludski bar, turning its basement into a welcoming space for hanging out before or after a film in one of its two screens.
 
RioCinema.org.uk
SOUTH
Archlight, Battersea
The younger sister of the Olympic Cinema in Barnes, the Archlight is a purpose-built three-screener. Its reclining seats come with tables – handy for any cocktail or bottle of wine you might want to take in with you. In the shadow of the Power Station, each of its screens occupies an old railway arch. You'll find the bar in Cinema 2.
 
ArchlightCinema.co.uk
 
Ritzy Picturehouse, Brixton
This Grade II-listed Brixton landmark fell into the hands of Cineworld when the big chain bought the Picturehouse group in 2012. But its owner remains respectful of the Ritzy's rich history. First opened as a cinema more than 100 years ago, the Ritzy continues to offer a more-than-multiplex experience across five screens and a couple of bars, one of which stays open late for club nights.
 
Picturehouses.com
 
WEST
Electric Cinema, Portobello
Perhaps the leading light of London's independent cinema scene, the Electric dates back to the 1900s. It almost became a bingo hall in the 80s, but is once again a star of Portobello Road. Choose between plush leather armchairs (with footstools), back-row sofa seats or even a front-row bed. As for the programme, cult classics take their place alongside mainstream and independent new releases. Next door, the 50s-style Electric Diner exists to help you make an evening of your cinema trip.
 
ElectricCinema.co.uk
 
Electric Cinema, White City
Newly opened at the end of 2019, London's second Electric cinema is inside the BBC's old Television House home. Like its Portobello big sister, it is lavishly appointed with armchairs and footstools. Refreshments? The bar serves drinks and snacks or the ground-floor Allis restaurant borrows from a Soho House Chicago concept to offer all-day drinks and dining.
Ciné Lumière, South Kensington
The Institut Francais has made its Ciné Lumière a popular haunt for cinéastes in South Ken. With its distinctive red-brick exterior, striking marble staircase and resident Rodin statue, this is a place to impress. Inside the cinema's art-deco auditorium, expect subtitles to accompany a wide selection of world and European titles.
Olympic Cinema, Barnes
Once a recording studio for both the Beatles and the Stones, the Olympic is now one of the plushest cinemas in the city. Between the love seats at the back and foot stools for the front row, wool-felt reclining chairs make it easy to lose yourself in a film. Downstairs, a neighbourhood-style café and dining room offers homemade, seasonal fare.
 
OlympicCinema.co.uk
 
Riverside Studios, Hammersmith
Closed since 2014, the Riverside Studios reopened just a few weeks ago. Among its flexible work and performance spaces, the old iron works now boasts a state-of-the-art 208-seater cinema and 46-seater screening room. Within the same new complex, Sam's Riverside restaurant serves modern British fare and makes it easy to hang around before or after a film.
CENTRAL
The Cinema at Selfridges, West End
On the lower ground floor of the Oxford Street institution, there is now a suitably high-end cinema. Warm up for your film in the bar, then grab something from the sweet shop to take with you into the auditorium. Once inside, reclining seats come with individual tables, and the film itself is delivered via the latest in laser projection and Dolby sound tech.
Curzon, Mayfair
Popular for red-carpet premieres, the original Curzon has been flickering since 1934. Its art-deco café, with vintage furniture, revels in that rich history. Double date? In Screen 1, a pair of four-seater Royal Boxes will take your viewing experience to the next level for an almost reasonable £100 a box. The more intimate Screen 2 offers 65 Pullman seats with tables.
Regent Street, West End
Welcome to the birthplace of British cinema. In 1896, a screening room here became the first in the country to show moving pictures. Reopened in 2015, its handsome auditorium retains its regal decor and has added some luxurious seating. One of just a few places showing films in 16mm, 35mm and 4k digital, it serves up a mix of classics, experimental films, foreign movies, retrospectives and documentaries.
 
RegentStreetCinema.com
DISCLAIMER: We endeavour to always credit the correct original source of every image we use. If you think a credit may be incorrect, please contact us at [email protected].