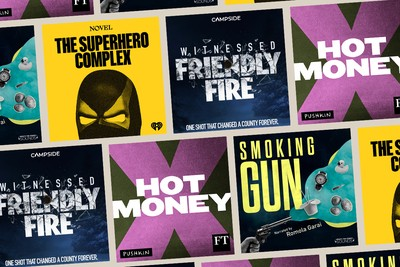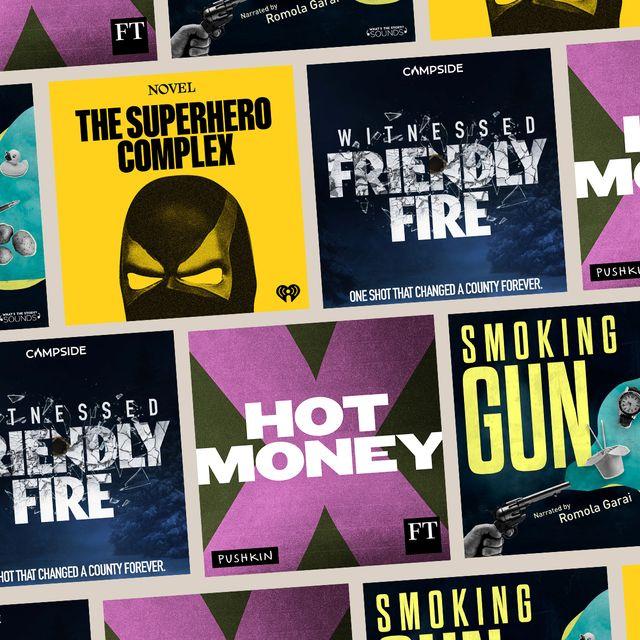 10 New Podcasts To Check Out

---
It seems like everyone's got a podcast these days. And not all of them deserve your time. From comedy series to true-crime deep dives – plus Mayo and Kermode's new gig – these ten are worth hitting play on…
Before they co-wrote Pulp Fiction in the early 90s, Quentin Tarantino and Roger Avary worked together at the famous Video Archives rental store in Manhattan Beach, California. Tarantino subsequently rescued the store's VHS library and recreated it in his house. In this new podcast, the pair dive into the archive to talk about old classics and discover new favourites, from controversial Bond films to surprising exploitation flicks. They will reveal movies you didn't know you needed to see, hand out awards to their favourites and, of course, rate the quality of each video transfer.
Listen here
The Superhero Complex tells the bizarre story of Phoenix Jones, a masked crusader who billed himself as Seattle's real-life superhero. Jones was a charismatic cage fighter, hell-bent on ridding the streets of criminals – he even had his own custom-made costume. But in 2020, Phoenix found himself of the wrong side of the law when his superhero sidekicks turned against him. He was found with 4 grams of suspected cocaine. Was Phoenix ever a 'superhero' or did he create a cult-like following? Journalist David Weinberg investigates.
Listen here
Fans were up in arms when Mark Kermode and Simon Mayo ended their original BBC film podcast a few months ago. Thankfully, they're back with a snazzy new series featuring film and TV reviews and some non-movie related stuff. Follow them as they meander through conversations spanning punctuation, Thunderbirds, obscure German pop music, fax machines, subtitles, MRI scans, magic, school assemblies, Scandinavia and – of course – dad jokes. Don't miss the episode where they share their thoughts on Baz Luhrmann's latest biopic, Elvis. Subscribers also get additional podcasts from the duo throughout the week.
Listen here
These days, OnlyFans is where amateur porn stars are raking in the cash, but there's still a billion-dollar industry elsewhere. When Financial Times reporter Patricia Nilsson started digging into the porn industry, she made a shocking discovery: nobody knew who controlled the biggest porn company in the world. Now, Nilsson and her editor, Alex Barker, have figured out who the top player is – and much more. Their reporting reveals a shadowy power structure that includes billionaires, tech geniuses and the most powerful finance companies in the world. 
Listen here
Gangster: The Story of Curtis Warren
Curtis Warren, Britain's biggest and wealthiest drug baron, is set to be released from prison later this year. Gangster follows his remarkable journey from small-time dealer in Liverpool to the summit of the international cocaine trade. Warren was the first gangster to be featured in the Sunday Times Rich List when he was earning a reported £15m a week and became Interpol's 'Target One' – one of the world's most wanted criminals. Presenter Livvy Haydock speaks to some of his closest criminal associates who helped forge direct links with the notorious Colombian cocaine cartels – the real life Narcos – and meets the customs officers and detectives who eventually brought him to justice. When he's released, authorities will be watching his every move. One question remains, however. The whereabouts of his £200m fortune.
Listen here
The UK's leading forensic scientist, Tracy Alexander, hosts this podcast alongside actor Romola Garai. In every murder investigation, there's one key item that could bring a killer to justice. But finding it and knowing what evidence it contains is the real challenge – because the smoking gun could be anything. A bouquet of flowers, a Chinese meal, a mosquito. This series reveals true stories about everyday items that have been the key to unlocking a criminal case, offering fascinating behind-the-scenes access to cutting-edge techniques as well as the disciplines – mastered over the decades – which allow forensic scientists to find the evidence.
Listen here
Will Ferrell hosts this podcast with Bowen Yang and Matt Rogers (from the Las Culturistas show). Each month, they shine a light on fresh new comedians who will have to create their own podcast and an original character of their own creation – The Ron Burgundy Podcast style. First up is Greta Titelman with 'Stepmom Presents: The Husband Hunt'. She's after your dad and his "old, dangling papaya balls" – and she doesn't care who knows…
Listen here
Real Outlaws is the show that follows in the footsteps of history's most notorious criminals – from Billy the Kid to the Kray twins, the Peaky Blinders to Anne Bonny. Whether they're charismatic antiheroes or bloodthirsty villains, their names and exploits live on in popular imagination. But what are the true stories behind the myths? Host Nathan Wiley talks to experts and travels back in time, to when rogues and bandits followed a code all of their own. 
Listen here
When a K-9 officer in the Sheriff's Department of Scott County, Tennessee, is shot by his partner, a grieving widow takes it upon herself to untangle the truth from the lies. Was it just a catastrophic accident? Or an intentional killing? Reporter Sean Flynn returns to Scott County two decades after the shooting to tell the story of one woman's pursuit of justice – and one community's enduring reckoning with the fallout.
Listen here
The Execution of Bonny Lee Bakley
On 4th May 2001, Bonny Lee Bakley was found shot dead in a car on a dark north Hollywood street. The prime suspect was her husband, famed actor Robert Blake. But Bonny, a long-time con artist, had plenty of enemies. She left behind a trail of men she'd scammed, and she had a volatile relationship with Christian Brando, the troubled son of Marlon. Not since the OJ Simpson case had the eyes of the nation been so fixated on a homicide. The search for Bonny's killer took detectives on an 11-month odyssey across the country and through Hollywood's underbelly of hustlers, drug addicts and hitmen. It would be the most expensive murder investigation in LAPD history to date. This series charts it all.
Listen here
DISCLAIMER: We endeavour to always credit the correct original source of every image we use. If you think a credit may be incorrect, please contact us at [email protected].