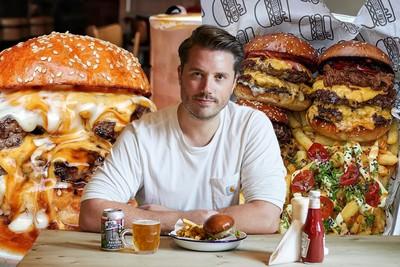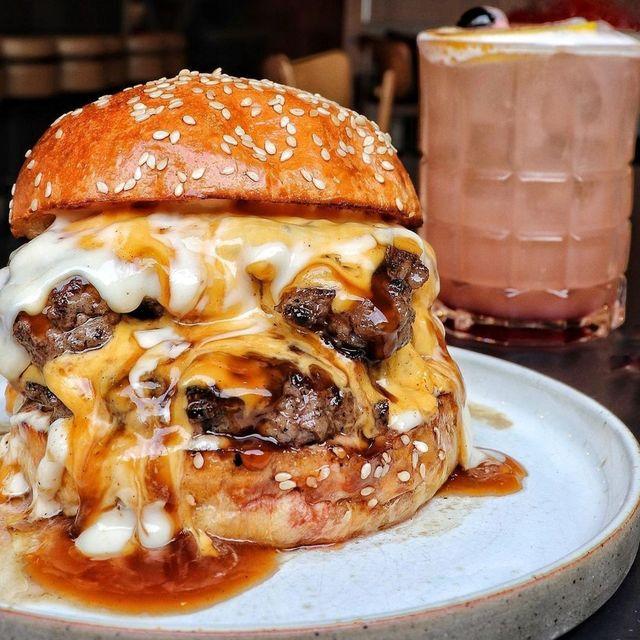 London's Best Burgers – According To A Pro

---
Adam Layton has been in the burger game for almost a decade – at the last count he'd created well over 100 specials for Honest Burgers as its master saucier (or head of collaboration). As we enter peak burger season, he suggests having a night off from your own BBQ and heading to one of his favourite spots across the capital – or even hunting down a couple of his favourite patties from outside the M25…
Baggio Burger
Walthamstow
Chef and founder Nino creates burgers inspired by his childhood trips along the Amalfi coast, drawing on the area's rich food history. Anyone who remembers football in the 90s will enjoy the brand's many references to Roberto 'The Divine Ponytail' Baggio and its Panini sticker album stylings. Nino gets top marks for originality, infusing each beef patty with garlic and a balsamic reduction. First timers should order the far-from-diminutive Zola burger: beef, mozzarella, homemade gorgonzola and parmesan sauce with house fig jam and rocket on a sesame seed bun.
Visit BaggioBurger.com
Burger & Beyond
Shoreditch
Burger & Beyond made one of my favourite burgers ever. If I remember correctly, it was a limited-edition dish for National Burger Day many years ago in collaboration with our mutual friend Lewis. The 'Big Lew' had some serious heft, held together under a soft and squishy bun. I would tell you all about the bone marrow mayo and cold smoked American cheese, but it belongs to the past now. Instead, order a Bacon Butter Burger instead – it's very nearly almost as good and comprises beef, double American cheese, crispy pancetta and burnt butter mayo.
Visit BurgerAndBeyond.co.uk
There are a handful of Bleecker restaurants but I'm pointing you towards its first brick-and-mortar site in Spitalfields. Back when I picked the line-ups at Street Feast's markets, Bleecker was always top of my list and if I could travel back in time to eat one of its burgers standing up in a burnt-out warehouse in Dalston, I would in a heartbeat. Down the years Zan and Liam have stuck to their guns, serving the most purist cheeseburger possible with well-aged, well-sourced beef and no frills. 
Visit Bleecker.co.uk
I'd like to say massive congratulations to Cawsburger, who have just opened their first proper restaurant in Hitchin, having built a following from a pop-up burger kitchen at a local café. I met Cawsburger's founders when we were opening an Honest Burgers in nearby St Albans. I really wanted to collaborate with them but sadly I'd overlooked the fierce rivalry between St Albans and Hitchin. Founders Charlie and Matt are from Wales (Cawsburger means cheeseburger in Welsh) but my favourite burger of theirs has inspirations from a bit further afield: beef topped with grilled halloumi, chilli jam and sriracha mayo. 
Visit Cawsburger.co.uk
Honest Burgers
London & UK
Time to blow our own trumpet for a minute. We've always been proud of our great British burgers and homemade rosemary chips, but this year we're taking a closer look at what 'Honest' means and how we can live up to the name above the door. That means ripping up our existing beef supply chain and gradually moving over to regeneratively farmed beef, which is a gamechanger for restoring soil health. All of our restaurants have local burgers, so here's a chance to shout out my favourite: a taco-inspired beef birria burger in Peckham made in collaboration with local street food star Taca Tacos. It features beef, 'birria' braised beef, double American cheese, pink pickled onions, chipotle mayo and a beef and coriander broth.
Visit HonestBurgers.co.uk
I'm going to flip things around here and tell you to go to Lucky Chip's most recent outpost in Folkestone, Kent. Founder Ben Denner was right at the bleeding edge of London's emerging street food scene when he opened a burger stall at Hackney's Netil Market in 2011. Whenever we've thrown a National Burger Day party with 20 or so traders, I always save stomach space for Lucky Chip. Ben's one of the most creative burger chefs out there, with a back catalogue of ingredients that includes cream soda BBQ sauce. Go to Folkestone and eat an El Chapo with blue cheese, aioli and roasted jalapeños.
Visit LuckyChip.co.uk
Mother Flipper is the pride of Brockley market. Founder Manuel is my local burger pedlar and he's another one of the London OGs still banging out burger after brilliant burger. If you're coming to Brockley market before noon, the Breakfast Muffin is not optional. Founded in 2012, we're still waiting and pleading for Mother Flipper to open a restaurant. Hopefully this article will push him over the edge. The Candy Bacon Flipper is easily in my top five London burgers. For me it's the perfect marriage of salty and sweet with bacon fried in maple syrup, American cheese, ketchup, mustard, pickle, red onion and lettuce. A proper death-row burger.
Visit MotherFlipper.co.uk
I tend to go to MeatLiquor a couple of times a year, usually the Shoreditch spot or the recently relocated original restaurant in the West End. What I love is that it's a proper brand, not just a nice logo and a great menu. You just have to walk through the doors to get it: from the music to the grog to the staff to the not-so-saintly veneration of all things meat everywhere you look – it's a shrine to the founder's original vision and is as cool now as when it started. Live fast, die young and always order a Green Chilli Cheeseburger with a side of Monkey Fingers – those are chicken strips drenched in buffalo sauce and a blue cheese dip.
Visit MeatLiquor.com
Four Legs at The Plimsoll
Finsbury Park
This is another Honest collab that got away, but I think the Four Legs lads are incredible talents in the kitchen and on the 'gram. This is one of the most hyped burgers since the early days of London burgermania – and it deserves to be. The Four Legs  is a chef's burger but not a cheffy burger: Dexter beef (small cattle, big flavour) is smashed and seared to a lacy crisp and topped with American cheese, Heinz ketchup and homemade mayo. It's the McDonald's they serve in heaven.
Visit @FourLegs_Ldn
DISCLAIMER: We endeavour to always credit the correct original source of every image we use. If you think a credit may be incorrect, please contact us at [email protected].