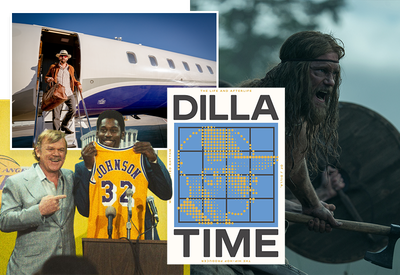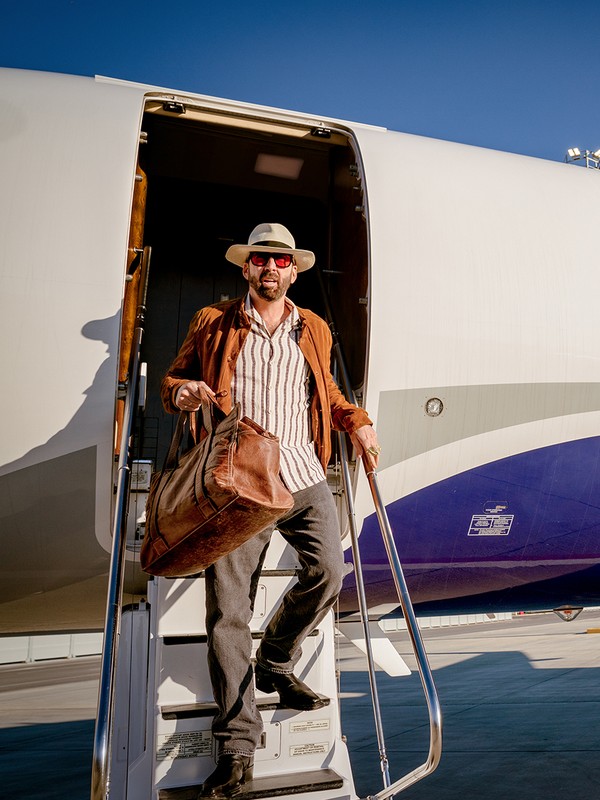 The SLMan Culture List: April

---
Whether you fancy a trip to the cinema or want a new doc to get stuck into at home, SLMan's monthly edit of the best new books, films and series is here to see you through April…

THE CINEMA RELEASE: The Unbearable Weight of Massive Talent
Anyone who caught last year's sleeper hit Pig will be excited to see Nicolas Cage is starring as 'Nick Cage' in new action-comedy The Unbearable Weight of Massive Talent. Creatively unfulfilled and facing financial ruin, the fictionalised version of Cage is obliged to accept a $1m offer to attend the birthday of a dangerous superfan (Pedro Pascal). Things take an unexpected turn when Cage is recruited by a CIA operative (Tiffany Haddish) and forced to live up to his own legend, channelling his most iconic on-screen characters in order to save himself and his loved ones. With a career built for this very moment, the award-winning actor must take on the role of a lifetime – his own.
Out 22nd April
Visit Odeon.com
THE DRAMA TO STREAM: Slow Horses
Slow Horses is a darkly humorous drama that follows a dysfunctional team of British intelligence agents who serve in a dumping ground department of MI5 known as Slough House. Gary Oldman stars as Jackson Lamb, the brilliant but irritable leader of the spies, who are where they are because of career-ending mistakes made as they blundered around the smoke and mirrors world of international espionage. The cast includes Kristin Scott Thomas, Jack Lowden, Olivia Cooke, Saskia Reeves, Paul Higgins and Freddie Fox, with guest appearances by Jonathan Pryce and Sophie Okonedo.
Out now
Visit AppleTV.com
THE NOVEL: Amongst Our Weapons by Ben Aaronovitch
The ninth instalment of Ben Aaronovitch's genre-bending fantasy/crime series sees an impossible killing in the London Silver Vaults spell jeopardy for detective constable Peter Grant and the rest of the Special Assessment Unit (SAU). The SAU find themselves embroiled in a mystery that encompasses London's tangled history and foreign lands. Peter must solve this case soon because back home his partner Beverley is expecting twins any day now. But what he doesn't know is that he's about to encounter something – and somebody – that nobody ever expects.
Out 7th April
Visit Waterstones.com
THE SERIES: Winning Time: The Rise of the Lakers Dynasty
Winning Time: The Rise of the Lakers Dynasty is a glossy HBO drama series that goes back in time to chronicle the professional and personal lives of the 1980s Los Angeles Lakers, one of sport's most revered and dominant dynasties. Based on Jeff Pearlman's book Showtime and produced by Succession's Adam McKay, the show takes a look at a team that defined its era, both on and off the court. A must-watch for sports fans – with an A-list cast that includes John C. Reilly, Jason Clarke, Adrien Brody, Quincy Isaiah, Sally Field and Jason Segel.
Out now
Visit NowTV.com
THE EXHIBITION: Football: Designing The Beautiful Game
The Design Museum's upcoming Football: Designing the Beautiful Game will showcase the ways in which design has shaped the world's most popular sport – from the planning of iconic stadiums and the tech used in today's kits to the graphic design of team badges and the phenomenon of football gaming. The Design Museum has worked in partnership with the National Football Museum in Manchester to produce the exhibition, providing unparalleled footy expertise, including more than 100 significant historical objects telling the stories of legendary clubs and players such as Messi, Pelé, George Best and Diego Maradona.
Opens 8th April
Visit DesignMuseum.org
THE DOC FOR FILM FANS: Ennio: The Maestro
At the last Venice International Film Festival, Ennio: The Maestro received two standing ovations. Directed by Oscar winner Giuseppe Tornatore (Cinema Paradiso), the film celebrates the life and legacy of legendary Italian composer Ennio Morricone. Quentin Tarantino, Clint Eastwood, John Williams and Bruce Springsteen are all interviewed as Tornatore's documentary retraces the life and works of the cinema's most popular and prolific 20th-century composer – who wrote over 500 scores for film and television and sold over 70m records – from his early work with Sergio Leone to winning an Oscar for The Hateful Eight in 2016.
Out 20th April
Visit Picturehouses.com
THE BOOK: Young Mungo by Douglas Stuart
From Booker prize winner Douglas Stuart (Shuggie Bain) comes this page-turning second novel, a vivid portrayal of working-class life and a highly suspenseful story of the dangerous first love of two young men. Protestant Mungo and Catholic James live in the hyper-masculine and violently sectarian world of Glasgow's housing estates. They should be sworn enemies, but they become best friends when they find a sanctuary in the pigeon dovecote James has built for his prize racing birds. Falling in love, they dream of escaping the grey city, and Mungo works hard to hide his true self from those around him. But the threat of discovery is constant and the punishment unspeakable. Imbuing the everyday world of its characters with rich lyricism and giving full voice to people rarely acknowledged in literary fiction, Young Mungo is a gripping and revealing story about the bounds of masculinity, and the push and pull of family.
Out 14th April
Visit Waterstones.com
THE ACTION THRILLER: The Lazarus Project
New Sky Original drama The Lazarus Project promises to be a gripping eight-part action thriller from acclaimed writer Joe Barton (Giri/Haji). When George (Paapa Essiedu, Gangs of London) wakes up one day and finds himself reliving a day from months ago, he thinks he's lost his mind. Worst of all, he seems to be the only one who's noticed what's happened. Until he meets Archie (Anjli Mohindra, Vigil), who recruits him for the Lazarus Project – a secret organisation that has harnessed the ability to turn back time whenever the world is under threat of extinction. Then a freak accident harms someone close to George. Lazarus won't let him turn back time to undo it – unless there is that threat of global extinction. Now George must choose to stay loyal or go rogue.
Release date TBC
Visit NowTV.com
THE SPORTS DOC: Super Greed: The Fight for Football
In April 2021, in the middle of the pandemic, owners of the 12 most powerful clubs in world football attempted a bold power grab. Years of secret talks and backroom dealings climaxed with a breath-taking late-night announcement: the rivals were joining forces and breaking away from centuries of sporting tradition to launch a new competition that would secure their clubs' futures for decades to come. However, the 'super league' attracted furious opposition from the rest of the footballing world and the deal collapsed in just 48 hours. Super Greed: The Fight for Football tells the dramatic inside story of the doomed league through the eyes of those who helped bring it tumbling down.
Out now
Visit NowTV.com
THE NON-FICTION BOOK: Dilla Time by Dan Charnas
Equal parts biography, musicology and cultural history, Dilla Time chronicles the life and legacy of J Dilla, a musician who transformed the sound of popular music for the 21st century. He wasn't known to mainstream audiences, and when he died at age 32, he had never had a pop hit. But since his death, J Dilla has become a demigod, revered as one of the most important musical figures of the last century. At the core of this adulation is innovation: as the producer behind some of the most influential rap and R&B acts of his day, Dilla created a new kind of musical time-feel, an accomplishment on a par with the revolutions brought by Louis Armstrong and James Brown. In Dilla Time, Dan Charnas chronicles Dilla's life, from gifted child in Detroit to sought-after hip-hop producer and eventually the rare blood disease that caused his premature death.
Out 7th April
Visit Waterstones.com
THE NEW GOMORRAH: The King
The King is a high-stakes prison drama starring award-winning Luca Zingaretti (Inspector Montalbano). The eight-part Italian series sees Zingaretti as controversial prison boss Bruno Testori, who rules the San Michele penitentiary with his own set of laws. While Testori's life outside the prison may have gone wrong, inside San Michele he is The King. Ruthless with those who deserve it and unexpectedly compassionate with others, Testori always follows the principles of his own distorted morals. When the kingdom looks like it might crumble in the face of imminent danger, Testori must fight his most difficult war yet.
Release date TBC
Visit NowTV.com
THE BIG MOVIE: The Northman
Don't let the Game of Thrones look and feel of The Northman put you off – it's got one of the greatest casts of the year: Alexander Skarsgård, Nicole Kidman, Claes Bang, Anya Taylor-Joy, Ethan Hawke, Björk and Willem Dafoe are all here. The film comes from visionary director Robert Eggers (The Lighthouse, The Witch) and promises to be an action-filled epic that follows a young Viking prince on his quest to avenge his father's murder.
Out 22nd April
Visit Picturehouses.com
All products on this page have been selected by our editorial team, however we may make commission on some products.
DISCLAIMER: We endeavour to always credit the correct original source of every image we use. If you think a credit may be incorrect, please contact us at [email protected].