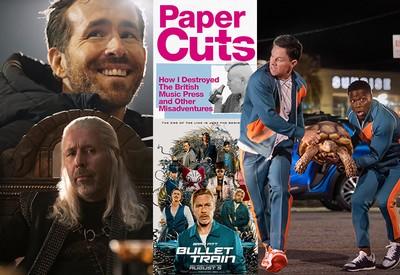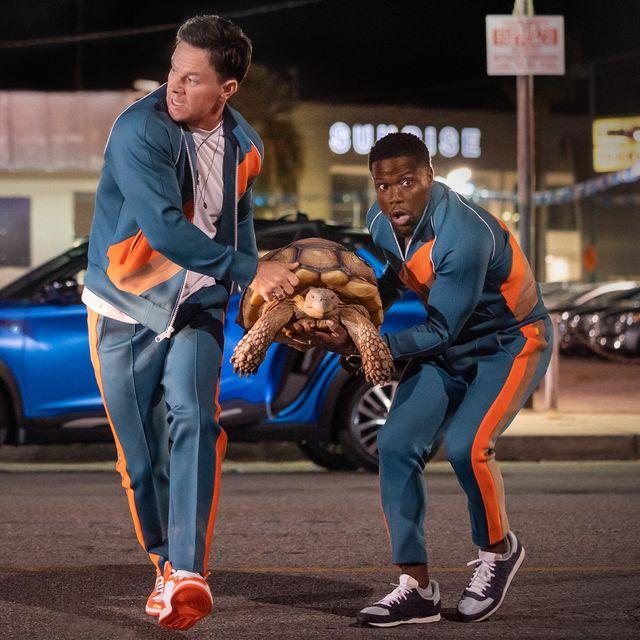 The SLMan Culture List: August

---
Whether you fancy a trip to the cinema or want something to get stuck into at home, SLMan's monthly edit of the best new books, films and series is here to see you through August…
All products on this page have been selected by our editorial team, however we may make commission on some products.
THE BIG SCREEN RELEASE: Bullet Train
We've been excited for this all-out action flick since we first saw the trailer a few months back. Five assassins find themselves on a fast-moving bullet train from Tokyo to Morioka with only a few stops in between – and soon, they discover their missions are not unrelated to each other. Brad Pitt stars as Ladybug, an unlucky assassin determined to do his job peacefully after one too many gigs has gone off the rails. Aaron Taylor-Johnson, Bad Bunny, Sandra Bullock, Logan Lerman and Brain Tyree Henry join him for a non-stop thrill-ride through modern-day Japan from director David Leitch (Deadpool 2).
Visit Odeon.com
THE GAME OF THRONES SPIN-OFF: House of the Dragon
After a long wait, House of the Dragon – the prequel to Game of Thrones – arrives on HBO and Now at the end of the month. No pressure, but GoT fans everywhere are hoping this series reignites their passion for George R. R. Martin's fantasy world after the widespread disappointment of the rushed last series. House of the Dragon goes back 200 years before the events of Game of Thrones to tell the story of House Targaryen. Paddy Considine, Matt Smith, Olivia Cooke, Emma D'Arcy, Steve Toussaint and Rhys Ifans all star – alongside some impressive-looking dragons. It better be a hit.
Visit NowTV.com
THE TRUE-CRIME DRAMA: Five Days at Memorial
Drawing on an award-winning ensemble cast that includes Vera Farmiga, Cornelius Smith Jr and Cherry Jones, Five Days at Memorial chronicles the impact of Hurricane Katrina in 2005 and its aftermath on a local hospital. When the floodwaters rose, power failed and heat soared, exhausted caregivers at a New Orleans hospital are forced to make decisions that would follow them for years to come. A powerful watch based on the excellent book of the same name.
Visit Apple.com
THE BRIT FLICK: I Came By
From Babak Anvari – the Bafta-winning director of Under The Shadow and Wounds – comes an arresting London-set crime thriller. Toby (George Mackay) and Jay (Percelle Ascott) are a pair of rebellious, young graffiti writers regularly targeting the homes of the UK's wealthy elite and ruling class. When Toby breaks into the home of renowned former high court judge Sir Hector Blake (Hugh Bonneville) he discovers a shocking secret that leads him on a journey that imperils himself and those closest to him. Channelling classic Hitchcockian suspense and contemporary themes of 'Establishment' privilege and corruption, we're hoping for a proper bit of British cinema.
Visit Picturehouses.com
THE ACTION FLICK: Samaritan
Thirteen-year-old Sam Cleary suspects his mysterious and reclusive neighbour Mr Smith (Sylvester Stallone) is actually a legend hiding in plain sight. Twenty-five years ago, Granite City's super-powered vigilante, Samaritan, was reported dead after a fiery warehouse battle with his rival Nemesis. Most believe Samaritan perished in the fire, but some in the city, like Sam, have hope that he is still alive. With crime on the rise and the city on the brink of chaos, Sam makes it his mission to coax his neighbour out of hiding to save the city from ruin.
Visit Amazon.co.uk
THE SPORTS DOC: Welcome to Wrexham
This docuseries tracks the dreams of working-class Wrexham as two Hollywood stars – Rob McElhenney (It's Always Sunny in Philadelphia) and Ryan Reynolds (Deadpool) – take ownership of the town's historic yet struggling football club. In 2020, Rob and Ryan teamed up to purchase the fifth-tier Red Dragons in the hopes of turning them into an underdog story the whole world could root for. The worry? Rob and Ryan have no experience in football or working with each other. From Hollywood to Wales, from the pitch to the locker room, the front office to the pub, Welcome to Wrexham tracks the pair's crash course in football club ownership, and the connected fates of a team and a town counting on two actors to bring some serious hope and change to the community.
Visit DisneyPlus.com
THE MUSIC MEMOIR: Paper Cuts by Ted Kessler
Paper Cuts is the story of how its author found redemption through music and writing. Readers travel with Ted Kessler as he interviews the stars – Paul Weller, Kevin Rowland, Mark E Smith, Shaun Ryder and Bez and Manic Street Preachers – while working for Q and NME during the 90s boom years. A story about love and death is gradually unfurled, covering what it's like when a music writer shacks up with a conflict of interest, and what happens when your younger brother starts appearing on the cover of the magazines you work for. In Kessler's own words, this is the memoir of a "delinquent doofus" whose life was defined by music magazines. 
Visit Waterstones.com
THE CAR-CRASH TV SHOW: Clusterf***: Woodstock '99
Enjoyed Fyre: The Greatest Party That Never Happened? You'll love this. Woodstock 1999 was supposed to be a millennium-defining celebration of peace, love and great music. Instead, the festival degenerated into an epic trainwreck of fires, riots and destruction. Using rare insider footage and eyewitness interviews with an impressive list of festival staffers, performers and attendees, this docuseries goes behind the scenes to reveal the egos, greed and music that fuelled three days of utter chaos.
Visit Netflix.com
When a stay-at-home dad finds himself with some rare 'me time' while his wife and kids are away, he reconnects with his former best friend for a wild weekend that nearly upends his life. Starring Kevin Hart, Mark Wahlberg and Regina Hall, this looks just the thing to hit play on in you're in the mood for real belly laughs.
Visit Netflix.com
THE FUNNY READ: James Acaster's Guide to Quitting Social Media by James Acaster
This is a self-help book like no other. In 2019, comedian James Acaster quit all forms of social media – covering his phone in tar and driving it to a lock-up in Rhyl, before setting up home in a castle he'd built himself called Castle Anti-Net. But when the withdrawal symptoms hit him, he realised in order to stay clean he'd have to replace everything social media gave him with three-dimensional, real-life activities. Employing the help of a mysterious, wealthy benefactor named Clancy Dellahue, and an ever-growing gang of misfits, James found ways to replace his online friends (he joined the Scouts) and spy on his exes (climbing ropes, zip lines, fake moustache) as well as anonymously bullying strangers, seeing photos of everyone's dogs, getting public figures fired and arguing with everybody about everything. A hilarious read for anyone thinking of leaving social media for good.
Visit Waterstones.com
DISCLAIMER: We endeavour to always credit the correct original source of every image we use. If you think a credit may be incorrect, please contact us at [email protected].