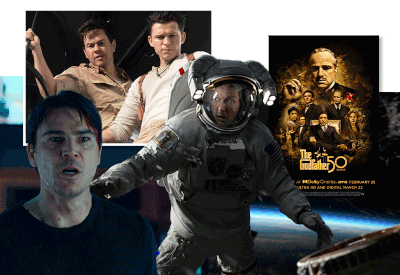 The SLMan Culture List: February

---
Whether you fancy a trip to the cinema or want a new doc to get stuck into, SLMan's monthly edit of the best new books, films and series is here to see you through February…

THE SERIES: Murderville
This new Netflix series focuses on the life and work of Detective Terry Seattle (Will Arnett, Bojack Horseman, Arrested Development). For Terry, every day means a new murder case. But there's a twist: each episode features a guest star who isn't given a script, and they have no idea what's about to happen to them. Together, the guest star and Terry will have to improvise their way through the case – but it will be up to each celebrity alone to name the killer. The first season's guest stars will be Annie Murphy (Schitt's Creek), late-night TV show host Conan O'Brien, Ken Jeong (Community), Kumail Nanjiani (Eternals), ex-NFL star Marshawn Lynch and A-lister Sharon Stone.
Visit Netflix.com
THE RE-RELEASE: The Godfather 50th Anniversary
To mark the 50th anniversary of Francis Ford Coppola's mafia masterpiece, The Godfather will be shown in Dolby Vision at select cinemas from 25th February. Coppola's film adaptation of Mario Puzo's novel chronicles the rise and fall of the Corleone family, and is the first part of a film trilogy that many (including us) view as one of the greatest in movie history. Also in preparation for its half-century, Paramount and Coppola's production company American Zoetrope have painstakingly restored all three films. Keep your eyes peeled: the full trilogy will be available on 4K Ultra HD for the first time ever from March.
Visit Picturehouses.com
THE IMAX EVENT: Moonfall
A mysterious force knocks the Moon from its orbit around Earth and puts them on a collision course. With the planet on the brink of annihilation, former astronaut Jo Fowler (Halle Berry) is convinced she has the key to saving the world – but only one other astronaut (Patrick Wilson) and a conspiracy theorist (John Bradley) believe her. These unlikely heroes mount a last-ditch mission into space, only to find out the Moon is not what we think it is. Directed by Roland Emmerich – the man behind other end-of-the-world spectaculars like Independence Day and 2012 – the film also stars Michael Peña, Charlie Plummer and Donald Sutherland.
Visit IMax.com
THE ADAPTATION: The Fear Index
This new series in based on the book of the same name by historical thriller writer Robert Harris. Dr Alex Hoffman (Josh Hartnett) is a computer scientist and genius who is ready to make a killing. Alongside his hedge-fund business partner and best friend Hugo (Arsher Ali), he's launching VIXAL-4, an AI-driven system that exploits fear in the financial markets and promises returns of billions. But this is not the day Alex and Hugo had planned on. What follows are the worst 24 hours of Alex's life – cutting across reality, memory and paranoid fantasy, they force him to question everything he sees with his own eyes.
Visit NowTV.com
THE DOCUMENTARY: The Devil's Advocate
The cast of clients represented by businessman and conman Giovanni Di Stefano was remarkable: think Saddam Hussein, Charlie Richardson, Harold Shipman and Charles Manson. With exclusive access to his family, long-term assistant and personal lawyer, The Devil's Advocate traces the highlights and lowlights of his career – from owning Dundee Football Club and representing Hussein to being jailed for fraud in 2013 – in a remarkable way.
Visit NowTV.com
THE ADVENTURE: Moon Witch, Spider King by Marlon James
Suffused with African folklore and lyrical prose, this sequel to Black Leopard, Red Wolf revolves around the formidable witch Sogolon and the riddle of a lost child. James (who won the Booker prize for A Brief History of Seven Killings) once again draws on a rich tradition of African mythology and history, creating an unforgettable exploration of power, personality and the places where they overlap, in a world at once ancient and startlingly modern.
Visit Waterstones.com
THE BLOCKBUSTER: Uncharted
An adventure-filled prequel set in the world of the acclaimed Uncharted video games, Uncharted tells the story of a young Nathan Drake (Spider-Man's Tom Holland) and his journey to become a skilled treasure hunter. Alongside his mentor Victor 'Sully' Sullivan (Mark Wahlberg), he sets off in dangerous pursuit of 'the greatest treasure never found', while also tracking clues that may lead to his long-lost brother. Also stars Antonio Banderas.
Visit Picturehouses.com
THE NOVEL: The Slowworm's Song by Andrew Miller
An ex-soldier and recovering alcoholic living quietly in Somerset, Stephen Rose has just begun to form a bond with the daughter he barely knows when he receives a summons to an inquiry into an incident during the Troubles in Northern Ireland. It is the return of what Stephen hoped he had distanced. To testify would jeopardise the fragile relationship with his daughter, and if he loses her, he loses everything. Instead, he decides to write her an account of his life; a confession, a defence, a love letter. It's also a means of buying time. But time is running out, and the day will come when he must face again what happened in that faraway summer of 1982.
Visit Waterstones.com
THE HISTORY LESSON: Chernobyl: The Lost Tapes
If you were hooked by the brilliant HBO mini-series Chernobyl a couple of years ago, this is a fascinating look at the real-life drama that unfolded after the nuclear disaster. It shows how the cover-up that followed sparked unprecedented distrust in the authorities, giving birth to a protest movement in Ukraine which would eventually lead to the collapse of the Soviet Union. The film draws on a recently discovered hoard of dramatic footage filmed at the nuclear plant and newly recorded, deeply personal interviews of those who were there.
Visit NowTV.com
THE SPORT DOC: Race – Bubba Wallace
Both the personal and professional tracks of race car driver Bubba Wallace's life are on show in this new docuseries. With exclusive access to Wallace during the 2021 Nascar Cup Series season – his first with Michael Jordan and Denny Hamlin's 23XI Racing – the six-episode series traces his rise to the elite ranks of Nascar as the only full-time Black driver and the turbulent aftermath that followed his decision to speak out about racial injustice.
Visit Netflix.com
All products on this page have been selected by our editorial team, however we may make commission on some products.
DISCLAIMER: We endeavour to always credit the correct original source of every image we use. If you think a credit may be incorrect, please contact us at [email protected].