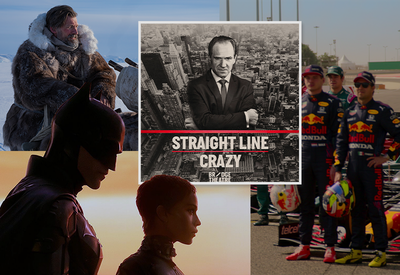 The SLMan Culture List: March

---
Whether you fancy a trip to the cinema or want to get stuck into something at home, SLMan's monthly edit of the best new books, films and series is here to see you through March…

THE NETFLIX HIT: Against The Ice
In 1909, Denmark's Arctic Expedition led by Captain Ejnar Mikkelsen (Game of Thrones' Nikolaj Coster-Waldau) attempted to disprove the United States' claim to Northeast Greenland. This claim was based on the assumption Greenland was actually two separate pieces of land. Leaving his crew behind with the ship, Mikkelsen embarked on a journey across the ice with inexperienced crew member Iver Iversen (Joe Cole, Peaky Blinders and Gangs of London). The two men succeed in proving that Greenland is one island, but returning to the ship takes longer and is much harder than expected. Battling extreme hunger, fatigue and a polar bear attack, they finally arrive to find their ship crushed in the ice and the camp abandoned. Hoping to be rescued, they now must fight to stay alive. As the days grow longer, their mental hold on reality starts to fade, breeding mistrust and paranoia – a dangerous cocktail in a fight for survival.
Out today
Visit Netflix.com
THE FILM TO STREAM: Nightride
A drug dealer attempts to go straight – by pulling off one last big job, of course. Set over the course of one night in Belfast, this immersive thriller is a single, real-time shot, giving it a sense of urgency and immediacy. The action, laced with dark humour, centres on Budge (Moe Dunford) as he attempts to close a deal with cash borrowed from a ruthless loan shark.
Out 4th March
Visit Netflix.com
THE SERIES: Formula 1: Drive To Survive – Series 4
Series four of this ever-popular sports doc once again takes fans behind the scenes to see first-hand how the drivers and teams prepare to battle it out in one of the sport's most dramatic seasons to date. Featuring 20 drivers – some veterans, some rookies – there's never-before-seen footage and interviews with the sport's biggest names. Get ready to delve into fierce team rivalries, unexpected podiums, and the intense title battle between Mercedes and Red Bull as the pressure reaches an all-time high on and off the grid.
Out 11th March
Visit Netflix.com
THE PLAY: Straight Line Crazy
For 40 years, Robert Moses was the most powerful man in New York. Though never elected to office, he manipulated those who were, through a mix of guile, charm and intimidation. Motivated at first by a determination to improve the lives of the city's workers, he created new parks, new bridges and 627 miles of expressway to connect the people to the great outdoors. But in the 1950s, groups of citizens began to organise against his schemes and the motor car, campaigning for a very different idea of what and who the city was for. Ralph Fiennes stars in David Hare's blazing account of the life of a man whose iron will exposed the weakness of democracy in the face of charismatic conviction.
From 3rd March
Visit BridgeTheatre.co.uk
THE THRILLER: The Ambulance
Directed by Michael Bay, the man behind Bad Boys and Armageddon, you know exactly what you're getting with Ambulance. Needing money to cover his wife's medical bills, a decorated veteran (Jake Gyllenhaal) teams up with his adoptive brother to steal $32m from a Los Angeles bank. When their getaway goes spectacularly wrong, the desperate thieves hijack an ambulance carrying a severely wounded cop and emergency worker. Caught in a high-speed chase, the two siblings must figure out a way to outrun the law while keeping their hostages alive.
Out 25th March
Visit Picturehouses.com
THE MUSIC DOC: Rebel Dread
Rebel Dread is the story of Don Letts, the first-generation British-born Black filmmaker, DJ, musician, and cultural commentator. Don was part of the inner circle of The Clash and Johnny Rotten. After directing iconic music videos including London Calling, Chain Gang and Pass the Dutchie, Don turned his hand to award-winning feature films such as Dancehall Queen, Westway to the World: The Story of the Clash and One Love (starring Idris Elba). He is now a well-known voice on BBC Radio 6. This film frames Don's story within Enoch Powell's 1968 'Rivers of Blood' speech and Theresa May's much more recent 'hostile environment' immigration policy. It explores Don's relationship with the nascent punk scene of the 1970s and 80s, how rastas and punks found a common bond as he introduced reggae to the punks, influencing a whole generation of rock acts.
Out 4th March
Visit Picturehouses.com
THE BLOCKBUSTER: The Batman
Robert Pattinson (Tenet, The Lighthouse) stars in the dual role of reclusive billionaire Bruce Wayne and his more famous alter ego. He's got an all-new cast of familiar Gotham City characters alongside him, as he ventures into the underworld when a sadistic killer leaves behind a trail of cryptic clues. With the evidence beginning to lead closer to home and the scale of the perpetrator's plans become clear, he must forge new relationships, unmask the culprit and halt the abuse of power and corruption that has long plagued the metropolis.
Out 4th March
Visit Picturehouses.com
THE BOOK: Watergate: A New History
Half a century after the events that ended Richard Nixon's presidency, Watergate remains a byword for political corruption and scandal. But what really happened in the corridors of power all those years ago? Bestselling author Garrett Graff draws on newly released documents and recent revelations to tell the full story of a dark moment in American history. His latest page-turner shows exactly how Nixon's win-at-all-costs mentality – and some intrepid journalists – ultimately brought everything he'd built crashing down.
Out 31st March
Visit Waterstones.com
Windfall is Netflix's forthcoming film noir. Coming in at a taut 1 hour 32 minutes, the film follows a man as he breaks into a tech billionaire's empty holiday home, only for things to go sideways when the arrogant mogul and his wife arrive for a last-minute getaway. Stars Jesse Plemmons, Lily Collins, Jason Segel and Omar Leyva.
Visit Netflix.com
DISCLAIMER: We endeavour to always credit the correct original source of every image we use. If you think a credit may be incorrect, please contact us at [email protected].