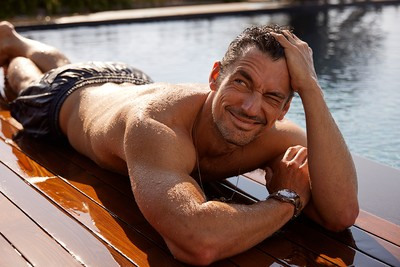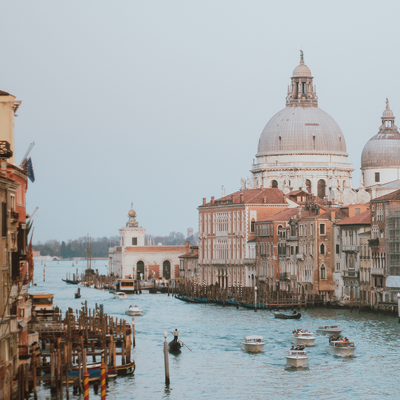 David Gandy's Life In Travel

---
David Gandy's parents took him on some edgy adventure holidays when he was a child, so perhaps it's no surprise that his favourite trips of recent years have tended to involve an element of danger. From heliskiing down the Alps to gorilla trekking in Uganda and sailing down crocodile-infested rivers, these are the times and places that have stayed with him…
Photography CIARAN SPENCER
My parents mostly took me on adventure holidays when I was growing up. They really inspired my love of travel and our family trips weren't your average beach holiday. My dad came from an impoverished background so being able to travel was really important to him. It's where he learned about the world and our place in it, and he wanted to educate us through travel. He did a lot of research into where we used to stay, which wasn't necessarily where other people would stay. Nothing glamorous, but totally practical. Some of my most memorable trips include trekking with orangutans, sitting on the beach when my dad was chased by a huge Komodo dragon (he could barely run away because he'd burnt his feet so badly) and hopping on boats at every opportunity. My family are quintessentially English so we must have looked quite funny, with our backpacks full of survival gear.
Because of that upbringing, I don't go on many traditional holidays. My idea of fun has always involved driving or racing. I recently took part in the 1000 Miglia Experience UAE, the open-road rally. It was originally a 1,000-mile race in Italy, but they stopped the race in it's original format in 1957 after it was deemed too dangerous and now it's a much more managed experience in Europe, as well as licensing it out to the UAE. We managed to drive through about seven UAE states, all in the desert. One of the rules is that you have to drive a pre-1957 car, so I drove my 1950s Jaguar. We managed to do it in four days, which was tricky as you don't have a sat-nav so have to rely on a giant booklet of instructions they give you, as well as your own sense of direction!
I have a knack for turning any holiday into a road trip. My parents used to chuck us in the back of a car when we were kids and we'd hop around Europe – sometimes with my grandparents, too. We'd drive to go skiing, over mountain passes and generally off the beaten track. If I could go on a road trip this summer, I'd head straight to Italy as there's so much to see. I also know a good road trip playlist has to feature a lot of soul and Motown. That's what I was brought up on.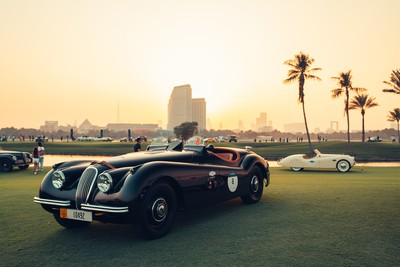 ABDULLA JAAFARI FOR JAGUAR
Venice in winter is a stunning city break. It sounds strange, as it's lovely in summer, but in winter you avoid the crowds, the heat and the stagnant water. Right now, it's cold, it's crisp, it's beautiful and no one's there. Skip the tourist traps and seek out tucked-away traditional restaurants tucked away like Restaurant Da Ivo, where George Clooney got married. I remember walking down the small steps into the restaurant and taking it in for the first time. I like walking so I love to explore the Venetian streets – it's the best way to see as much as possible and discover those hidden gems. But you can't really go wrong in Venice. Anywhere that serves spaghetti vongole and gavi does it for me.
My favourite hotel is Dunton Hot Springs in Colorado. The village overlooking the San Juan mountains used to be an abandoned mining town, so the owners relocated it slightly, next to a waterfall and hot spring. It has the most incredible views of the Rockies, especially at sunset. You can try fly fishing, horseback riding, hiking and rock climbing, and everything on site is organic. You go into these shacks which look really rustic on the outside but are Ralph Lauren-esque on the inside. I've been there a few times – twice with work and once solo. My dream is to spend NYE there and see the fireworks over the mountains. You can go to the spa, sit in the hot tubs, explore the land and appreciate the food which is grown on the estate. The steak's great.
If I could be anywhere right now, I'd be having a sundowner on an African safari. The strange thing about a safari is that wherever you are – Kenya, Botswana, Borneo – they're very careful about you staying inside the vehicle. Then, come 6 o'clock, they whip out tables and chairs and serve you a G&T. It's a spectacular experience though, with all the animals around you, watching the sun go down. Africa is unbeatable. I once trekked with gorillas through Uganda. You get to sit with them for about 30 minutes so there's not too much contact. You have to wait for the baby gorillas to come up to you, while watching out for the mother. We had to drive through Uganda for a few days to reach them, with guides to keep the gorillas safe. That was an amazing experience.
One of our most memorable trips was on safari in South Africa. My partner and I managed to see the big five within the first ten minutes of arriving. We also soon realised that the monkeys were very clever, and knew how to steal food and drinks from the tents. One of the funniest things I've ever seen was a monkey drinking a mini Fever-Tree on that trip – stolen from my partner. I'm lucky that I've explored a lot of Africa, but I'd love to travel on the Blue Train from Pretoria to Cape Town. I like the idea of getting dressed up for it, sitting in a carriage with a drink and looking at the incredible view.
One of the more extreme sports I've tried is heliskiing. I've skied since I was six, usually in the Alps, and have been lucky enough to ski all over the place. On a heliskiing trip, you get taken up by helicopter to fresh powder where no one else can get to. It sounds more extreme than it is, as the run can sometimes be easier than those on the slopes, but you get the most spectacular views.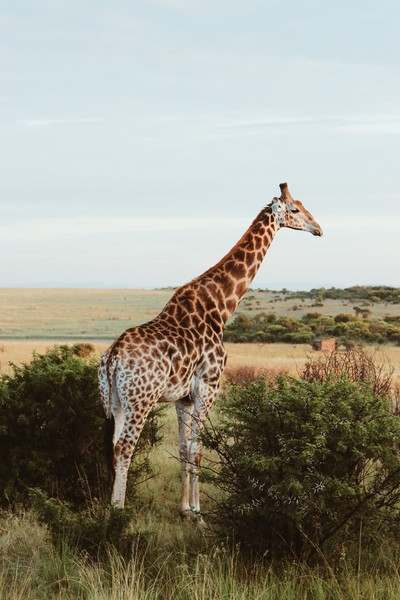 WEYLAND SWART/UNSPLASH
My parents once took us on a two-week holiday through the Amazon. We did 13 flights in 14 days altogether – I almost needed a holiday after the holiday. We spent one afternoon fishing for piranhas. It's a total myth that they attack you if you swim with them; it's only if you're bleeding in the water. The main thing I remember was the ants – more than the tarantulas on the roof of our hut or the other insects. Then there was the time we tried white-water rafting down the Zambezi which is one of the most dangerous spots in the world for that, mostly because of the crocodile-infested waters. At one point I was thrown overboard but my sister thankfully pulled me out.
My partner sometimes has to endure these types of holidays. She's half Greek and we've done the islands a few times, but she gets annoyed that I can't sit still on holiday. We hiked up one of the Greek mountains once, without any water, which wasn't my best idea.
Wilderness Reserve in Suffolk is always fun for a staycation. Each house or cottage is self-contained so feels incredibly private. You can take the helicopter up there, hire the whole estate and bring anyone you want, or be completely on your own. It's 9,000 acres altogether so you can explore the grounds, have sundowners in the garden and get the barbecue out. It's a very romantic spot. In the winter, it's all outdoor fires and axe throwing. My parents live in Suffolk, so I know the area well.
I pack very light, but there are a few essentials I always take on a trip. I mainly take utilitarian pieces that work during the day and night, plus a few shirts and accessories. I also pack a couple of Wellwear luxury lounge sets and swim shorts sets, plus my go-to Dolce & Gabbana sunglasses. Then, my portable Bluetooth headset gets thrown in my Globe-Trotter suitcase, which is heavy but top quality if you're after durability. At some point I want to try the Dyson Zone overhead earphones which pump out purified airflow to the nose and mouth – so clever and useful on a plane. Grooming wise, I keep it simple with a few moisturisers and serums (something with aloe vera for extra moisture), as well as the Dr Sebagh Retinol Night Repair. And I've been taking Vitabiotics supplements on flights since I was 20.
New Zealand is next on my list. I've done a bit of Australia but would love to explore NZ's islands. You can do every type of extreme sport, as well as walking, trekking and exploring the mountains. My parents recommended it to me, but told me I need to do some research first…
Visit Vitabiotics.com
SHOP DAVID'S TRAVEL ESSENTIALS
---
DISCLAIMER: We endeavour to always credit the correct original source of every image we use. If you think a credit may be incorrect, please contact us at [email protected].