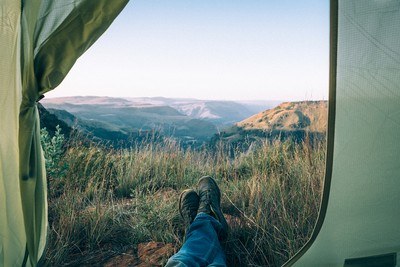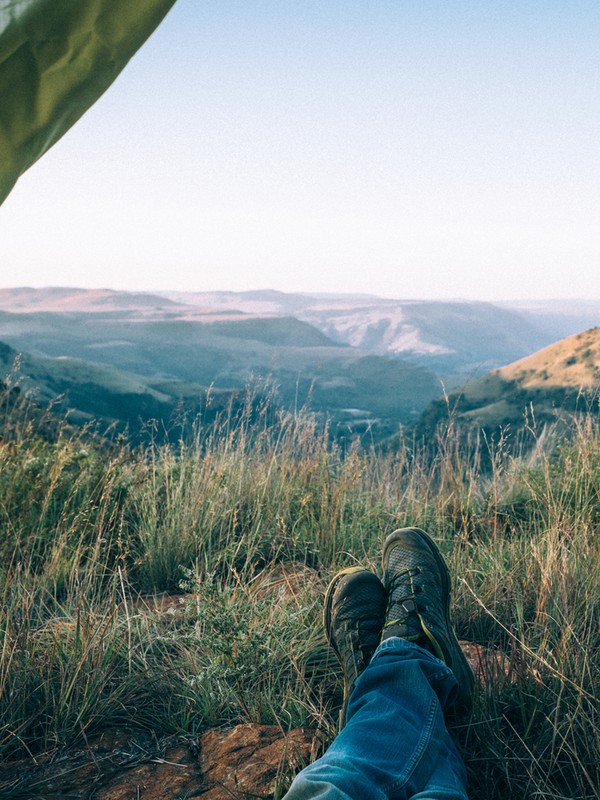 Everything You Need For A Camping Trip

---
Fancy a night or two beneath the stars this summer? The right gear will keep you dry, safe and help you conquer the great outdoors in comfort. Here's what two experts recommend for your adventure…

Photography
JUNO/STOCKSY UNITED
Tom Watt, co-founder of Above Below…
A decent tent is a good place to start. Your tent is the most important piece of camping gear you'll need, and it's worth spending money if you want something that's going to last. A pop-up tent is great for erecting quickly but they can take time to fold back down, while inflatable tents are quick to set up but are heavy and require a pump. Go for a three-season tent if you're unlikely to camp in the winter. I like a two-man tent, even for solo adventures, as the extra space is useful for your gear. Consider going one size up from what you might need – a decent height makes it more practical and allows you to kneel and change comfortably. 
Renting is also an option. If you don't plan to camp often, consider borrowing a tent from a friend, or rent from Tent Share, which matches you up with people who own camping supplies. It has everything from tents for kids wanting to camp in the garden to curated camping packs.
Invest in your sleep. Camping is a basic experience and that's what makes it so joyful – switching off, winding down and enjoying nature. However, having somewhere comfortable to lay your head at the end of the night can be the difference between a decent night's sleep and no sleep at all. This could be a great camping mat or something with more structure like the Helinox Lite Cot, which folds down light and is easy to carry. A decent packable pillow is often overlooked – my go-to is the Nemo Fillo. 
Don't forget the home comforts. The Jet Boil stove is a great piece of equipment – small, light, compact and easy to carry, it's quick and easy enough to set up for a warm drink after a swim. A good cup of coffee in the morning always goes down well – I pack ground coffee and filters in a waterproof bag for my Aeropress Go. A spork (half spoon, half fork) is also useful, as is a pocketknife. I use the Victorinox Camper Swiss Army model. 
A dry bag is a useful piece of kit. I like to camp near open water, so dry bags are a must to keep tech, kit and maps dry, especially in bad weather and in condensation in the morning. You'd be surprised how much of a difference dry kit makes to the camping experience. 
"Go one size up on your tent – you'll soon wonder how you camped without the extra space."
If you're into water adventures, try a RuckRaft. It's a giant inflatable tow boat which can carry a full expedition pack (over 15kg) on water. It's like a giant dry bag so you can swim with your tent, stove and all the essentials. I've had a few special camping experiences where I've swum out to an island with a camp then returned in the morning. There are some amazing campsites on the banks of rivers or the sides of lakes, so you could always try swimming to them. 
Safety should always come first. Always take a head torch (and spare batteries) – you don't want the fun to be over when the sun sets. From a safety perspective, a head torch means you can see the ground and any obstacles clearly at night, but it also means you can stay entertained when the sun goes down – be that with a book or card game. A first aid kit is also essential – I pack the Halfords Essentials Compact First Aid Kit. 
You'll need layers. Having something to keep you warm and insulated is a good idea for the mornings and evenings. Our bodywarmer is made from a lightweight, windproof nylon and lined with a recycled wool and polyester blend to keep you warm. A BUFF is also a great, simple and practical item to keep your head and neck warm. Don't underestimate the comfort of Crocs, either. They're easy to slide on, tough enough to walk on uneven ground, and make a nice change from hiking boots you've likely been wearing all day. 
Try to leave your campsite as you found it. Follow the 'leave no trace' principle – the idea being to leave the area you've camped as you found it, or better. Tidy up and take everything with you, including rubbish and any leftover food. 
Visit AboveBelow.sc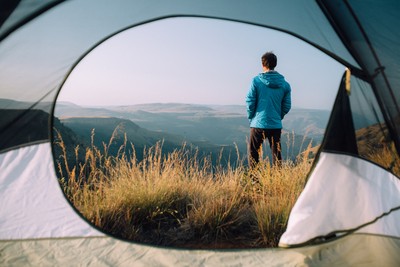 David Scotland, founder of Outdoor World Direct…
A sleep system will upgrade your camping experience. First-timers often think they'll be okay just sleeping on a sleeping bag on the ground of their tent, but groundsheets offer very little insulation from the elements, and you'll realise the ground is cold and uneven. Invest in a self-inflating mat – some of the best ones pack down to the size of a sleeping bag and don't require a pump to inflate. In my recent camping trips, I've also realised how an awning can improve your trip – it'll offer additional living space or sleeping quarters so friends and family can join your trip.
Sleeping bags have comfort and season ratings. Understanding these is key to a comfortable sleep. A one-season sleeping bag will only be suitable for warm summer nights, whereas a three or four-season sleeping bag is thicker and better suited to year-round camping but could be too thick for hot summer nights. Each sleeping bag has a comfort rating or suggested usage which will include two temperatures such as -4°C to 14°C. Summer camping in the UK requires two or three-season sleeping bags. However, if there's a heatwave you may want to consider just a two season. If you're a cold sleeper, opt for a mummy design.
Air tents are a game-changer. Instead of erecting poles, you simply inflate your tent, which massively improves pitch speed and feels less daunting for novice campers. AirBeam technology also offers a more stable and robust tent. The latest models take this one step further with 'single inflation point' air tents: instead of inflating multiple beams to pitch the tent, you inflate at one entry point for all beams, which simplifies the process even further. If pumping AirBeams feels like too much effort, try an electric pump like Vango's AirBeam Turbo.
When pitching your tent, there needs to be a little slack. One of the most common mistakes people make is pitching their tent too taut. Many people think the tighter the better, but this stresses the fabric. There needs to be some slack so it can move slightly in the wind. 
"One of the most common mistakes is pitching a tent too taut. There needs to be some slack so it can move in the wind."
A decent grill will enable you to cook a feast. I rate the Vango Combi IR – it uses infrared to create heat, resulting in fuel savings of 10% and emission savings of 90%, which are great for your pocket and the environment. If you have an electric hook-up at your pitch, you may want to consider an induction hob, so you don't need to use gas – just make sure you have the right pans, as not all are compatible. A camping kettle is also a useful piece of kit – the Outwell Collaps range is popular. 
Insect bites can ruin a camping trip. If you tend to be plagued by bites, I highly recommend investing in the Outdoor Revolution Lumi Solar Mosi Killer. The lantern has three lighting modes, and the mosquito killer has a self-cleaning brush function, so you don't need to touch them to clean it, preventing the lamp from getting clogged. It charges via a solar panel and can be hung using the carry handle. 
Don't assume there'll be WiFi. Many remote campsites don't offer this, so if you're planning to rely on the internet for navigation, planning and making money transfers, download everything you need before you embark on your trip. 
Always check and respect the weather forecast. You'd be surprised at the amount of people who return from trips saying their tent broke in gale-force winds. These conditions are downright dangerous – always check the forecast, and if a weather warning is in place, reschedule your trip. If the weather turns unexpectedly while you're camping, pack up and leave (or just leave if the weather is too dangerous to pack). If a thunderstorm arrives, shelter in your vehicle.
Visit OutdoorWorldDirect.co.uk
DISCLAIMER: We endeavour to always credit the correct original source of every image we use. If you think a credit may be incorrect, please contact us at [email protected].