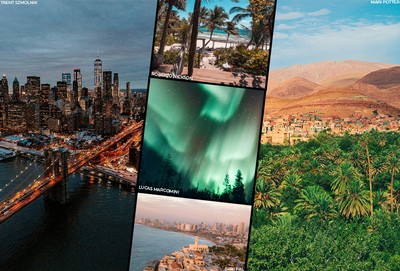 The Best Places To Go On Holiday - Every Month Of The Year

---
From Morocco in March to Andorra at Christmas, getting the destination right is a key part of planning an unforgettable holiday. To help you avoid any expensive mistakes, we asked travel expert Nicky Kelvin of The Points Guy for his favourite places to go in each month of the year.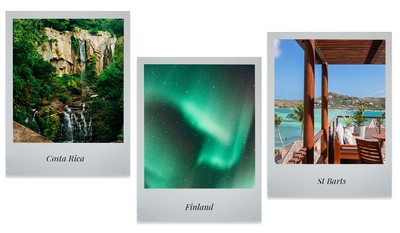 Nick Dietrich/Lucas Marcomini/Emily Lab
Costa Rica
January is one of the best times to visit Costa Rica, thanks to its dry and sunny weather. From the wild, jungle landscapes to a budding surf culture and a wide selection of exotic wildlife, the country has something for everyone. 
Finland
For a wintery weekend away, head to Finland. It may be chilly, but the upside to freezing temperatures and minimal daylight  is to the chance to catch a glimpse of the stunning Northern Lights – a once in a lifetime experience. 
St Barts
Beachcombers should jet off to the French island in January for a dose of glamour and glitz. Think glistening turquoise waters, chic beach clubs and romantic five-star hotels. Plus, an average daytime temperature of 29°C.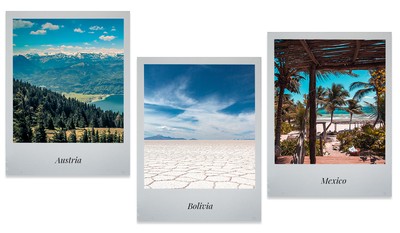 Paul Gilmore/Samuel Scrimshaw/Roberto Nickson
Mexico
Mexico in February is quiet after the busy holiday season, but still warm and dry. Put your feet up with a paloma and enjoy some of the many delicacies on offer. It's whale watching season too, with plenty of opportunities to witness grey and humpback whales migrating to the warm Pacific waters of Baja, California. 
Austria
For a fairy-tale break, choose Austria. February is a prime month for Cinderella-esque balls and events taking place in palaces across the country. If waltzes aren't your thing, opt for a ski adventure instead, with February the perfect time to head to the Austrian Alps. 
Bolivia
Who wouldn't want to spend winter exploring the Bolivian salt flats and getting to know the country's wild flamingos? At more than 4,000 square miles of glittering salt, the Salar de Uyuni is one of Bolivia's, and the world's, most extraordinary natural wonders.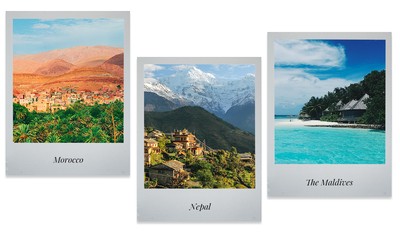 Mari Potter/Giuseppe Mondi/Dion Tavenier
The Maldives
For some much-needed spring sunshine, consider the Maldives. Bare-foot luxury is this tropical paradise's MO, with days spent relaxing on pristine beaches with turquoise waters, followed by dinner at one of the island's five-star restaurants. 
Morocco
With pleasant daytime temperatures and ample sunshine, spring is the ideal time to visit before the heat and humidity sets in. Make sure to hit up one of the famous souks for some treasure hunting, and enjoy the vibrant cuisine, too. Think tasty tagines and colourful couscous salads. 
Nepal
March in Nepal means mild weather, making it the ideal time for an adventure holiday. Hiking to Everest base camp continues to be one of the most popular attractions, or take part in the colourful two day long Holi festival, which takes place during the full moon.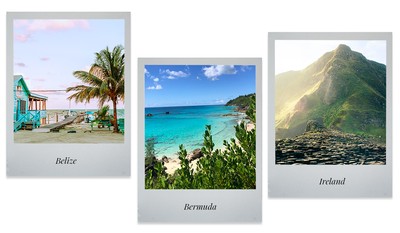 Meritt Thomas/Ivaya Valcheva/Patrick Metzdorf
Ireland
The luscious greenery of the Irish countryside makes for a special kind of holiday. Consider a road trip around the Ring of Kerry, a 100-mile route guiding you through some truly spectacular scenery, or check out the Cliffs of Moher, which tower 700ft feet above the sea. 
Bermuda
Bermuda is wonderful for a spring getaway, with many family favourites to explore, such as the Bermuda Aquarium and the National Playground. Plus, there are plenty of stunning pink-sand beaches and local seafood dishes to see and try. 
Belize
Caribbean paradise Belize has one of the most impressive coral reefs in the world. Beyond the infamous Blue Hole dive, snorkelers and divers can experience the whale shark migration first-hand. Swim alongside these special animals as they feed and migrate a few days before and after the full moon.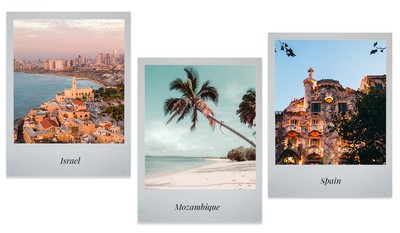 Shai Pal/Charlie Read/Theodor Vasile
Israel
While holidaying in Israel, be sure to add two very different cultural capitals to your itinerary. Tel Aviv is a world-class beach city, with incredible food and nightlife, while religious or not, everyone can appreciate the mix of Jewish, Muslim and Christian history that makes Jerusalem one of the oldest and holiest cities in the world. 
Mozambique
The start of Mozambique's dry season, May sees beach lovers heading to the country's off-the-beaten-path shores. Because the weather is unfalteringly warm, so is the water, making it the perfect time for diving, snorkelling, swimming and boating.
Barcelona, Spain
There's never a bad time to indulge in Spain's delicious cuisine or vibrant culture. But May is a particularly good time to visit Barcelona because, despite the long, warm days, the extreme heat of summer and tourist crowds haven't yet arrived.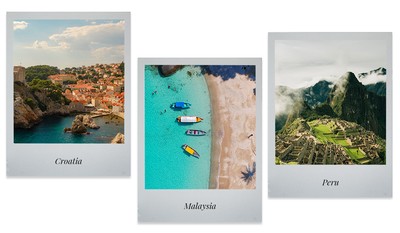 Morgan Oho/Gaddafi Rusli/Eduardo Flores
Croatia
Croatia is becoming increasingly popular with both couples and families. Take up island hopping to visit some of the film industry's most loved locations, and drink in the vast culture and history of this Mediterranean hotspot. 
Peru
A trip to Machu Picchu is one for the bucket list, but Peru's allure extends well beyond its infamous ruins. Other must-see sites include the islands of Lake Titicaca, and the Inca ruins. It's capital, Lima, is book-ended by coast and desert, so you can try your hand at both surfing and sandboarding. 
Borneo, Malaysia
June falls within Malaysia's dry season, making it an ideal time to visit the island of Borneo, where you can attend the Gawai Dayak festival and experience a lively Malyasian parade. Don't leave without taking part in a Malaysian safari, where you can catch a glimpse of orangutans in their natural habitat.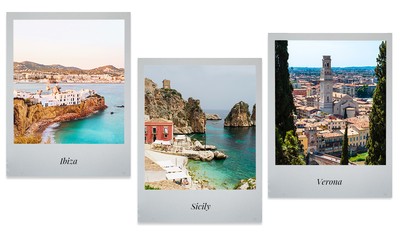 David Svihovec/Benjamin Frenklin
Sicily, Italy
Sicilian summers might be steaming hot, but you can also cool off at some of the most beautiful beaches in the world. Rabbit Beach, on the island of Lampedusa (which is known for its population of loggerhead turtles) is considered one of the best in Europe. Plus, there are plenty of local spots for that all-important gelato.  
Ibiza, Spain
Over the past few years, this Balearic island has started to change. While the electronic music and party scene remain one of the best in the world, other parts of the island are slowly transforming into high-end, luxury escapes, ideal for rejuvenating and relaxing. Never been? Make it a priority next year. 
Verona, Italy
Verona is home to Shakespeare's most famous love story, Romeo & Juliet. Visitors can visit Juliet's 'home' and see the balcony where all the magic is said to have been set. While flocks of tourists invade the nearby hotspot of Venice, Verona is a wonderful respite from the summer crowds.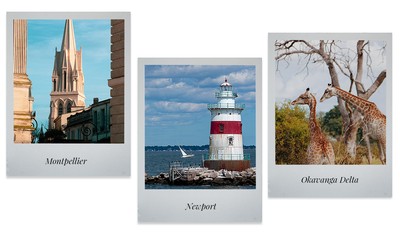 Constant Loubier/Rusty Watson/Sune De Bruyn
Botswana
A safari is a once in a lifetime trip, and Botswana is one of the most popular destinations for those looking to catch a glimpse of the Big Five. In August, the country is cool and dry, with the weather attracting herds of buffalo, elephant and antelope. 
Montpellier, France
This southern French city is the perfect alternative to the Riviera if you're looking for something more low-key. The city retains a stately, elegant feel, but one that makes all of its visitors feel welcome. It's also famous for its wines, so be sure to book into a tasting while you're there.
Rhode Island, USA
If you love the thought of a quintessential American summer, head over to the state of Rhode Island. Lazy beach days, afternoon barbecues and balmy evenings eating lobster rolls and sipping wine coolers is the way to do August in the Northeast. 
Mykonos, Greece
This idyllic island in the Cyclades is home to plenty of stylish beach clubs, spa-retreats, and pretty whitewashed buildings. With temperatures still reaching a balmy 26°C , expect to spend your time relaxing at the beach followed by cocktails at one of the chic bars. 
Atlanta, USA
Georgia's capital, Atlanta, is known for its diverse musical heritage, impressive sports teams and traditional Southern hospitality. September sees the end of the state's peak season, and the perfect temperatures for exploring the city and catching a ball game.
Munich, Germany
Oktoberfest, Germany's famous beer festival, often kicks off in September. With over 6m visitors descending on the city each year to take part in the celebrations, be sure to visit Munich's old town with its neo-gothic architecture as part of your trip.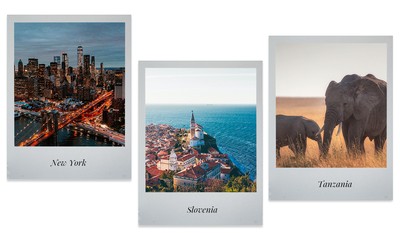 Trent Szmolnik/Mikita Karasiou/Hu Chen
Slovenia
Nestled between Italy, Croatia, Hungary and Austria, Slovenia is one of Europe's most affordable destinations. With an underrated wine region, a plethora of skiing opportunities, and a stunning network of caves and forests to explore, remember to visit one of the country's most popular attractions, Lake Bled, to admire the iconic castle framed by a clear-as-glass lake. 
New York City, USA
Beat the snow and freezing temperatures and head to the Big Apple in the autumn. Stroll around Central Park and visit all the main tourist attractions, from the Empire State Building to Times Square, before spending a day exploring hipster hotspots Brooklyn and The East Village. 
Tanzania
October marks the dry season in most of Tanzania, making it the perfect time to engage in some wild animal spotting. Travelers wanting to catch the wildebeest migration should head to north of the Lobo area, close to the Kenyan border. It's also a great time to spot elephants cooling off at one of the many watering holes.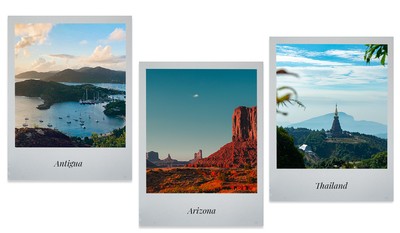 Rick Jamison/Gautier Salles/Haydn Golden
Tucson, usa
This desert enclave is a dream for all types of travellers – whether you're a foodie, hiker or just want a warm, sunshine-filled holiday with zero chance of rain. Tucson has a quirky, small-town vibe with a mix of Native American and Chicano cultural influences, making for a truly unique experience. 
Chiang Mai, Thailand
Head to Chiang Mai to experience the stunning lantern festival, where thousands of glowing lanterns are released into the sky or left to float down the moonlit river. There's also an array of traditional ceremonies, dances and songs, making it an unforgettable way to experience Thai culture. 
Antigua
If rum cocktails and a seafood BBQ on a white sand beach sound like heaven, Antigua is the place to head. On average, temperatures reach 29°C in the day, so there's plenty of hot, sunny weather to enjoy.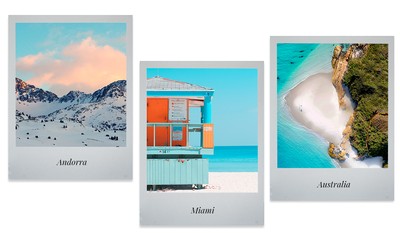 Steven Roussel/Guzman Barquin
Miami, USA
Miami in December is a dream, with abundant sunshine and average daytime temperatures of 25°C. After a day on the beach, explore some of the up-and-coming neighbourhoods like the Miami Design District and Little Havana, for the buzzy bar scene and numerous eateries. 
Andorra
This tiny nation sandwiched between France and Spain has some of the best skiing in the Pyrenees, and is known for its traditional Catalan cuisine. The ideal destination if you're looking to spend Christmas on the slopes, or ring in the New Year in style.
Western Australia
Sun seekers will love visiting Western Australia in December. This is the summer season, with warm temperatures, light breezes and very little rain. Coupling sandy shores with five-star coffee bars and restaurants, it's the ideal spot for some winter sun.
DISCLAIMER: We endeavour to always credit the correct original source of every image we use. If you think a credit may be incorrect, please contact us at [email protected].