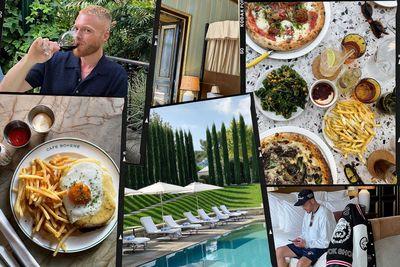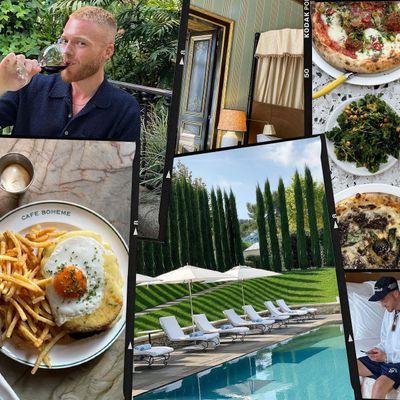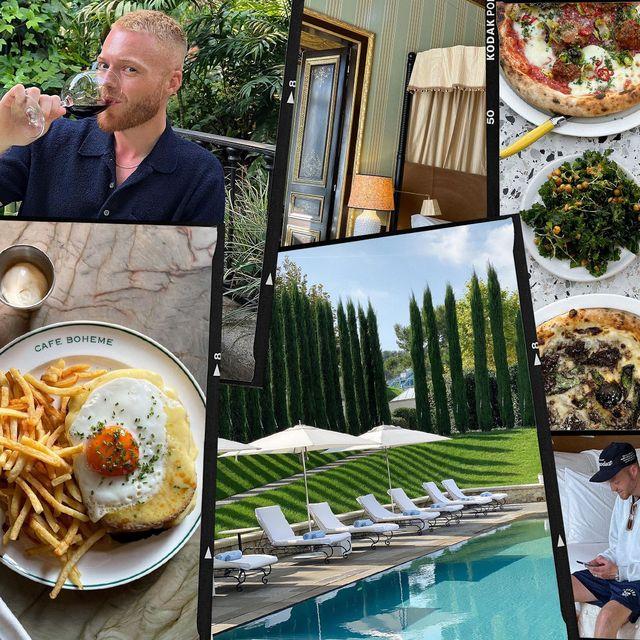 Jude Taylor's Little Black Book

---
Jude Taylor is the fun man about town you're as likely to see suited and booted courtside at Wimbledon as you are in a signature hoodie at his local. Here, the co-founder of tongue-in-cheek clothing brand PICANTE chats roasts, the Amalfi coast and, er, Frankie & Benny's…

Photography @JUDE
All products on this page have been selected by our editorial team, however we may make commission on some products.
My favourite restaurant in the world? I just got back from the Amalfi Coast where I captioned one of my posts just that. It was Lo Scoglio da Tommaso in Massa Lubrense. It came highly recommended by some really trustworthy food guys and it did not disappoint. Amazing remote location, family run (I was quite literally served by the whole family) with incredible fresh salads from the local garden and some of the best pasta I've ever had.
If we're talking London, that's a constant debate I have with myself. I'm on a bit of a pasta/pizza high so, sticking with the Italian theme, I'd have to say River Café is up there as one of my all-time favourites. You can't beat the food and location – it's a good birthday spot. But it wouldn't be right not to mention Berenjak. It is simply unreal Persian cuisine by the greatest team. Hummus, koobideh, shirazi, the buttered rice with extra tadiq. God, okay – that place is probably my favourite. 
When it comes to pubs… Both The Cadogan and its new sister The George are go-tos for a quick pint or a slap-up meal. They smash it in both departments. The Canton Arms in Stockwell is also a special place to me – for a cheeky (well-priced) Negroni or pint, cheese toastie at the bar or leg of lamb on a Sunday, that's a great little hidden gem. Honourable mentions go to The Albion in Islington and The Cow in Notting Hill. 
Sunday roast is my ritual – even if it's hot out. It's still a Sunday, and I want a good roast. I don't think pubs in London always get it quite right with all of the elements that go into the meal, like maintaining every component and keeping everything hot – either the Yorkshires have been sat on the pass too long, or you've got the ends of a joint of beef. So, despite wanting to refrain from any mention of Soho House, I have to confess that for the last five or six months I've been religiously going to 180 The Strand on Sundays. I avoid the rooftop pool and head straight for the restaurant on the 8th floor, 4pm, half price if you're under 30, rib of beef, Yorkshire pudding, cauli cheese. You simply can't get a better roast. They've also now added a roast lamb that is pretty damn perfect. I usually smash it back with a bottle of Primitivo, then it's a toss-up between a sticky toffee pudding or a little warm cookie/vanilla ice-cream situation. These Sundays are important to me. 
Notting Hill is the ultimate melting pot for a stroll and brunch. I usually go to Beam on Westbourne Grove. If the queue's too long I cross the road to Sundays in Brooklyn for some mega pancake action. However, I'm more into a proper fry-up, for which it has to be Regency café – or E Pellicci if I've ventured east. I must mention Norman's in north London. That place is cool, though the homemade baked beans and brown sauce are all a bit too much for me – I like a classic Heinz.
I have a coffee or two a day but never venture for good coffee. I like a smooth filter coffee, but it's all about the convenience for me. I'm happy with the instant stuff in that orange and silver can from the supermarket. However, for a treat I'm loving the newly opened Aimé Leon Dore Café. It's a great excuse to pop your head in, see the team and shop. They do a killer Greek iced tea with honey. I could drink that all day.
If I asked one of my single friends for a great date-night spot they'd probably say Gordon's. But I think date night is a great excuse to cook and drink nice wine – or a Rosa's Thai takeaway or a Nando's will also do. If we're venturing out, my girlfriend and I love Decimo at The Standard, or sitting at the counter at Berenjak. 10 Cases in Covent Garden and Cafe Boheme are also classics.  
For a cool bar, the Vault at the Ned is pretty swanky. I like Side Hustle at the Nomad – they do an unreal take on a spicy margherita – and its only round the corner from Louie. The top floor of that place always has a great vibe and more often than not gets out of hand. 
I'm not great at staying out late anymore. If I get dragged out, it's usually to the Windmill or Chiltern, although that place does some serious damage to your credit card.
My favourite under-the-radar London gem is Llewelyn's in Herne Hill. It's a bit like south London's answer to Rochelle Canteen, which is no longer under the radar but is also a firm favourite.
I feel like an easy work lunch is hard to find in London – something you can have every day, mid-week, which isn't Pret or Itsu. Food Philosophy, Atis and Farmer J are three spots that serve up really good trays and healthy salads – if I could have a black card for anywhere, it would be for one of them. I get them at least four times a week. 
I'm currently sat in Frankie and Benny's in Luton Airport. I wouldn't say this is by any means my favourite lunch spot, but I just had a pretty impressive fry up, considering. These Frankie and Benny guys have caught me off guard. For a more solid recommendation outside of London, Paco Tapas in Bristol is great – probably the best tapas I've had. I may be biased as it's my hometown, but every time I go back, I make a reservation. 
My favourite way to get around London used to be Zipcar – I was addicted to it. However, I recently got a Vanmoof e-bike. It's a bit like the MacBook of bikes: you get people saying 'my MacBook' instead of 'my laptop' and that's me with my Vanmoof. I love it. 
I'm currently looking for a place to live in Maida Vale. More specifically, Little Venice – that's the dream. I only went for the first time a year ago, but couldn't believe it was only a ten-minute drive from Marylebone (another firm favourite of mine). I felt transported outside London, though it did help the sun was shining. If someone can find me a nice two-bed in Maida Vale, I'll snap it up. 
For a bit of pampering I go to Haeckels House in Hackney. But it's a bit of a trek for me, so I'm pushing the team to open a treatments location in central. For hair, I've been going to Guray Kesman for the last four or five years. He recently opened his own barbers in Farringdon. I rely on that man, although he gets booked up! I can't do hair without mentioning Larry King too – they're a great team.
I'm a novice with the workout scene. I've never really done any classes, but I go to The Ned gym now – they've got a great space and it's usually quiet. That said, I mainly go when I'm hungover to lie by the indoor pool. That place is unreal. The Londoner gym is also on my list – I've heard great things. I like to run – I frequently do 5k along the river, or 10k if I've been particularly gluttonous the night before. The end goal is usually The Pear Tree café in Battersea Park, for a coffee and maybe the chicken sandwich and banging sweet potato fries.
My favourite suit is a relaxed light wool DB from Our Legacy. They rarely do tailoring in their collections, but when they do, they're killer! Dressed up or dressed down, Our Legacy cuts are the best. Drake's is also a firm favourite – no one does it quite like them. They've built a cult following based on their style profile. I'm waiting for an excuse to get a made-to-measure from them. If I need a quick turnaround or am on a budget, Suit Supply is always a live saver. You might have to sift through the shiny suits – or really hammer it home to their tailor that you don't want it skin-tight – but they've saved the day on numerous occasions. For adjustments I go to George & Son in Pimlico; he always turns things around super quick and knows what I like.
For gifts, especially around Christmas time, it's Liberty – and usually they're getting a Diptyque candle. When I shop online, I always turn to Tres Bien – they curate and find the best products and are so good for brand discovery. I love trying to find vintage gems, and LA is the best for that. Rose Bowl flea market and Round Two always seem to have the best broken-in, sun-faded t-shirts.
I went to Chateau La Coste a couple of years back. It's a 600-acre sculpture park, full of crazy art, and also happens to be a great organic winery in Provence. That trip was special. I love the south of France and while I've never actually stayed at Hotel du Cap-Eden-Roc, the pool and history is crazy. I'll know I've made it when I check in there for a week. For a city break, I think it's got to be Barcelona. You have both the city and the beach, a short flight from London, and it's a great dose of good food, nightlife and sun.
DISCLAIMER: We endeavour to always credit the correct original source of every image we use. If you think a credit may be incorrect, please contact us at [email protected].