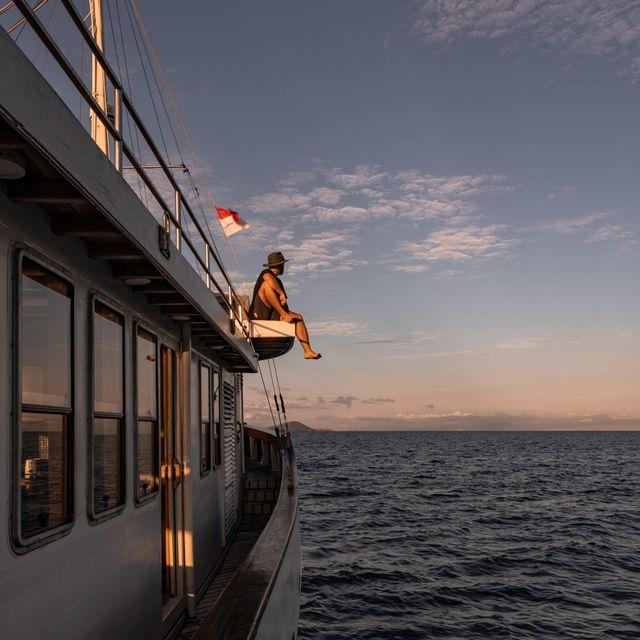 My Life In Travel: Chris Fynes

---
Chris Fynes – also known as @WeTheFoodSnobs on Instagram – is a photographer and travel writer who regularly shoots for big brands like Soho House and British Airways. Here, he shares his favourite destinations, most memorable trips and essential packing items...
Photography @WETHEFOODSNOBS
The last place I went was the Lizard Peninsula in Cornwall. My partner and I just had our first baby, Willow, and with the current passport delays we decided to make the most of the UK's heatwave and do a little staycation. Highlights of the trip were a beautiful little cottage on the peninsula, called Pebbles, which was perfect for the three of us. The owners are designers and you can instantly tell on arrival, with beautiful details across the property and even a large nickel roll-top tub in the bedroom. 
Good food is a high priority for us, so being just down the road from the fantastic New Yard Restaurant was perfect. They've recently won a Green Michelin Star and I was lucky enough to film with chef-owner Jeffrey just a few months ago. Produce is grown on the property and the dishes are just mind-blowing. The gem of the trip though had to be Kynance Cove. Willow had us up at 5am one morning so we decided to seize the day and be first on the beach for sunrise. From the top of the path looking down, you are completely in awe of the landscape below, with the morning sun bathing the bay in a beautiful orange hue. We had the whole place to ourselves for an hour and it was a magical moment for Willow's first taste of the ocean.
The most memorable place I've been to is Tanna Island in Vanuatu. We were lucky enough to visit while we lived in Sydney for a few years. Tanna is home to Mount Yasur, the most accessible active volcano in the world. The island itself has a really wild feel to it. We explored everything, swimming underwater to access amazing caves, coming face to face with sea snakes far too often for my liking, and of course there's the volcano. We woke at 3am to make the one-hour drive to the base and begin the hike to the rim. It's the most incredible experience I've had to this day, standing on top of a volcano and watching as the lava pool bubbles and explodes below, firing clouds of sulphur and ash up at you, causing you to take cover before getting straight back to watch and wait for the next eruption. It's the type of moment that is seldom found these days due to modern health and safety rules. There were no barriers and we weren't given any special equipment. It felt refreshingly raw. Just our guide and us. 
Growing up, family holidays were taken in the south of France. Maybe that's where my love of road trips was forged, as I remember packing up our car with a roof box full of sports equipment and journeying to the south of France with my dad's The Best Sixties Summer… Ever! cassettes ringing in our ears. To this day I can still recite Thunderclap Newman's 'Something In The Air' word for word. We would always travel with another family, resulting in a big group with six kids, so we came away with lots of amazing memories.
I love driving and jump at the chance for a road trip. I've been lucky enough to be a BMW  Ambassador for quite a few years now so we are constantly dreaming up various routes. A few of my favourites have been the Great Ocean Road in Australia and the Pacific North West in the US, beginning on the San Juan islands and travelling all the way to San Francisco. 
It's hard to pick a favourite country. We plan to get back to Australia soon so we'll explore more of the Western Coast and Northern Territory. We're also heading back to the Komodo region of Indonesia next year, which we fell in love with in 2019. Indonesia has so much to offer in terms of nature and wildlife, which is something we love to immerse ourselves. I'm not great with cities and crowds – I love to have the freedom to explore and get off the beaten path. 
I've stayed at my fair share of hotels, and there are a few that really stand out. Soneva Fushi in the Maldives for ultimate relaxation, Sal Salis Ningaloo Reef for the best off-grid safari in Western Australia, and The Newt in Somerset for a fantastic foodie retreat. I also have to mention The Landscape Lodge for one of the best bases for skiing in the Alps, while Aman and Belmond are doing amazing things across all of their properties.
For a staycation, it's always Somerset, Scotland, Cornwall or the Cotswolds. I fell in love with Bruton in Somerset after filming at Merlin Johnson's restaurant Osip for a BMW project and it has quickly become one of our favourite escapes. The Isle of Skye is fantastic, with amazing food and epic scenery – I'm currently planning a road trip to Scotland to explore more. We find ourselves in the Cotswolds quite a lot with work and The Double Red Duke is one of our favourites for an escape from the city.
The UK hotel scene is really coming into its own. Some of my favourite spots include Babington House in Somerset, The Ned in London, Heckfield Place in Hampshire and Gleneagles in Scotland.
City breaks aren't usually top of my list but I've had a great time in Hong Kong and Berlin. I also loved San Francisco, Seoul, Singapore and NYC for its food scene.
The most romantic place I've been to is probably Bora Bora. While relocating from Sydney to London, we took the chance to tick it off and stayed at the Conrad there. It was everything you imagine it to be in terms of serenity and luxury, and the perfect location for a romantic escape.
If I had just two nights abroad, I'd go to Norway. The mix of fine dining and epic landscapes really intrigues me. I'm yet to set foot in Scandinavia so I'd love the opportunity to do that. 
If I had to live in a hotel, I'd happily move into Anantara Golden Triangle in Chaing Rai, Thailand. The land surrounding the hotel belongs to an elephant charity, which helps injured elephants rehabilitate in the wild. Hotel guests can join the team as they walk and observe the elephants going about their daily routines in the safety of the hotel's vast grounds. I could happily spend my days watching the elephants. The hotel's location in the Golden Triangle also means it's perfectly situated to explore Laos and Myanmar.
Some of my best food experiences have been on holiday. Cooking giant ribs of beef over hot coals on the side of the Tuolumne river while on a two-day white-water rafting trip in Yosemite National Park was epic. I also have great memories of sampling delicious suya-spiced chicken for the first time at a Lagos food festival in Nigeria, eating at the aquarium restaurant L'Olivo at the Burj Al Arab, which was headed up by Nathan Outlaw at the time, and trying raw, freshly caught Polynesian fish with coconut milk and lime in Bora Bora.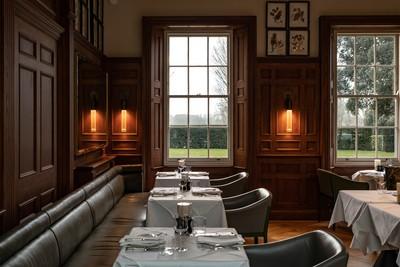 @WETHEFOODSNOBS
The one place I didn't love was LA. I travelled there when I was 21 and I wasn't the biggest fan. It felt like it had the potential to be great but only if I knew someone there or had more money. I was doing it on a shoestring budget with some friends and we quickly left to make our way to San Diego, where we felt much more at home.
I always pack my Sony A7Riii camera for capturing really beautiful shots with interchangeable lenses. I also like to bring my Sony RX100. It's a small camera that packs a punch so sometimes I leave the hotel with that if we're just casually exploring. I also travel with a Samsung Fold for work and watching films on the go, and a MacBook for editing. 
In my suitcase you'll find a couple of pairs of Rhythm trunks. It's an Aussie surfing brand but the swim shorts are great quality. I also pack some Neville skincare products, my Terre d'Hermès aftershave, wires for every occasion so my kit is always charged, and Surface noise-cancelling headphones for the plane.
Douchebags does some of the best luggage. It's made by Jon Olsson (a Red Bull athlete turned content creator) and the bags are really well thought out for people carrying a lot of tech. We all use Douchebags at WeTheFoodSnobs Agency, from long-haul suitcases to backpacks for smaller shoots and meetings. They're rugged and have a great system that allows you to attach them together, so I can be pulling three bags at once through an airport with minimal effort.
On holiday, I live in a pair of Vans. My oatmeal suede ones are currently my go-to. Then, it's just shorts, t-shirts and a flat peak cap. For dinner, I'll stick on chinos with a jacket (my favourite is from Form&Thread), and if smart footwear is required, a tan brogue or a brown suede derby. Always round toes, never pointed – I really like what Drake's are making. I never buy expensive sunglasses as I always drop them or scratch them on shoots, but I really like IZIPIZI's matte glasses at the moment. 
My best travel tip is to pledge your allegiance to one airline or alliance and start saving air miles. I've had a BA Executive account for quite a while now and always fly OneWorld airlines so that I can earn as many points as possible. We've been able to fly first class and business using the points on a few trips and it's a whole other world of flying. Sometimes you don't want to get off the plane.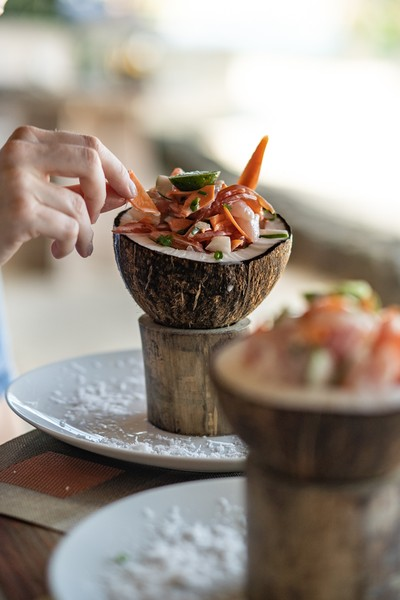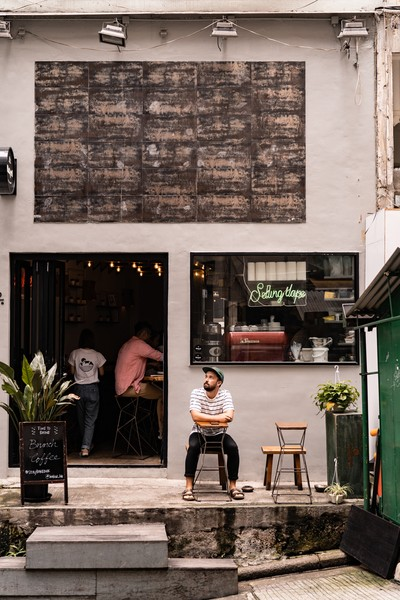 If you want a really special trip, I recently discovered Aero, a private jet service where you share the plane with a few other passengers. They fly out of Farnborough airport to Nice and Ibiza currently. It's not cheap but not astronomical either, so if you had a really special trip or wanted to surprise someone it's an amazing option. 
I'm never too impressed with airport food so tend to give it a miss. The Fortnum & Mason counter at Heathrow Terminal 5 is great but the Cathay Pacific Lounge in Hong Kong is by far my favourite. They have unlimited char siu pork buns – I'd happily have a delayed flight there any day! When I'm on the plane, it's Diet Coke all the way. 
We're currently planning a trip to Indonesia with my family next year. We haven't done much travel recently with the extended family due to Covid and living abroad, so we've decided to do some serious exploring on a beautiful boat called Splendour, sailing around some of the islands off the coast of Labuan Bajo.
Even though we have a baby now, I don't want to change the way we travel. Willow will be turning one when we are sailing in Indonesia so we're already trying to figure out how to keep her safe on a boat. We've got a trusty travel cot already and she seems to relish a snooze in her car seat, so we've got everything crossed that she will be okay on her first flight. We're jumping right in the deep end with a 13-hour trip to Singapore before on to Bali. Wish us luck!
There are so many places on my bucket list – Greenland, Alaska, Chile, the Galapagos islands. I'd also love to go to Sri Lanka, Japan, Scandinavia to see the Northern Lights, Rwanda, Borneo and Bhutan. I basically would like to go to places that have some amazing wildlife before climate change affects things too much. 
DISCLAIMER: We endeavour to always credit the correct original source of every image we use. If you think a credit may be incorrect, please contact us at [email protected].