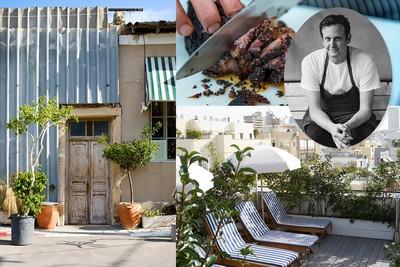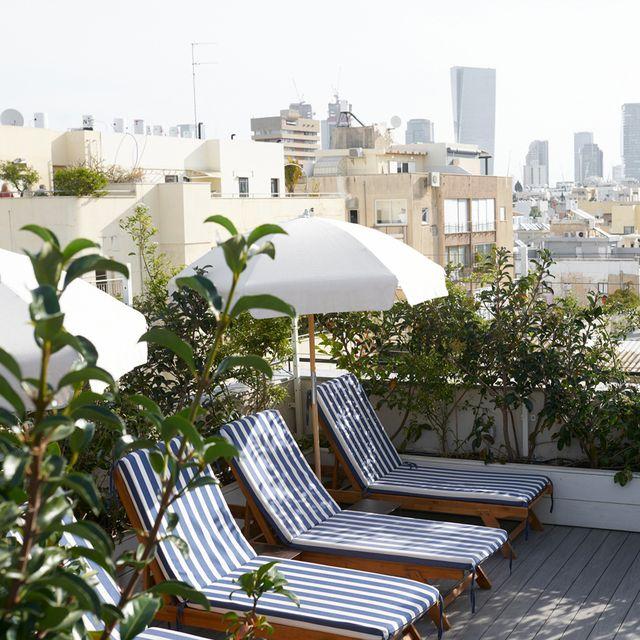 A Pocket Guide To Tel Aviv

---
Oded Oren has lived in London for a decade – heading up his Dalston restaurant Oren – but he's Tel Aviv born and raised. He's also just written a Tel Aviv-focused cookbook. We can't think of a better guide for the lowdown on this cool coastal city, with its sleek hotels, lively bars, trad eateries and historic neighbourhoods…
Photography ARNO SMIT/ UNSPLASH; M25; HOTEL SAUL
All products on this page have been selected by our editorial team, however we may make commission on some products.
Hotel Saul 
I've stayed in this small boutique hotel a couple of times. Just a short walk from Tel Aviv's historic buildings and buzzy neighbourhoods, it's only 200m from the famous Carmel Market. Its rooms are stylishly minimalist yet cosy – beds have high thread count linen and everything else you need for a weekend away. It's also conveniently close to one of the best places to have falafel in the city, Falafel Johnny.
Visit HotelSaul.com
Hotel Montefiore 
This is one of Tel Aviv's most beautiful boutique hotels. It's owned by renowned restaurant group R2M, which is also behind one of my favourite places to drink – Herzl, a cool coffee bar and deli by day that turns into a nightclub. Hotel Montefiore is small, with only ten rooms and art-deco interiors. Service is incredible, with amazing attention to detail, and its French-Vietnamese fusion restaurant is worth a visit. 
Visit HotelMontefiore.co.il
Soho House Tel Aviv
Soho House Tel Aviv is close to Jaffa's flea market and has great views of the Med. The rooms are slick – with nods to Middle Eastern design throughout – and there's an outdoor pool for post-sightseeing dips. There's also a lot of history in this beautiful listed building that used to be an Arab girls' school. 
Visit SohoHouse.com 
Jasmino 
My love for food and restaurants started at a very young age – my dad used to take me to all the small and hidden places in Tel Aviv to eat. Jasmino is one of our favourites. It serves delicious grilled meats tucked into fresh pittas and filled with salad, tahini and amba (a tangy mango pickle). Don't miss the grilled minced kebab or the sweetbreads. 
Allenby St 99, Tel Aviv-Yafo, Israel
Abu Hassan / Ali Karavan 
When it comes to hummus, this is a top institution. The restaurant is on Ha-Dolphin Street in Jaffa and serves one of the best hummus plates in Tel Aviv – many would say the best in the country, but that might upset some hummus experts! It's open for lunch and there's a small menu with just three options. One is massabacha, which consists of warm chickpeas that are kept whole, mixed with tahini, chilli, lemon, and olive oil. The second is hummus and ful – a plate of hummus with slow-cooked fava beans, lemon and olive oil. And the third option is a combination of the two. All are served with raw onions and fresh pittas. 
1 Ha' Dolfin Street Jaffa, Tel Aviv 68130 Israel
Pereh 
For some of the best seafood in the city, book a table at Pereh. Its house sourdough bread and sashimi-style dishes are a must, plus there's a decent low-intervention wine list. Advance booking is a must as it's always busy – I like to sit by the bar for the atmosphere. 
Visit Pereh-Rest.com
M25 
This is a meat restaurant in Carmel Market, just 25m from its butchers. The place offers a variety of meats grilled over charcoal. Try the arayes, which means 'married' in Arabic – it's a dish of minced spiced lamb tucked in a pitta and grilled over charcoal. The tomato salad with the preserved lemons is another must.
Visit M25Meat.co.il
Hanan Margilan 
The food scene is Tel Aviv is lively and ever-evolving, thanks to Israel's diversity. Its cuisine is an interesting blend of cultures and backgrounds – and one good example of this is Hanan Margilan, a Georgian/Jewish restaurant in the Shapira neighbourhood. It specialises in grilled meats and bukhari dumplings served in a rich beef broth. 
Mesilat Yesharim St 15, Tel Aviv-Yafo, Israel
Sexy Fish 
This bar has a great ambience. It hosts regular live DJs, and it's also dark and very well air-conditioned, which is crucial in summer. The bar is owned by Rafa, who's an iconic figure in the Tel Aviv night scene.
Nahalat Binyamin St 63, Tel Aviv-Yafo, Israel
Visit SexyFishtlv.carrd.co
Ha' Minzar 
If you're after great beer, head to Ha' Minzar on the corner of Carmel market. It's a famous 24/7 pub which serves an excellent selection of beers on tap, plus tasty dishes like sausages and mezze plates. The menu changes daily depending on what's available at the market.
Allenby 60, Gedera St 28, Tel Aviv-Yafo, Israel
K Bar 
K Bar is seriously cool, with different DJs every night so it's never the same experience twice. Any local will tell you it's a real staple of the Tel Aviv scene.
Herzl St 4, Tel Aviv-Yafo, Israel
Nilus 
A great place to hang out with friends, Nilus serves tasty small sharing plates. As an added bonus, there are outside seats with views of bustling Allenby Street.
Allenby St 33, Tel Aviv-Yafo, Israel
Delicatessen 
As the name suggests, this is a great Israeli deli, which serves fantastic homemade dips and spreads. For the sweet-toothed, the iconic cheesecake from its coffee bar is also a must. 
Visit DeliTlv.co.il
Amrani 
This spot at Carmel Market is the place to stock up your spice cupboard. There's also a great range of whole roasted nuts, as well as a large variety of tahini brands which make fantastic presents for anyone back home.
HaCarmel St 48, Tel Aviv-Yafo, Israel
Neve Tzedek
This neighbourhood brims with design shops and little fashion boutiques. It's a really nice place to walk around and look at the contrasting old and new architecture. There's a lot of lovely art galleries and craft shops too, where you can grab a nice souvenir.
Neve Tzedek 
Carmel Market 
As mentioned, Carmel is the largest market in Tel Aviv and a must for any visitor. You can find everything from fresh produce to clothes, spices and specialty pastries. It's also full of amazing food stalls selling epic falafel, sabich and other street food.
HaCarmel St 48, Tel Aviv-Yafo, Israel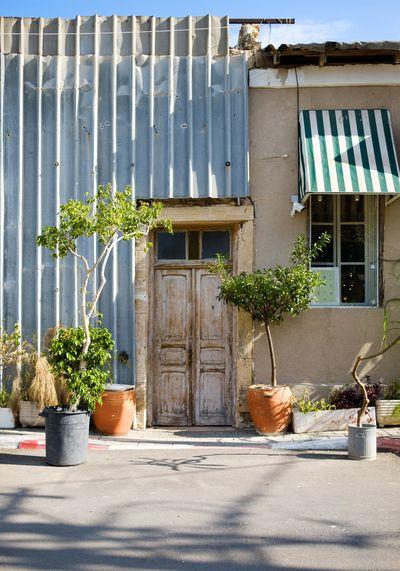 ARNO SMIT/ UNSPLASH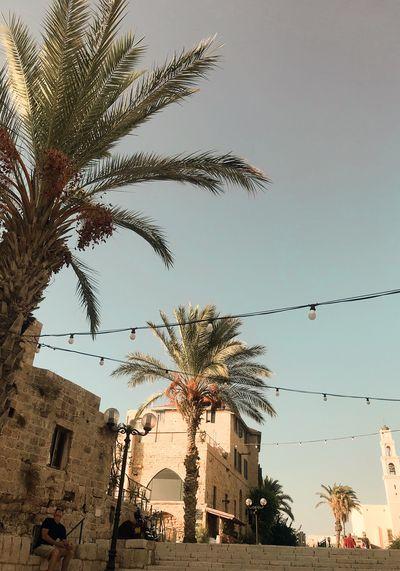 NINA F/ UNSPLASH
Gordon Beach
Tel Aviv has lots of excellent beaches with beautiful white sand and all the cool bars and restaurants you could possibly want. My favourite, along with most locals, is Gordon Beach thanks to its soft sand and turquoise waters. For something quieter, head further south to Jaffa.
J. L. Gordon Street 1, Tel Aviv-Yafo, Israel
Jaffa Flea Market
This is open every day and it's a great place to wander and get lost in. There are a few nice cafés if you want to stop for coffee. Don't miss out on the vintage shops where you can haggle for a great price.
Olei Zion St, Tel Aviv-Yafo, Israel
Jaffa Old Town
Jaffa's Old Town is home to lots of winding alleys and some cool art galleries. Check out the Clock Tower and St Peter's Church, both of which are beautiful historic buildings.
Old City, Tel Aviv
Yemenite Quarter
One of my favourite things to do is visit the Yemenite Quarter, where you'll find hearty stews cooked overnight over kerosene. Tel Aviv has so much charm when it comes to food and nightlife. I love how the restaurant scene is so vibrant, mainly due to the multicultural character of Israel.
Kerem HaTemaniem, Tel Aviv
Tel Aviv Gay Pride 
This is a week-long event in June. It's the largest pride event in Asia and a guaranteed fantastic time.
DISCLAIMER: We endeavour to always credit the correct original source of every image we use. If you think a credit may be incorrect, please contact us at [email protected].