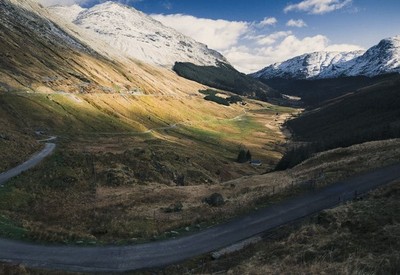 10 Of The Best National Parks In The UK

---
Going abroad feels a bit of a way off, but if you're bored of the same walking routes, it might be time to start planning a trip to one of the UK's National Parks ready for when restrictions begin to ease. With beautiful landscapes spanning England, Scotland and Wales, there's something for everyone – whether you want a local family day trip or a week-long adventure. Here are ten spots to bookmark for later.

Photography
IAN CYLKOWSKI/UNSPLASH
Peak District National Park
Spread across Derbyshire, Yorkshire, Staffordshire, and Cheshire, the Peak District National Park covers 555 sq. m. of beautiful landscape. It was the first national park to be established in England, and attracts thousands of visitors each year thanks to its rugged terrain, which is ideal for mountain climbing, horse riding and cycling. There are hundreds of walking routes to choose from, but one of the best is the Curbar Edge walk which is seven miles long and takes around three to four hours to complete. Starting at the village of Curbar in the Derbyshire Dales, the route passes Grindleford and Froggatt – two quaint villages that are both worst a visit. If you're up for the challenge, try the Rowtor Rock walk, which beings in Birchover. Both are fairly steep with rugged terrain, so you'll need proper walking boots.
Visit PeakDistrict.Gov.uk
Lake District National Park
The Lake District is the largest national park in England and attracts over 16 million visitors each year. Made up of 912sq. m. of mountains, lakes, rivers and coastline in Cumbria, there's plenty to see, so it's best to explore the area over the course of a weekend. The park is home to Scafell Pike – the tallest mountain in the UK – and if you're after a challenging hike, it's one of the best mountains to climb in the country. The Lake District is a great place for family day trips, or longer staycations, as there's an abundance of activities on offer, from guided walks and boat trips to wildlife parks and alpaca farms. It's also one of the darkest places in the country, so stargazing is a must if you're staying overnight. For a day trip, Lake Windemere is a must, as is Ullswater Lake.
Visit LakeDistrict.gov.uk
Snowdonia National Park
Located in the north of Wales, Snowdonia is one of the most beautiful and impressive national parks on this list. It's the largest of the three parks in Wales and is home to stunning views and a range of climbing and walking routes. When in Snowdonia, climbing Mount Snowdown is a must if you're up to the challenge, while the wild landscapes, soaring peaks and vast valleys are ideal for those looking for their next adventure. There are six main climbing routes to take, but a good one to consider is the Watkin Path. From the base to the summit, it's a physically demanding walk that'll take you past the southern slopes of Y Lliwedd and Glaslyn, before heading up to the final push. An easier and just as scenic route is the Snowdon Ranger Path, which is fairly straightforward, but don't be fooled – you'll need stamina to complete it in a day. For something a little less strenuous, visit one of the 50 lakes in the park, or ride the waves on the man-made lagoon in Conwy Valley.
Visit Snowdonia.gov
North York Moors National Park
A nature lover's dream, the North York Moors are home to an abundance of wildlife and some seriously stunning views. Located in north east of Yorkshire, there are more than 1,400 miles of public footpaths to explore, as well as the famous Cleveland Way National Trail – a 109-mile walking route. In late summer, visitors can spot roe deer in the ancient woodland areas, plus seals, dolphins, and even whales along its 26-mile coastline. History buffs will appreciate the various landmarks and historical sites that date back to the Iron Age, while bookworms should head to the 18th-century Castle Howard, the backdrop to Evelyn Waugh's Brideshead Revisited. The park is also great for cycling – among other activities – and is one of the best places on this list for mountain biking, too.
Visit NorthYorkMoors.org.uk
Dartmoor National Park
Located in the south of Devon, Dartmoor National Park is a beautiful yet mysterious place. As the inspiration for many fictional stories (including The Hound of the Baskervilles by Sir Arthur Conan Doyle), there are several legends to learn about during a trip. The wild moorland is a great place to explore year-round, but the summer months are the best time to make the most of outdoor pursuits, including wildlife spotting, hiking and cycling. Visitors can take horse riding lessons across the moors and canoe on the River Dart between October and March. The park is surrounded by pretty West Country towns and villages, so it's best to explore the local area before leaving – Tavistock and Buckfast are two of our favourites.
Visit Dartmoor.gov.uk 
Yorkshire Dales National Park
Situated in North Yorkshire, this stunning national park covers 860sq. m. of land. The area is best explored over the course of a weekend, with highlights including the Gordale Scar ravines, Malham Cove (an ancient limestone amphitheatre), Malham Tarn Lake, and the beautiful Aysgarth Falls. Within the park, there are four dales to explore – Wensleydale, Swaledale, Wharfedale and Malhamdale – as well as several villages and historical landmarks nearby that are worth venturing out to – Bolton Abbey Estate and Pendragon Castle make a great day out. Once you've finished exploring, don't miss the Wensleydale Experience – a great lunch spot. 
Visit YorkshireDales.org.uk
Loch Lomond & The Trossachs National Park
There are two national parks in Scotland – Cairngorms and Loch Lomond, and the Trossachs, the latter being the more beautiful of the two. Bordering the lowlands of central Scotland and the Scottish Highlands, the parks encompass 720sq. m. of beautiful scenery. Covering lowland valleys and high mountains, to rivers and vast woodland areas, the park is one of the UK's largest nature reserves. It's worth spending a few days in the area to explore everything on offer, including the pretty villages nearby. Lovers of the outdoors will relish the beautiful campsites, while those ready for an adventure can hike one of the mountains, explore 22 lochs in the park, and visit one of the wildlife reserves – red deer and squirrels are best spotted at Breadalbane. 
Visit LochLomond-Trossachs.org
New Forest National Park
The New Forest can be reached in a 90-minute drive from London, making it a great choice for a day trip. Covering over 200 miles of woodland in Hampshire and Wiltshire, the area is famous for its history and wildlife. Ponies, deer and other woodland animals are frequently spotted, and the park – which is a protected landscape – is home to several rare bird species. The area, which is largely flat, is a great option for leisurely bike rides and other outdoor activities, and there are over 40 walking routes to choose from. For an easy option, follow the Buckland Rings Trail, which takes around three to four hours to complete, to see the beautiful Roydon Woods Nature Reserve and the famous Buckland Rings – a historical site that dates back to the Iron Age.
Visit NewForestNPA.gov.uk
South Downs National Park
The South Downs were declared a national park in 2010, but the area is steeped in history. Some of the earliest settlements in the UK date back to the area, where there are several ancient Roman sites. As one of the largest national parks on this list, South Downs covers 990 square miles, so it's best to thoroughly plan a trip to the area before visiting. One of the most beautiful parts of the park are the monolithic cliffs at Seven Sisters where visitors can walk along the coastline to appreciate the beautiful views. The main walking route, which is a great option for dog walkers, starts at Seaford in East Sussex, and passes through Beachy Head and Eastbourne. It's a fairly challenging route – taking four hours to complete, with some steep climbing – so it's best to tackle it on a weekend. Devil's Dyke, a huge 'dry' valley is also a must-see, as is the majestic Kingley Vale forest. 
Visit SouthDowns.gov.uk
Brecon Beacons National Park
The Brecon Beacons National Park covers 520sq. m. of south and mid-Wales. It's one of the best national parks in the UK for outdoor activities, such as water sports, horse riding, rock climbing and caving. With mountains and moorland, there are hundreds of walking routes to choose from, but if you're up for a challenge, the Route of the Romans is a great option. The 27-mile walk takes around two days to complete and is best tackled over the course of a weekend to appreciate the Roman cobbles and beautiful views of Pen y Fan. The Brecon Beacons is also renowned for its night skies – an International Dark Sky Reserve – while parts of the landscape are recognised as a UNESCO World Heritage Site. If you're looking for a remote adventure, this national park has it all.
Visit BreconBeacons.org
 
*DISCLAIMER: Travel restrictions are changing daily, so please check the latest government advice before you book anything. Visit Gov.uk for more information.
INSPIRATION CREDITS: Sam Knight/Unsplash; Denise Seddon/Unsplash
DISCLAIMER: We endeavour to always credit the correct original source of every image we use. If you think a credit may be incorrect, please contact us at [email protected].