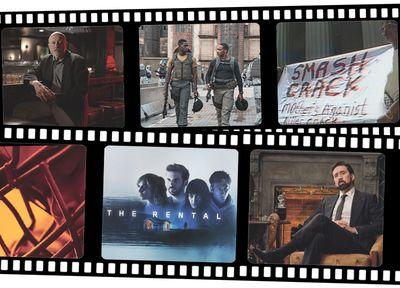 10 Things To Watch Online This January

---
If you're feeling glum about lockdown 3.0, the good news is there are plenty of new films and series dropping on Netflix and Prime Video this month to see you through the next few weeks. From sports documentaries to action movie premiers, here's our pick of the top things to add to your watch list in January.

History of Swear Words
Hosted by Nicholas Cage, this six-part comedy series delves into the origins, evolution, and cultural impact of swear words. Each 20-minute episode focuses on one commonly used expletive in turn, investigating the surprisingly intricate historical context behind some of the most notorious and commonly used words in the English language. Interviewing experts of etymology, pop culture and historians, the series is easy watching, light-heartedly unpacking everything there is to know about profanities.
 
Available now
 
Visit Netflix.com
Pretend It's A City
Critic, essayist and public speaker Fran Lebowitz has built her career by sharing her opiniated thoughts with the world. A New Yorker through and through, she has learned to hold nothing back through her no-nonsense observations. Directed by Lebowitz's old friend, Martin Scorsese and peppered with his own observations about his native city, the docuseries is the ultimate need-to-know handbook to New York, discussing topics ranging from tourists, the subway, to how to correctly cross Times Square.
 
Available now
 
Visit Netflix.com
Night Stalker: The Hunt For A Serial Killer
This true crime docu-series details the life and crimes of one of the most notorious serial killers in American history, Richard Ramirez. In the summer of 1985, a record-breaking heatwave hit Los Angeles, along with a series of murders and sexual assaults that baffled the police. With victims from all walks of life, ranging in age from six to 82, they came from different neighbourhoods and backgrounds, but there was one thing that connected them all – their killer. At the time, detective Gil Carrillo and renowned homicide investigator Frank Salerno worked tirelessly to solve the case, which is detailed step by step in this four-part series. The documentary is told through first-person interviews and unearthed archival footage from a deeply troubling time in American history.
 
Available to watch 13th January
 
Visit Netflix.com
We Are: THE Brooklyn Saints
Netflix had a big year with sports documentaries in 2020, with the huge success of titles like The Last Dance and Athlete A, and are proving already that this is feat they're looking to carry on into the new year. We Are: The Brooklyn Saints is the latest addition to the stock, which across four episodes follows an American football youth programme in the inner city of Brooklyn, New York. Over the course of the training season, the young athletes share victories and losses, both sporting and personal, as the sporting world unites across players, parents and coaches.
 
Available to watch 29th January
 
Visit Netflix.com
Tesla
Ethan Hawke (Training Day, Boyhood) stars as the visionary inventor, Nikola Tesla, in this biographic drama. Blending the present and the past, this stylised film is narrated by Anne, the daughter of Tesla's contemporary, J.P Morgan. With a laptop in hand, Anne traces Tesla's contribution to the modern design of AC electrical supply systems, while demonstrating the results of his work on the modern, wireless world he helped create today.
 
Available to watch 12th January
Visit Amazon.com​
Outside The Wire
Set in the near future, this science-fiction drama sees Anthony Mackie (The Falcon of The Avengers) star as Leo, an android officer who is tasked to locate a doomsday device before the insurgents can reach it. When drone pilot Harp (Damson Idris) disobeys orders, he is consequently deployed into a deadly warzone under the command of the impulsive Leo. The pair must work as a team to track down infamous warlord, Viktor Koval his network of nuclear weapons in Netflix's latest high-profile feature film.
 
Available to watch 15th January
 
Visit Netflix.com
The White Tiger
Based on the New York Times bestseller and 2008 Man Booker Prize-winning novel, The White Tiger is a story of ambition and success. Balram Halwai (Adarsh Gourav) narrates his epic and darkly humorous rise from poor villager to entrepreneur in modern India. Both cunning and eager for a better way of life, Balram tricks his way into becoming a driver for Ashok (Rajkummar Rao) and Pinky (Priyanka Chopra Jonas), who have just returned from America. From humble beginnings, Balram takes on the role of the servant to survive, but after a night of betrayal, he realises the corrupt lengths his employers will go to trap him and save themselves. Against all odds, Balram transgresses society and rebels an unequal system to rise up and become his own master.
 
Available to watch 22nd January
Visit Netflix.com
The Dig
Based on John Preston's 2007 novel and the real-life events that took place in Suffolk's Sutton Hoo, The Dig is Netflix's latest literary adaption. As WWII looms, Edith Pretty a wealthy widow (Carey Mulligan) hires amateur archaeologist Basil Brown (Ralph Fiennes) to excavate the burial mounds on her estate. Edith cannot spare the resources to begin with, but once she learns a whole host of important artefacts lie beneath her home, she does everything within her power to uncover the past, which echoes Britain's uncertain future.
 
Available to watch 22nd January
 
Visit Netflix.com
The Rental
Dave Franco made his directorial debut last year with horror film The Rental, which lands on Prime video later this month after enjoying success in the US as the second film to ever top box office and rental charts. When two young couples rent an oceanside house for a weekend getaway, the group holiday takes a disturbing turn as they begin to suspect they are being watched by surveillance cameras planted throughout the house. As the lies and deceit begins to mount, the four of them realise that their every move is not only being recorded, but is in the hands of an unknown figure in this suspenseful thriller.
 
 
Available to watch 22nd January
 
Visit Amazon.com
Crack: Cocaine, Corruption & Conspiracy
Emmy Award winning director Stanley Nelson has earned credibility as a filmmaker over the years, with his documentaries focusing on crucial aspects of Black history and experiences, including the Civil Rights Movement and the impacts of jazz. Nelson's latest venture has just dropped on Netflix, this time examining the devastation caused by the crack epidemic of the early 1980s, and the ongoing effects of the war on drugs. Crack: Cocaine, Corruption & Conspiracy investigates the sinister origins of the drug, the personal ruin which it has caused to countless lives across the US, and ultimately, the ongoing marginalisation of Black and Brown communities through the healthcare and prison systems.
 
Available now
 
Visit Netflix.com
DISCLAIMER: We endeavour to always credit the correct original source of every image we use. If you think a credit may be incorrect, please contact us at [email protected].