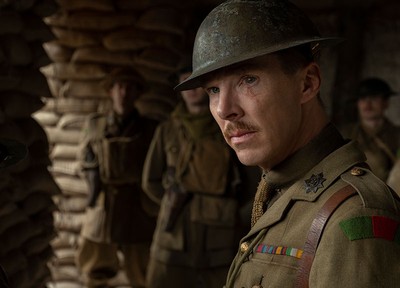 1917: The Film To See Now

---
Newly knighted Sam Mendes has directed his most personal movie. Inspired by his grandfather's experience, 1917 is a visceral and immersive homage to the men who fought in World War One. Starring a legion of British acting talent, this is a war movie that puts the audience in the very heart of the action, says Susan Griffin, however disconcerting that proves to be.

Sir Sam Mendes has enjoyed screen triumphs such as American Beauty and Bond movies Skyfall and Spectre, but it's his latest movie that he's described as "the most exciting job of my career". 
 
Inspired by the tales his grandfather used to share of his experiences as a lance corporal and messenger during World War One, 1917 isn't so much a story about him as one about his spirit, For Mendes, who won the Golden Globe for best director on Sunday, it is about "what these men went through, the sacrifices, the sense of believing in something greater than themselves".
 
Taking the idea of "one man carrying a message from one place to another" as his starting point for the film, Mendes researched first-person accounts at London's Imperial War Museum. This is when it dawned on him that the Great War was actually rooted in a relatively small geographic area. It was, he says, "a war mainly of paralysis. One in which millions lost their lives over 200 or 300 yards of land… So, the question I asked myself was how to tell a story about a single epic journey, when essentially nobody travelled very far."
 
The backdrop he uses for this is the Hindenburg Line, a fortified line of defence the Germans retreated to, leaving British soldiers adrift and unsure of their enemy's actions and intentions. The script, written with Penny Dreadful's Krysty Wilson-Cairns, is "a fiction based on fact", using a plot that is remarkably simple and no less powerful for it.
"From that moment, the camera doesn't leave the pair's side, and therefore nor do we."
Two young British soldiers, Lance Corporal Schofield (George MacKay) and Lance Corporal Blake (Dean-Charles Chapman), are introduced to the viewer as they nap beneath a tree on a spring day. Their slumber is interrupted by a summons to see General Erinmore (Colin Firth) who gives them the unenviable order to cross No Man's Land and deliver a message to Colonel MacKenzie (Benedict Cumberbatch) warning him that he and his battalion are walking into a trap and should call off the following morning's attack.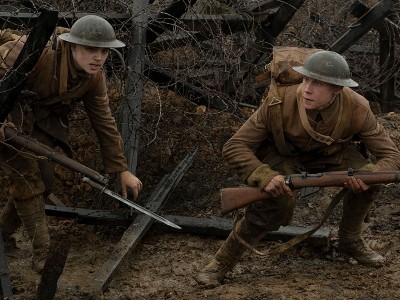 If they fail in their endeavour, it will be a massacre, the pair are warned. Indeed, the message could potentially save the lives of 1,600 fellow soldiers, including Blake's older brother. From that moment, the camera doesn't leave the pair's side, and therefore nor do we. "I wanted to travel every step and breathe every breath with these boys… to bring audiences as close as possible to their experience," says Mendes. Working with renowned cinematographer Roger Deakins, he tells the story in one seemingly continuous shot.
"Mendes immerses us in the relentless pressure and fear on the front line"
It's this decision that propels 1917 to the upper echelons of the genre. War movies can fail when the audience is left detached from the action because, while we can all appreciate special effects and masterful dialogue, you need to feel as if you're there, on the ground with characters, to be truly moved. Think of the opening credits of Saving Private Ryan, which have gone down in cinematic history as testimony to the true horrors of war as Allied forces descend on Omaha Beach in World War Two. Here, Mendes immerses us in the relentless pressure and fear on the front line; the camera never pans away as the two lads traverse trenches, barbed wire, rubble and booby traps, with death imminent at every corner.
 
Relative newcomers MacKay and Chapman do sterling work as the baby-faced soldiers with a seemingly impossible task. They're ably surrounded by an army of established acting talent: as well as Firth and Cumberbatch, there's Andrew Scott, Mark Strong, Daniel Mays and Richard Madden, each bringing gravitas to short, but significant cameos.
 
Some have said 1917 feels more like a thriller, but this is not a criticism. Throughout the film's two-hour running time, the audience knows how high the stakes are. There are action sequences, moment of suspense and unexpected scenes of violence – just don't expect respite. Even in the quieter moments, there looms a sense of doom. You might be exhausted by the end of it, but you won't have been unmoved. If, two decades on from his American Beauty win, Mendes were to collect a second Oscar for 1917, it would be well deserved.
 
1917 is out this Friday, 10th January.
 
DISCLAIMER: We endeavour to always credit the correct original source of every image we use. If you think a credit may be incorrect, please contact us at [email protected].