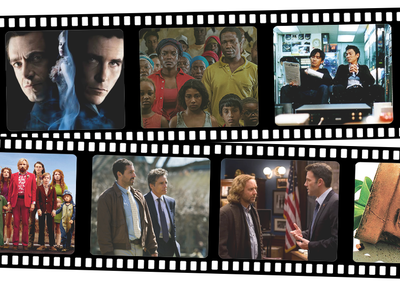 9 Hidden Gems On Netflix

---
Netflix's homepage is not always as user friendly as it might be. The further you scroll, the more niche the categories become – 'Understated Films Based on Real Life', anyone? But hidden in these lower reaches, there are some gems. From underrated blockbusters to indie classics, here are nine great films you might have missed down there…

Infernal Affair
 The basis for Martin Scorsese's celebrated The Departed, this 2002 Hong Kong crime thriller is a fast-paced and clever film goes beyond mere action to explore big questions of identity. A young police officer is sent to work undercover for a triad; at the same time, a young mobster named Lau is tasked with infiltrating the police force – each looking to amass vital information on the other. Ten years later, the men have done well in their double lives and risen through their respective ranks. With both of them teetering on the brink of being exposed, a suspenseful thriller ensues. All three films in the trilogy are available to stream now.
Visit Netflix.com
 
The Prestige 
Christopher Nolan's 2006 Oscar nominee didn't get the fanfare it deserved when it landed on Netflix at the end of last year. Set in late 19th-century London, the plot follows stage magicians Alfred Borden (Christian Bale) and Robert Angier (Hugh Jackman). When tragedy turns them into bitter enemies, they devote their lives to taking down the other man and establishing themselves as the superior magician. With a stellar cast including Michael Caine, Scarlett Johansson and David Bowie (as the great inventor Nikola Tesla), this tale of mystery is wonderful in every sense.
Visit Netflix.com
State Of Play
This is a classic option if you're looking for a political thriller. Based on the 2003 British miniseries of the same name, the film follows journalist Cal McAffrey (Russell Crowe) as he probes the suspicious circumstances surrounding the death of a congressman's mistress. With supporting roles from Helen Mirren, Ben Affleck and Rachel McAdams, the film is a gripping, conspiratorial mystery full of twists.
Visit Netflix.com
The Meyerowitz Stories
Dustin Hoffman plays retired artist Harold Meyerwowitz. Eccentric, overbearing and egotistical, he has three adult children who have grown up in the shadow of his success, rivalling one another for Harold's affections. Written and directed by Noah Baumbach (Marriage Story), this off-beat dark comedy is a poignant and relatable exploration of dysfunctional family dynamics. Ben Stiller and Adam Sandler trade in their usual stock comedy characters for dramatic performances that many now consider to be career highlights.
Visit Netflix.com
Good Time
This gritty crime-thriller garnered widespread critical acclaim on its release in 2017. Robert Pattinson is reckless robber Connie, who enlists his developmentally disabled younger brother Nick to help him hold up a New York bank. When the plan goes askew and Nick is arrested by the police, Connie must go to extreme lengths to break his brother out. Directed by brothers Josh and Benny Safdie (the duo behind the also excellent Uncut Gems), Good Time is visually striking and atmospherically tense – a thriller in its purest form. 
Visit Netflix.com
His House
A refreshing and thoughtful debut from British filmmaker Remi Weekes, this 2020 Netflix Original is a chilling ghost story that dominated the most recent British Independent Film Awards. The horror thriller tells the story of a young married couple who make a horrifying escape from war-torn South Sudan and are granted temporary asylum in a small English town. But evil lurks in every crack of their decrepit new home, so they must decide whether the sinister forces tormenting them are greater than the dangers they face in their home country. 
Visit Netflix.com
Captain Fantastic 
Captain Fantastic is a warming story about the challenges of fatherhood and the lengths to which a parent will go to shelter their children from the realities of the world. The 2016 comedy-drama centres on Ben Cash (played by Lord of The Rings star Viggo Mortensen) and his six bright children, who live in the wilderness, isolated from capitalist society. When Ben's wife dies suddenly, societal pressures force the Cash family to leave their utopia in the woods and adapt to a more conventional lifestyle.
Visit Netflix.com
Mid90s 
Jonah Hill made his directorial debut with this heartfelt coming-of-age story. Set in sun-drenched Los Angeles, Mid90s is an authentic snapshot back to an era of hand-held video recorders, hip hop and skateboarding. Thirteen-year-old Stevie (Sunny Suljic) is a lost pre-teen who escapes the everyday banalities of his troubled home life when he befriends a group of older boys at the local skate shop. This surprisingly sensitive film is sure to spark a sense of nostalgia for anyone familiar with the decade.
Visit Netflix.com
Adaptation. 
Charlie Kaufmann is a long-time favourite of indie cinephiles. Screenwriter of the weirdly fascinating Being John Malkovich and, more recently, the Netflix original I'm Thinking Of Ending Things, he's earned his reputation for giving audiences something out of the ordinary. Adaptation is a typically unique take on the art of story-telling, exploring Kaufmann's own attempt to adapt the un-adaptable: Susan Orlean's nonfiction bestseller, The Orchid Thief. Played by Nicolas Cage, Kaufmann explores his own struggles with both personal insecurities and writer's block. This comedy-drama is a sharp and surreal satire that is unlike anything you've seen before. 
Visit Netflix.com
DISCLAIMER: We endeavour to always credit the correct original source of every image we use. If you think a credit may be incorrect, please contact us at [email protected].