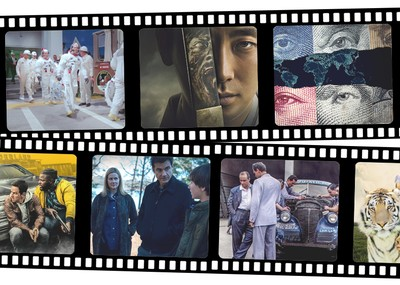 New On Netflix This Month

---
Entire countries might be going into lockdown, but Netflix remains as productive as ever. New for March, it's got cinematic documentaries about world-historical events and a typically bloody Mark Wahlberg vehicle. In total, we've found ten shows to help you make the most of being at home.

Apollo 11
The 1969 moon landing might be the most incredible and unifying event in human history. This beautiful film draws on never-before-seen footage from Nasa archives to put you inside the lunar module as Neil Armstrong and Buzz Aldrin prepare to take that giant leap into the unknown. The in-flight passages are remarkable, but look out too for scenes of what's happening on the ground, as mission control and large public crowds anticipate and revel in a singular achievement.
 
Available to watch now
Visit Netflix.com
 

Ozark: Season 3
Terrifically acted, occasionally absurd, Ozark returns with another ten episodes of trouble for the ever-unfortunate Byrde family. Poor Marty (Jason Bateman) faces further dealings with the Mexican drug cartel after setting up a floating casino as a money laundering venture. This, of course, increases the strain on his relationship with wife Wendy (Laura Linney). Expect more edge-of-seat drama that will have you wondering when their luck will finally turn.
 
Available from 27th March
Visit Netflix.com
 

A Life of Speed: The Juan Manuel Fangio Story
The king of Formula One, Juan Manuel Fangio won five world championships in the early 1950s. In those days, racing was grittier, dirtier and far more dangerous than it is today. It was a time when racing drivers were required to be fearless and take ridiculous risks, often surviving horrific injuries – or, in Fangio's case, being kidnapped in Cuba. Winning his last title at the age of 46, Fangio is a motor-racing legend who is finally getting the film his story deserves.
 
Available from 20th March
Visit Netflix.com
 
Castlevania: Season 3
Netflix's adaptation of the hugely popular videogame is officially a hit. Entering its third series, Dracula is dead (or, even deader than he was before) so the focus is on his son, Alucard. An animated series about vampires and monster hunters sounds geeky, but give yourself up to these ten new episodes and you'll soon be dying to find out what else can happen in this twisted, mystical fantasy land.
 
Available to watch now
Visit Netflix.com
 

Kingdom: Season 2
The Korean zombie thriller is back for a second season, with another brilliant storyline written by respected screenwriter and playwright Kim Eun-Hee, as well as an impressive cast and captivating cinematography that perfectly captures the essence of old Joseon Korea. The story centres on Crown Prince Chang and the political turmoil that causes him to flee the country. As if that wasn't enough, a doctor has unleashed a mysterious plague that awakens the dead…
 
Available to watch now
Visit Netflix.com
 

Spenser Confidential
Starring Mark Wahlberg and Post Malone, the plotline of action-comedy Spenser Confidential is pretty simple: after being released from prison, ex-cop Spenser (Wahlberg) picks up a trail after two of his former colleagues end up dead. The events that ensue are just as you'd hope from Wahlberg:  expect drama and bloody violence amid the shoot-outs and bust-ups.
 
Available to watch now
Visit Netflix.com
Tiger King: Murder, Mayhem and Madness
Anyone who liked Don't F**k with Cats: Hunting an Internet Killer should enjoy this true-crime docu-series – because it's just as bizarre and addictively watchable. Joe Exotic, aka Joseph Maldonado-Passage, is best known for running a private zoo in Oklahoma, where it is said he housed more than 1,000 animals. With a striking blonde mullet and flamboyant dress sense, he is also now known for the court case that landed him a 22-year prison sentence earlier this year. Tiger King documents the events that led to his incarceration, offering a window onto a very strange life.
 
Available from 20th March
Visit Netflix.com
 

Freud
This new mystery-thriller series stars Robert Finster as a young Sigmund Freud attempting to solve a murder case in 19th-century Vienna. One of the best things about this German-language show is this stunning architecture – surprisingly, perhaps, it's Prague standing in for Austria's old imperial capital. That's the backdrop against which Freud must hunt a serial killer while grappling with his own cocaine addiction.
 
Available from 23rd March
Visit Netflix.com
 

Ultras
If you're a football fan, you'll know how seriously they take the game down in Naples. In the absence of any top-level live football for the rest of this month, this new Netflix drama about the violent underworld of Napoli's ultras is a decent consolation. The ageing leader of the Apache ultras, Sandro, forms a close bond with an impressionable boy, becoming Angelo's guide on how not to live the life of conflict that killed Angelo's older brother.
 
Available to watch from 20th March
Visit Netflix.com
DISCLAIMER: We endeavour to always credit the correct original source of every image we use. If you think a credit may be incorrect, please contact us at [email protected].