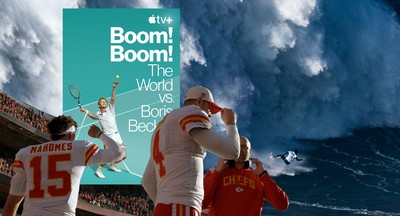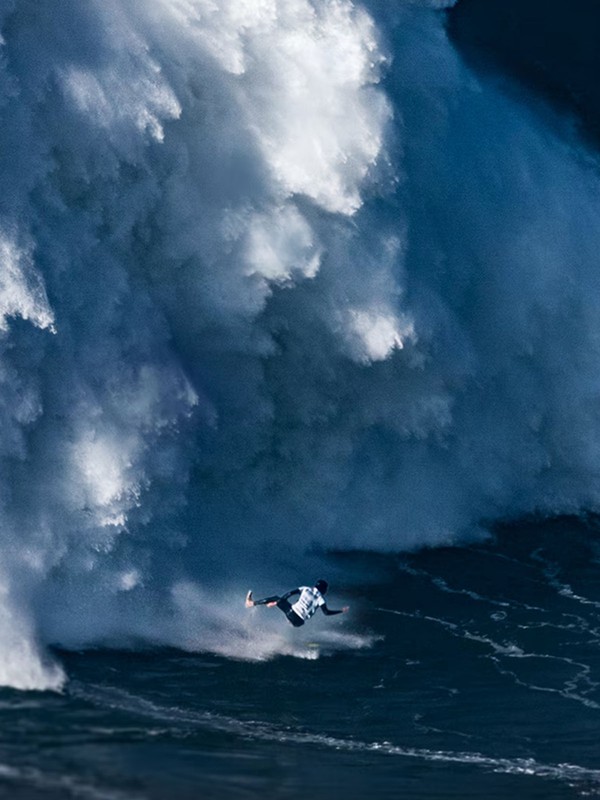 The New Sports Docs To Watch Now

---
Wimbledon and the Tour de France are done. The Ashes is almost over, and the Premier League doesn't kick off for another few weeks. To fill the void, some outstanding sports documentaries have arrived this summer. From daredevil big-wave surfers in Portugal to behind-the-scenes access to some of the NFL's biggest stars, here are eight to see you through the downtime.

In its essential second series, 100 Foot Wave returns to Nazaré, Portugal – with stops in Hawaii and California – for a heart-pounding and adrenaline-filled six episodes following big-wave legend Garrett McNamara, his world-class surfing peers, and some surprising newcomers as they continue to push the boundaries of their sport and the limits of their minds and bodies. The season reunites us with some heroes from the first series, including Andrew 'Cotty' Cotton, Justine Dupont and CJ Macias, while introducing us to dynamic new players such as local teenager Tony Laureano who's trying to break into the upper echelons of the sport. United in their passion to push past near-death experiences and self-doubt in pursuit of an elusive transcendence, the surfers are part of a world unlike any other, which is captured by a mix of intimate interviews, personal archive and stunning aerial, water-based and underwater footage.
Visit NowTV.com
Boom! Boom! The World Vs Boris Becker, Apple TV+
Boom! Boom! The World Vs. Boris Becker is a two-part documentary from Oscar-winning director Alex Gibney (Enron, Going Clear) and Oscar-winning producer John Battsek (One Day in September). It explores every aspect of the man who became a tennis sensation after winning Wimbledon at 17, including his high-profile – sometimes tumultuous – personal life. Though he won 49 career titles including six Grand Slams and an Olympic gold medal, Becker's rockstar lifestyle off the court made headlines just as much as his victories. The series features personal interviews with Becker, including an exclusive conversation with him in the week of his sentencing for fraud. Hear too from those who know him best, including immediate family and tennis stars like John McEnroe, Bjorn Borg, Novak Djokovic, Mats Wilander and Michael Stich.
Visit TV.Apple.com
Mark Cavendish: Never Enough, Netflix
With exclusive access to Mark, his wife Peta, his teammates and his coaches, this film – which lands on 2nd August – charts the rise, fall and resurrection of a genuine sporting great. One of the wiliest, most effective and most exciting cyclists ever, at the end of 2016 Mark required just four Tour de France stage wins to equal the great Eddy Merckx's 41-year-old record of 34 stage wins and cement his legacy. He got five agonising years of injury, illness and depression instead. His performance in the 2021 Tour de France shocked the world and set the stage for this summer's tour, and Mark's final attempt to make the stage win record his own. Raw, honest and revelatory, Mark Cavendish: Never Enough is an uplifting profile of resilience and self-belief that reveals the inside story of one of the most unexpected comebacks in sporting history.
Visit Netflix.com
Netflix's first partnership with the NFL sees Quarterback take a unique look at last season, through the lens of three quarterbacks. For the first time, the NFL allowed QBs to be mic'd up for every single game of a season. The series gets up close to Patrick Mahomes (Kansas City Chiefs), Kirk Cousins (Minnesota Vikings) and Marcus Mariota (Atlanta Falcons), following them on and off the field, from inside the huddle with teammates to inside their homes with their families. It goes behind-the-scenes of the biggest moments of the season, as Mahomes sets an NFL record for total offense on his way to winning the Super Bowl; Cousins engineers the greatest comeback in NFL history; and Mariota takes over as the starting quarterback for the Falcons. Whether you're an American football fan or not, this could be the documentary that persuades you to spend this winter's Sunday nights watching RedZone on Sky – or even buy tickets to one of the London games this autumn.
Visit Netflix.com
Stephen Curry: Underrated, Apple TV+
If you enjoyed The Last Dance, you'll probably rate this too. This doc charts the remarkable coming-of-age story of one of the most influential, dynamic and unexpected players in the history of basketball. Blending intimate cinema vérité, archival footage and on-camera interviews, it reveals Curry's rise from an undersized college player at a smalltown Division I college to a four-time NBA champion helping to build one of the most dominant sports dynasties in the world.
Visit TV.Apple.com
The Deepest Breath, Netflix
This A24 documentary heads deep into the ocean to follow a champion free diver as she trains to break a world record with the help of an expert safety diver. A pair whose lives seemed fated to converge at the height of their careers, this film traces the paths they took to meet at the pinnacle of the free diving world, revealing the thrilling rewards and inescapable risks of chasing a dream through the depths of the ocean – and holding your breath for up to four minutes at a time. 
Visit Netflix.com
Tour De France: Unchained, Netflix
Think of this as Drive To Survive but for cycling. It follows some of the main players and biggest characters through the 2022 edition of the sport's showpiece event. Following riders and their families, as well as team managers and commentators, the filmmakers gain unprecedented access to reveal the competing interests and amazing human stories behind an iconic race that's broadcast in 190 territories. Spanning the training phase to the finish line in Paris, this Netflix series is compelling, whatever your level of cycling knowledge.
Visit Netflix.com
Untold: Johnny Football, Netflix
In 2012, the brightest star in American sport was an undersized freshman quarterback at unheralded Texas A&M, whose fervour on the field was rivalled only by his hard-partying ways off it. Dubbed 'Johnny Football', Johnny Manziel was a magnetic player who captured the nation's attention and initially relished his alter ego. But as the money rolled in, the scrutiny heightened and Manziel rejected his newfound fame and lost his way. With astonishing candour, Manziel – along with his family, coaches, former best friend and agent – details what happened behind the scenes as scandals piled up in the glare of paparazzi flashbulbs. He might have fumbled his shot at NFL success after the Cleveland Browns picked him in the first round of the NFL draft in 2014, but Manziel went on to search for something even greater: inner peace and happiness with a quieter life that he reveals here.
Visit Netflix.com
All products on this page have been selected by our editorial team, however we may make commission on some products.