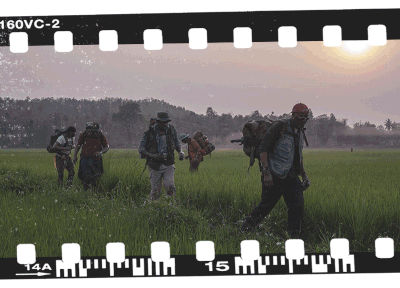 Watch It Now: Da 5 Bloods

---
At a time when 11% of the US population was African American, 32% of troops sent to Vietnam were black. They were underserved when they returned and, ever since, their stories have been under-represented by Hollywood. Spike Lee is here to put that right, with a spectacular, genre-busting Netflix Original that draws a link between present events and past ones.

What's The Story?
Last year, Spike Lee won an Oscar for BlacKkKlansman. That film finished with a powerful montage tribute to Heather Heyer, a counter-protester killed at a white nationalist rally in 2017 – four decades on from the events in the movie. Lee was challenging his audience to ask how much has changed. With Da 5 Bloods, the veteran director picks up where he left off, with an emotive collage of real-life protests from the Vietnam War era, starting with Muhammad Ali raising his objections.
Like BlacKkKlansman, which followed an African American policeman infiltrating the Ku Klux Klan, Da 5 Bloods has a faintly farcical premise. Four black veterans are heading to Vietnam to collect the remains of Stormin' Norman, their squad leader who never came back. As they're out there, they also hope to recover a stash of gold they hid last time they passed through.
As always seems to happen with buried treasure, it's more curse than blessing. The mission to retrieve a fallen hero – and claim the reparations he said they were rightfully owed – reopens some old wounds. War film, heist movie, gorefest, urgent social commentary – at different points, Da 5 Bloods is all of those things. There's humour and violence but, underneath everything, there's a can't-miss message about the Vietnam War, the society that sanctioned it, and the society today that hasn't learned its lessons from history.
 
"There's humour and violence but, underneath everything, there's a can't-miss message."
Who Are The Stars?
The biggest name is the one on the back of the director's chair, but there's serious talent in front of the camera too. Two of the Bloods, Clarke Peters and Isiah Whitlock Jr, will be known to fans of The Wire as Lestor Freamon and Senator Clay Davis respectively. Paul is Delroy Lindo, who spent the 80s in theatre, then a lot of the 90s in Spike Lee films (Malcolm X, Crooklyn, Clockers). Eddie is Norm Lewis, another Tony-nominated theatre actor.
Each man plays his character in the present day but also in the flashbacks to their tour of duty. Set against that other recent Netflix Original The Irishman, in which older actors were digitally de-aged, Lee's approach is jarring at first, but makes sense: these are men whose lives have been defined by their service in Vietnam.
More than any of them, it is Paul who has been unable to move on from the war. Even before he pulls out a Make America Great Again cap, he is troubled enough that his son, David, has followed him back out to Vietnam. Though that might just be a pretext for a son who craves the paternal love he has never been given. David is Jonathan Majors, the about-to-get-big lead in upcoming HBO series Lovecraft Country.
As Stormin' Norman in the flashbacks, Black Panther's Chadwick Boseman shows he can do real-life hero as well as superhero. Jean Reno plays a sweaty Frenchman through whom the Bloods are planning to fence their gold. And then there's Marvin Gaye.
Da 5 Bloods opens with 'Inner City Blues (Make Me Wanna Holler)' and eventually calls on six tracks from What's Going On, Gaye's concept album about a black veteran returning from Vietnam to an unjust America. Some are sung by the Bloods together; some are sung by just one of them; some are pared back to Gaye's own a cappella vocal track. All are indelible.
Who's It For?
The black American experience has rarely been the focus of Vietnam War movies. Dead Presidents had a go in the 90s but is now widely forgotten, despite being a very good film. With Black Lives Matter protests making waves across the world, and Netflix's vast audience still semi-captive under lockdown, Da 5 Bloods won't land so quietly. And rightly so – it deserves to be seen, and heard.
Watch it now on Netflix
 
DISCLAIMER: We endeavour to always credit the correct original source of every image we use. If you think a credit may be incorrect, please contact us at [email protected].