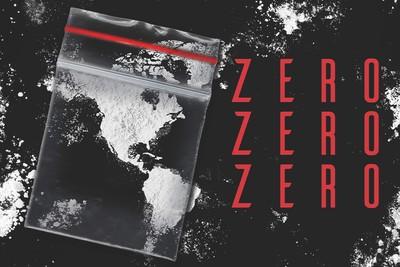 Watch It Now: ZeroZeroZero

---
A new series has just landed on Now TV and Sky Atlantic – and it's outstanding. ZeroZeroZero stretches across oceans and continents to tell an epic story about the international drug trade. Tense, dark and handsome, this thriller is the best way to break out of lockdown right now.
WHAT'S THE STORY?
Three families are conspiring to move five tonnes of cocaine across the Atlantic. In Mexico, the Leyra brothers are well set up to handle such a large order. They've got a factory of women to hide the drug in cans of chillis and a dodgy special forces unit to help get the shipment to a port. In the US, the Leywood shipping family appears less at ease in a criminal environment but needs must – they've got a whopping New Orleans townhouse to maintain. In the deep south of Italy, the La Piana clan is getting over some recent mafia wars. To bring everyone back together, ageing leader Don Minu has decided to buy some drugs.
Emphasising the point that the international drug trade makes a serious contribution to the global economy, the three families are introduced as buyers (the La Pianas), suppliers (the Leyras) and dealmakers (the Lynwoods). But what follows is unlikely to happen in any legitimate business transaction.
Because of the mafia wars, Don Minu has recently been hiding in a fortified hole in the ground. His reduced circumstances have taken away some of his authority, emboldening his ambitious grandson Stefano to scupper the old man's grand gesture. Stefano's actions have consequences that reverberate across the ocean, most significantly for the Lynwoods. Patriarch Edward (Gabriel Byrne) ignores his daughter's advice and fronts the money that's mysteriously not arrived from Don Minu to the Leyras. In turn, his daughter (Andrea Riseborough) ignores his advice not to bring her brother Chris into the family business.
On the other side of the border, the Leyras are not without their own issues. Mexico's special forces are onto them and they are increasingly reliant on Vampiro, a god-fearing and self-deluding sergeant, to keep his more upstanding colleagues at bay. And that's about as much as we can say without breaking an omerta.
IS IT GOOD?
In short, it's got the killer combination of an excellent cast, a gripping story and a unique way of telling it. ZeroZeroZero has to jump across continents to tell that story and it'd be easy to leave its audience behind. But every location – from Mexico to Mali – exudes a strong sense of place, making the show a wild, immersive ride.
Riseborough (Birdman, Nocturnal Animals, The Death of Stalin) is terrific as the wilful Emma Lynwood. Byrne (The Usual Suspects, In Treatment) brings depth and pain to his role as her father. Chris is played by Dane DeHaan (who was once the Green Goblin to Andrew Garfield's Spiderman). He has inherited a degenerative disease from his late mother and lives a quiet life of gardening and weed smoking until his sister calls him up. Never has a young man looked less prepared for a life of crime.
ZeroZeroZero is based on a book by Roberto Saviano, who has been living with police protection for 15 years since he published Gomorrah, a real-life mafia exposé that became an excellent and underseen TV series of the same name. ZeroZeroZero shares a crew with Gomorrah and both shows exude Armani production values.
Director Stefano Sollima (Sicario 2) gives the early episodes a rhythm all of their own. Milestone events in the journey of the chilli cans are shown and reshown from different perspectives – a neat way of telling the three families' separate backstories. Some of those events are violent set pieces that showcase Sollima's cinematic eye, his strong stomach and a talent for building suspense. His fine work is supported by a slow-burning soundtrack from Scottish post-rockers Mogwai that gives the show a special atmosphere.
WHO'S IT FOR?
International drug trade? The obvious comparison is with Narcos. Cool and menacing, ZeroZeroZero is a match for its Netflix rival. At a time when usual freedoms have been curtailed, it is also a way to travel the world – and in some style.
You've got until 24th April to watch ZeroZeroZero on Now TV. Check out the trailer here.
DISCLAIMER: We endeavour to always credit the correct original source of every image we use. If you think a credit may be incorrect, please contact us at [email protected].