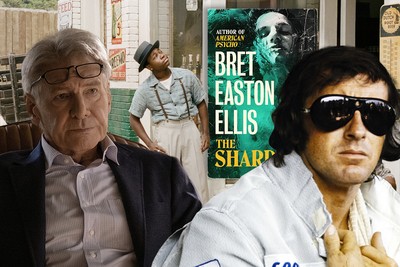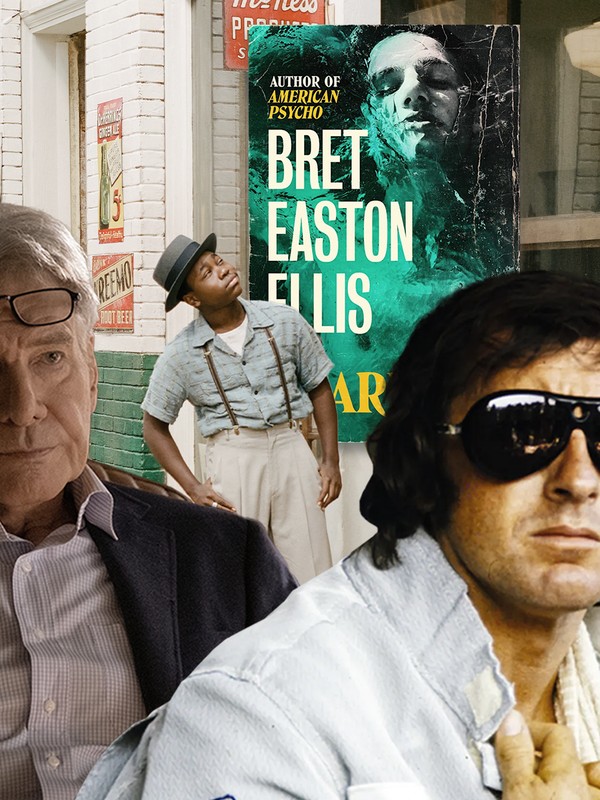 The SLMan Culture List – January

---
Whether you fancy a trip to the cinema or want a new book to get stuck into, SLMan's monthly edit of the best new books, films and series is here to see you through the early weeks of 2023…

THE THRILLER: The Shards by Bret Easton Ellis
LA, 1981. Seventeen-year-old Bret is a senior at the exclusive Buckley prep school when a new student arrives with a mysterious past. Robert Mallory is bright, handsome, charismatic and shielding a secret from Bret and his friends, even as he becomes a part of their tightly knit circle. Bret's obsession with Mallory is equalled only by his increasingly unsettling preoccupation with The Trawler, a serial killer on the loose who seems to be drawing ever closer to Bret and his friends, taunting them with grotesque threats and horrific local acts of violence. Can he trust his friends – or his own mind – to make sense of the danger they appear to be in? Thwarted by the world and by his own innate desires, buffeted by unhealthy fixations, Bret spirals into paranoia and isolation as the relationship between The Trawler and Robert Mallory hurtles inexorably toward a collision. Like Ellis's classic American Psycho, this is gripping, sly, suspenseful and often darkly funny.
Visit Waterstones.com
THE TRUE CRIME DOC: Spector
Spector is a new four-part documentary series about enigmatic, legendary music producer Phil Spector and what happened on the fateful night of 3rd February 2003 when actress Lana Clarkson was shot dead in his mansion. The series has been executive produced by Oscar-winning producer Simon Chinn (Man on Wire, Searching for Sugar Man) and Oscar-winning director James Marsh (Man on Wire, The Night Of). In episode one, a chance encounter between Clarkson and Spector ends in a fatal shooting that forever warps his legacy. The series peels back the layers of one of Hollywood's most tragic crimes to paint a more human portrait of Clarkson and the deeply disturbed man convicted of her murder.
Visit NowTV.com
THE MURDER MYSTERY: Death Comes to Marlow by Robert Thorogood
Judith, Suzie and Becks return in the second crime novel in the Marlow Murder Club series, from the creator of the hit TV show Death in Paradise. It's been an enjoyable and murder-free time for the Marlow Murder Club since the events of last year. The most exciting thing on the horizon is the upcoming wedding of Marlow grandee Sir Peter Bailey to his nurse, Jenny Page. Sir Peter is having a party at his grand mansion on the Thames the day before the wedding, and Judith and co are looking forward to a bit of free champagne. But during the soirée, there's a crash from inside the house, and when the Marlow Murder Club rush to investigate, they are shocked to find the groom-to-be crushed to death in his study. The study was locked from the inside, so the police don't consider the death suspicious. But Judith disagrees. As far as she's concerned, Peter was murdered – and now it's up to the Marlow Murder Club to find the killer before they strike again.
Visit Waterstones.com
This immersive and powerfully emotive documentary transcends motor sport and explores universal themes of love, loss and human vulnerability. Three-time Formula 1 world champ Sir Jackie Stewart is a living legend, a rare survivor from the sport's darkest period in the late 60s and early 70s. Known for more than just his stellar driving career, Stewart is familiar to millions as a TV sports anchor, racing team owner and successful businessman. Until now, his personal story has not been told. With exclusive access to an unseen personal archive, Stewart chronicles Sir Jackie's humble beginnings outside Glasgow, the early years of his marriage and the rush of excitement that heralded his first F1 World Championship title in 1969. As the documentary draws to a climax, the final chapter focuses on the 1973 season and Stewart's friendship with his teammate, François Cevert. With racing fatalities increasing, Stewart made the decision to retire from the sport at the end of the year, with Cevert his natural successor. Fate, however, had other plans, and the documentary reaches its moving climax at the US Grand Prix.
Visit NowTV.com
THE PSYCHOLOGICAL COMEDY: Shrinking
Shrinking is Apple's new 10-episode comedy starring Jason Segel and written by Emmy-winning Ted Lasso co-creators Bill Lawrence and Brett Goldstein. Also starring Harrison Ford in one of his first major television roles, Shrinking lands with its first two episodes on 27th January, followed by one new episode weekly. The show follows a grieving therapist (Segel) who starts to break the rules and tell his clients exactly what he thinks. Ignoring his training and ethics, he finds himself making huge, tumultuous changes to people's lives – including his own.
Visit Apple.com
Till tells the heart-breaking true story of the historic lynching of 14-year-old Emmett Till – for whistling at a white woman in Money, Mississippi, in 1955 – through the eyes of his mother Mamie Till-Mobley. Till-Mobley was a widowed single mother who was the head of her household, the only Black woman working for the Air Force in Chicago. She became a revolutionary by insisting that the world witness the horror of her son's body in an open-casket viewing as an act of defiance against oppression and hate. She also gave exclusive rights to Jet magazine to publish the images of her son's maimed body which caused the lynching to gain worldwide notoriety. A mother's audacity became a lightning rod in the Civil Rights Movement and propelled her to reluctantly become an outspoken activist for the NAACP, advocating for social justice and education.
Visit Picturehouses.com
THE BIOPIC: The Fabelmans
The Fabelmans is written by Steven Spielberg and Pulitzer Prize-winning playwright Tony Kushner (Angels in America), who previously earned Oscar nominations for his screenplays for Spielberg's Lincoln and Munich. Based on Spielberg's life and directed by the man himself, the film stars Gabriel LaBelle (The Predator) as 16-year-old aspiring filmmaker Sammy Fabelman; four-time Oscar nominee Michelle Williams (Manchester by the Sea, My Week with Marilyn) as his artistic mother Mitzi; Paul Dano (The Batman, There Will Be Blood) as his successful, scientific father Burt; Seth Rogen (Steve Jobs) as Bennie Loewy, Burt's best friend and honorary 'uncle' to the Fabelman children; and Oscar nominee Judd Hirsch (Uncut Gems) as Mitzi's Uncle Boris. And the music is by five-time Oscar winner John Williams (Schindler's List, Jaws), so we're expecting an outstanding score.
Visit Picturehouses.com
THE BOOK TO READ BEFORE IT HITS THE SCREEN: The White House Plumbers by Egil Krogh & Matthew Krogh
This book chronicles the true story of the White House Plumbers, a secret unit inside Richard Nixon's White House, their ill-conceived plans to stop the leaking of the Pentagon Papers, and how they led to Watergate and the president's demise. In July 1971, Egil 'Bud' Krogh was summoned to a closed-door meeting by his mentor – and a key confidant of the president – John Ehrlichman. Expecting to discuss the most recent drug control programme launched in Vietnam, Krogh was shocked when Ehrlichman handed him a file and the responsibility for the Special Investigations Unit that became known as the Plumbers. The Plumbers' work, according to Nixon, was critical to national security: they were to investigate the leaks of top-secret government documents, including the Pentagon Papers, to the press. The White House Plumbers is Krogh's account of what really happened behind the closed doors of the Nixon White House, how a good man can make bad decisions, and the redemptive power of integrity. Soon to be a five-part HBO series starring Woody Harrelson and Justin Theroux, this is just the thing to swot up on before it's released.
Visit Waterstones.com
THE TECH EXPOSÉ: Pegasus by Laurent Richard & Sandrine Rigaud
Laurent Richard and Sandrine Rigaud are award-winning journalists who have conducted international investigations for more than 20 years. Their latest focus is Pegasus, almost certainly the most powerful piece of spyware ever developed. It can be clandestinely installed on a phone by something as little as a missed WhatsApp call. Once on a phone it can record calls, copy messages, steal photos and secretly film the phone user. Those that control it can find out daily movements, exactly where someone's been, and who they've met. The personal data of the victims is captured by their own governments, foreign governments and even by private criminal enterprises. They have become, in an instant, vulnerable to blackmail, intimidation, false imprisonment and assassination – and some have already suffered these fates. Pegasus investigates how people's lives and privacy are being threatened as cybersurveillance occurs with exponentially increasing frequency across the world, at a sweep and scale that astounds.
Visit PanMacmillan.com 
THE HARD-HITTING READ: Bloodbath Nation by Paul Auster
Like most American boys of his generation, author and film director Paul Auster grew up playing with toy six-shooters and mimicking the gun-slinging cowboys in B-movie westerns. A skilled marksman by the age of 10, he also lived through the traumatic aftermath of the murder of his grandfather by his grandmother when his father was a child, so Auster knows first hand how families can be wrecked by a single act of gun violence. In this short, searing book, Auster traces centuries of America's use and abuse of guns, from the violent displacement of the native population to the forced enslavement of millions, to the bitter divide between embattled gun control and anti-gun control camps that has developed over the past 50 years and the mass shootings that dominate the news today. Since 1968, more than 1.5 million Americans have been killed by guns. Interwoven with Spencer Ostrander's haunting photographs of the sites of more than 30 mass shootings across the country, Bloodbath Nation presents a succinct but thorough examination of America at a crossroads, and asks: what kind of society do we want to live in?
Visit Waterstones.com
THE THRILLER: Cold People by Tom Rob Smith
From the bestselling author of Child 44 comes a suspenseful and fast-paced novel about a colony of global apocalypse survivors seeking to reinvent civilisation under the most extreme conditions imaginable. The world has fallen. Without warning, a mysterious and omnipotent force has claimed the planet for their own. There are no negotiations, no demands, no reasons given for their actions. All they have is a message: humanity has 30 days to reach the one place on Earth where they will be allowed to exist... Antarctica. Cold People follows the journeys of a handful of those who endure the frantic exodus to the most extreme environment on the planet. But their goal is not merely to survive the present. Because as they cling to life on the ice, the remnants of their past swept away, they must also confront the urgent challenge: can they change and evolve rapidly enough to ensure humanity's future?
Visit Waterstones.com
THE COOL ADAPTATION: The Last of Us
This much-anticipated new drama takes place 20 years after modern civilisation has been destroyed. Starring Pedro Pascal (Game of Thrones, The Mandalorian) and Bella Ramsey (the actor who played kick-arse Lyanna Mormont in Game of Thrones), it's based on the popular video game of the same name – but you don't need to have played it to enjoy this dystopian thriller. A hardened survivor is hired to smuggle a 14-year-old girl out of an oppressive quarantine zone. What starts as a small job soon becomes a brutal, heartbreaking journey, as they both must traverse the US and depend on each other for survival.
Visit NowTV.com
All products on this page have been selected by our editorial team, however we may make commission on some products.
DISCLAIMER: We endeavour to always credit the correct original source of every image we use. If you think a credit may be incorrect, please contact us at [email protected].