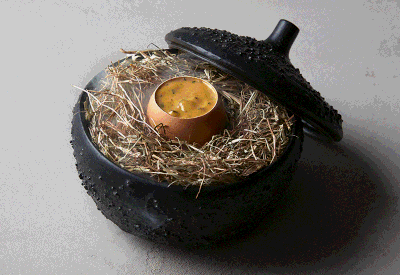 Where London's Coolest Chefs Like To Eat

---
London's restaurant scene is buzzing once more but with so much choice, choosing a dinner spot can be a challenge. We've made it easy for you by asking eight chefs and restaurant owners to tell us where they eat. From high-end experiences to Chinatown's finest, here's what they gave us.

Photography @CHARLIEMCKAY
Umut 2000 in Dalston was introduced to me by a few chefs at Smoking Goat. It's a Turkish ocakbasi restaurant and the grilled quail is the essence of open-fire cooking, belying its status as our favourite casual post-service meal. It's always friendly and the offal options always deliver – especially the lamb's fry. 
If it's my day off, I'm tired and want something casual but complex, I'll head to Noodle & Beer in Spitalfields Market. It's food that tastes better with a beer. The Chongqing-style noodles always satisfy but I always go back for the pigs' ear salad. The texture just doesn't exist in British food, and I can't understand why.
I always get a transportive feeling when I smell the aromas at Lao Café off Leicester Square. The seasoning of the som tum in particular has been a massive influence for me at Smoking Goat. The careful balance of funk, spice and aromas is something that's hard not to admire. 
Visit SmokingGoatBar.com
Jackson Boxer
Brunswick House & Orasay
There is so much to admire in the way Lyle's in Shoreditch conducts itself, especially its reluctance to ever give itself any credit in an era when restaurants seem to feel obliged to incessantly bang on about how great they are in order to maintain attention. The food is so well conceived and executed, minimalist in its refinement, maximalist in its concentrated flavour, I'm always left in a mixture of reverent awe and pure disbelieving pleasure at everything I eat there.
At Quo Vadis, Jeremy Lee's cooking is so supremely confident, assured, generous and delicious, overwhelming without ever being too much, and so gloriously full of soul, wit and charm that every visit works to restore me physically, emotionally and spiritually.
If I was asked the kitchen which has given me most excitement and pleasure over the last 12 months, it would be undoubtedly be Joké Bakare's Chishuru, which occupies a small space on Brixton Market Row. Joké is cooking some of the most interesting and outstanding food in London right now. Her food is thrilling – wildly explosive and tightly refined, oscillating between extremes of heat, pungency, sharpness, freshness, sweetness, savour and flavour. Every new plate she puts out stirs a deep sense of awe and admiration within me, and no little sense of envy at her talent and skill.
Visit Orasay.London
For a takeaway curry or meal out, look no further than Bombay Bustle on Maddox Street. Brilliant value, delicious food and a fun night guaranteed.
For coffee with a view, there is a great little stand just south of the Thames opposite the Houses of Parliament. It's far enough from the Southbank to be far from the madding crowds, and the coffee is worth the detour.
I really rate Petersham Nurseries, especially the one in Covent Garden, which has a lovely terrace serving Italian delicacies.
Sundays are made for Smith & Wollensky's signature 'Butcher burger' with a side of macaroni cheese.
Visit Hide.co.uk
Smithfield Café is a traditional and beautifully evocative workers' caff with strong tea, hearty bacon rolls, sausage sandwiches and poached eggs on toast. No reservations and absolutely no fuss. You just slip into one of the Formica-topped tables and get transported back to the 50s, 60s or 70s, depending on your age and memories. It's one of a dying breed and is essential to support in these corporate, multi-chain times. I could eat here every day. 
Andrew Edmunds in Soho is a wonderful time-warp restaurant that transports you back to the 19th century, even though it only opened in the 1980s. The Georgian building, the candlelight, the expert modern (but rustic) European menu and the extremely well-priced wine list are a winning combination for me. Andrew's office and gallery are next door, and it's always a treat to see him. He's a Soho legend.
Visit JoeAllen.co.uk
The restaurant I revisit most often is Silk Road in Camberwell. It's a south London classic and everything you order is banging. My go-to is a shish kebab – either lamb, offal or fish.
Another of my favourites is Black Axe Mangal in Highbury – everything from the energy to the food being turned out is undeniable and unapologetic. Make sure to order the offal flat bread.
My perfect Sunday is a walk with Bella, my boxer dog. Then cocktails at Forza Wine and at Frank's Café & Campari Bar – both in Peckham – followed by a Sunday roast or pie.
Visit 1251.co.uk
The most decadent meal I've ever had has got to be at Le Gavroche. I've been lucky enough to go there three times, and on two of those occasions I had the full-works tasting menu. It's not all super-rich French food, but quite a lot of it is. There's one dish in particular called the 'Souffle Suissesse'. I don't know how they do it, but it's basically an egg-white cloud that's smothered in cream and gruyere. It's light, but also the richest thing you'll ever eat.
Covent Garden is great for restaurants. I'm a big fan of Cora Pearl. There's a sake bar on Maiden Lane called Moto where they pour their own sake and serve Japanese izakaya food. This is the cool thing about London: you don't really get that many other places where you can go get Venezuelan fried chicken followed by Cantonese dumplings, then Filipino doughnuts and finish with sake.
There are three Docklands Sichuan restaurants that are awesome. One is in Limehouse called Shan Shui Jian, there's one in North Greenwich called Sichuan, and then there's Jinjian in Deptford. They're all along the DLR, so you could do an epic food crawl.
Visit Nanban.co.uk
Kiln is my go-to restaurant. It's a northern/rural Thai restaurant in Soho. I like to sit at the counter where you can watch over the fire and get a real sense of the energy behind the pass. Kiln's cooking is always really exciting and they have a constantly changing wine list, so I get to try a different wine every time I go.
Ikoyi is a West African-inspired restaurant with phenomenal cooking techniques. The flavour combinations are always mind-blowing, but strangely comforting and familiar at the same time – as a chef, it's truly inspiring.
It's a classic, but one of my favourites is The River Café. The team is a true industry leader and the hospitality is the best anywhere – it's always warm and welcome with excellent service and a great atmosphere.
Visit BratRestaurant.com
DISCLAIMER: We endeavour to always credit the correct original source of every image we use. If you think a credit may be incorrect, please contact us at [email protected].