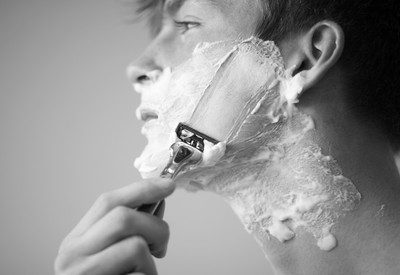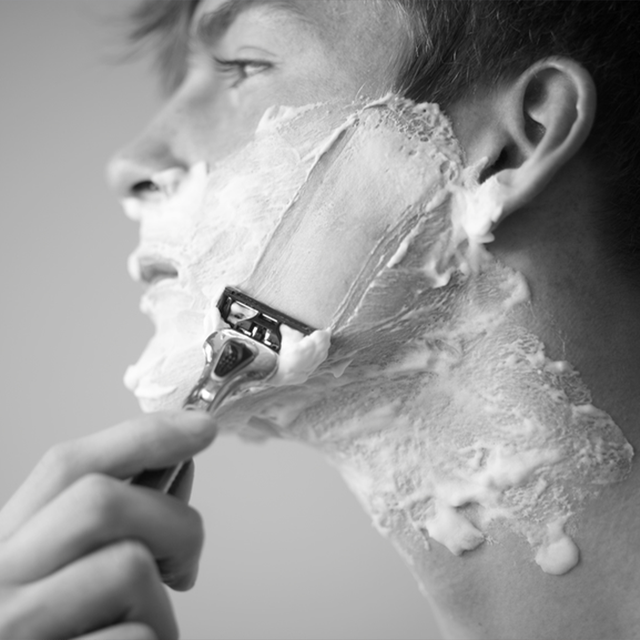 12 Tips For An Expert Shave

---
The average man will shave 20,000 times in his life, so it pays to do it right. We called in the experts to show you how it's done – from proper skin prepping to post-shave moisturising…
Photography MARCEL / STOCKSY UNITED
All products on this page have been selected by our editorial team, however we may make commission on some products.
Tyson Grant
Owner & Director Stylist At Forbici Knightsbridge, Says
"The most common mistake guys make is not prepping the skin before shaving – in fact, 60% of a wet shave is in the prep. It's vital to open the pores, cleanse the skin, and create a smooth and clean base. For a professional finish, start by using a hot towel to open the pores – this will also gently soften the skin and ease irritation. Then, use a good facial soap to cleanse the skin as dirt can hinder a smooth shave. I rate anything by Dr Harris, especially the scrub, toner and eye gel. If you don't prep the skin prior to shaving, chances are you'll end up with red, sore skin."
02
Actually You Can Go Against The Grain
"To reduce friction and irritation, you need to shave in the direction of your hair growth. Go 'with the grain' first but then, if you want a closer shave, you can go against the grain. Just never shave across the grain."
03
A Decent Moisturiser Is A Must
"Regardless of your skin type, moisturising after shaving when your pores are still open is important – this will lock in a barrier for the skin for the rest of the day, helping soothe and heal. Dr Harris Moisture Cream is great – it's rich yet delicate and fragrance-free, so it won't irritate the skin post-shaving."
04
Consider Shaving In The Evening
"Shaving in the morning may seem like the most obvious time of day, but it could actually be worth waiting until evening for a smoother finish. When we wake up, skin is naturally slightly puffier, which prevents hair from growing through as much, therefore when you shave puffy skin, you're not getting a true shave. If it fits with your routine, consider shaving in the PM for a closer shave. Plus, chances are you have more time in the evening, which in itself can ensure a better, cleaner result, and means your skin can heal as you sleep."
Visit ForbiciLondon.com
Fadi Rachdi
Barber At Neville Hair & Beauty At Bulgari Hotel, Says
05
Always Keep Your Face Moist
"One of the most essential steps of shaving is to start by softening the beard with a warm cloth or towel, and preparing the skin and stubble with a light pre-shaving oil. If you have coarse hair, a face exfoliator can help dislodge ingrown hairs and smooth the surface of the skin more effectively than a cleanser. A pre-shave oil can also be applied under your shaving cream for an additional layer of protection. When shaving, keep the skin moist with a moisturising product – I rate Philip Martin's Free Shave, which contains soothing chamomile extract and softening jojoba oil, as well as Acqua Di Parma's Soft Shaving Cream, a creamy formula that contains hyaluronic acid to protect against razor burn."
06
If In Doubt, Change Your Razor Head
"In an ideal world, try to avoid using a razor head more than three times. Ultimately, the less you use it, the better. If you use it more regularly, it will become blunt quickly and can pull on your stubble rather than cutting it, which can cause discomfort while shaving. Quality matters too – a razor should be easy to use and shouldn't easily block with stubble. If it does, consider upgrading. I couldn't be without Acqua di Parma's Razor as it's specially weighted and has an ergonomic design that makes it easy to use. It looks great in your bathroom, too. The weight of the handle is hugely important as it determines the amount of pressure you end up using. Shaving shouldn't require pressure at all – if a razor is sharp and the skin is prepared properly, it should glide over the skin with minimal effort or pressure required."
Visit NevilleHairAndBeauty.net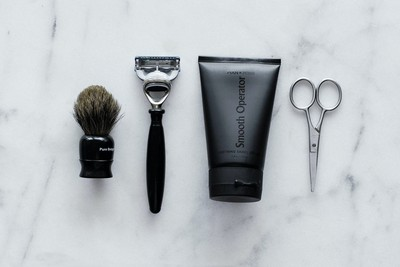 JORDAN NIX / UNSPLASH
Shane Cooper
Cosmeceutical Consultant & Facialist, Says
07
A Shaving Brush Will Help
"A great shaving brush not only makes it easier to get the ideal lather consistency but it will also prep your facial hair prior to a shave. My hero product is Weleda's Shaving Cream, which uses almond extract, goat's milk and pansy extract to nourish your skin for a gentle, close shave. It produces a creamy lather and leaves the skin smooth. The Weleda Aftershave Balm is also great – I use it daily on my neck, an area that can be prone to irritation."
08
Be Diligent About Hygiene
"Clean and prepare the area before starting the shave, and after applying your shaving cream. Always soak your razor in hot water to kill any bacteria before you get going. Always avoid shaving over dry areas and avoid repeatedly shaving in the same area. Think about what you do post-shaving, too. I religiously use my Oxygenation Mask, which instantly soothes and hydrates skin."
09
Beard Maintenance Doesn't Have To Be Complicated
"Razors are a man's best friend. I use Gillette for wet shaving, changing the head every two shaves. I also use my Braun and Wahl shavers for beard trimming, both of which are easy to use and create a clean-shaped beard."
Visit ShaneCooperUK.com
Trish Coulton
Founder Of Bondi Body, Says
10
Get Your Technique On Point
"So many guys rush their shave, but taking just a few more minutes makes all the difference. It can also help to shave in front of a large or angled mirror, and for a clean, close shave, start with a sharp razor. The blade should be sharp enough to slice hairs easily with one stroke – you shouldn't have to push it against your skin. To get even closer, tightly stretch areas of your skin as you shave them. It's far easier to glide your razor over a flat, smooth area than over skin that's slack or uneven." 
11
Shaving Gel Is Preferable To Foam
"Gels tend to have a thicker consistency to foams, meaning they provide a thicker barrier between your skin and your razor, and provide more lubrication. They also contain less alcohol, which will mean they are less drying. Aveeno Therapeutic Shaving Gel is a must-have."
12
It's Worth Having An SOS Product
"Each stroke of your blade doesn't just remove hair – it also peels away hydration and protection from the outermost layer of the skin. If you're prone to dry, tight-feeling skin after a shave, this could be exacerbated by the fact your skin's barrier is gradually being eroded. Kiehl's Ultimate Razor Burn and Bump Relief is a great product." 
Visit Bondi-Body.com
---
Shop These Expert Approved Products...
DISCLAIMER: We endeavour to always credit the correct original source of every image we use. If you think a credit may be incorrect, please contact us at [email protected].