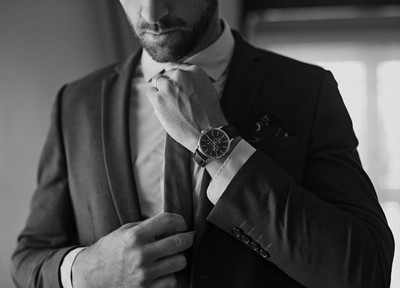 The Fragrance Gentlemen Wear

---
If you haven't heard of Aventus, chances are you've smelt it - and probably in a lift with someone en route to the top floor. It's the epitome of a gentleman's fragrance - it smells considered, refined and successful. Here's why you should own it, plus why House of Creed should be on your radar & what you should be asking for this Christmas.

CREATED IN PARTNERSHIP WITH CREED
GIVE us the creed elevator pitch...
The brand is a 260-year-old family-run business who creates fragrances that are in a league of their own. It all began when King George III was delivered a pair of gloves scented by James Henry Creed, and became captivated with the fragrance. Since then The House of Creed's fragrance collection has expanded and its name has become synonymous with high quality and artisanal skill. Every Creed scent is original and handmade – and quite unlike anything else you'll find on the shelves.
Aventus was launched in 2010 and quickly gained cult status. [...] We say it smells like confidence and success.
OK, I'm interested. what's so special about aventus?
Aventus was launched in 2010 to mark the brand's 250th anniversary and quickly gained cult status. Master perfumer, Olivier Creed cites leaders like Napoleon Bonaparte as his inspiration for Aventus, a powerful scent built on deep base notes of vanilla, musk, oakmoss and ambergris, with top notes of apple, blackcurrant, pineapple and bergamot that really evoke masculinity. We say it smells like confidence and success. 

Will it look good on my shelf?
Never more so than now: This year, Creed is celebrating a decade of Aventus with a limited-edition anniversary bottle – slick, grown-up and impossibly cool, it's the perfect gift for yourself or a stylish gentleman in your life. You can even have it engraved with a personalised message for the ultimate keepsake. 
Is it just aventus i should try?
No - although it's an SLMan favourite, the modern, well-groomed gentleman will appreciate a whole host of Creed's fragrances. Another one of the brand's bestsellers, Green Irish Tweed, is effortlessly classic with notes of lemon, verbena and iris alongside violet leaf, sandalwood and The House of Creed's signature ingredient, Ambergris. It's perfect for winter, whilst Virgin Island Water will transport you immediately to white Caribbean beaches. Heaven.
Anything else?
Because fragrance is so individual, it is always important that you try before investing in a new scent. Creed have recognised this, alongside the current challenges of getting into store, by launching a new collection of online exclusive sample sets. Perfect for introducing yourself or a friend to a new scent, there are four variations for both men and women to explore from the comfort of their home, before choosing your next signature fragrance. Explore the sets here. 
 
Shop SLMan's edit of Creed's festive gifts here…
EXPLORE THE AVENTUS COLLECTION HERE...
TREAT A LOVED ONE TO CREED THIS CHRISTMAS WITH THEIR SPECIAL GIFT SETs...
DISCLAIMER: We endeavour to always credit the correct original source of every image we use. If you think a credit may be incorrect, please contact us at [email protected].