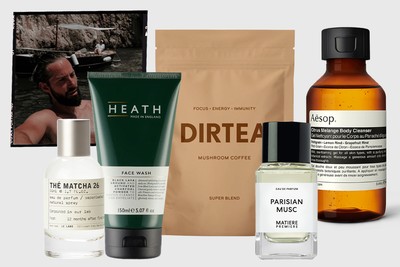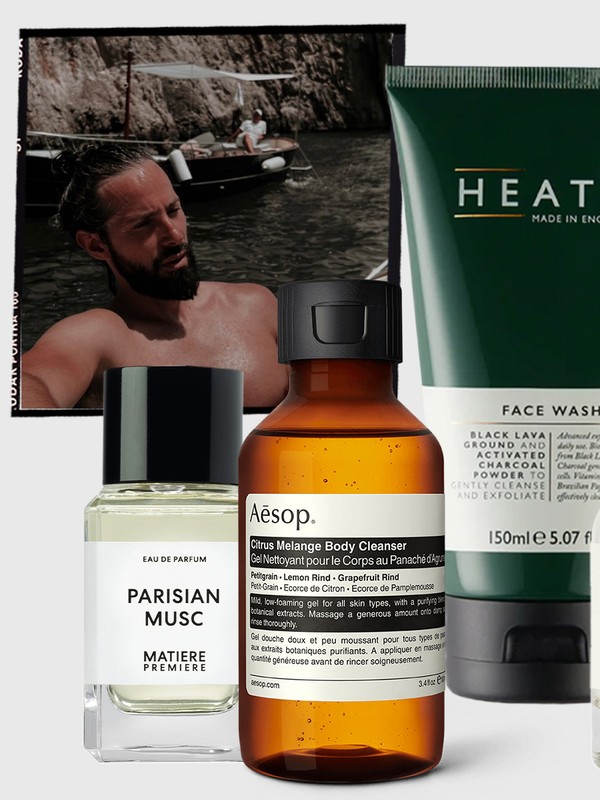 Grooming Rules: Andrew Salter

---
For the co-founder of Dirtea, grooming comes down to old-school hydration, double cleansing and the occasional alternative treatment. Here's how wellness entrepreneur Andrew Salter stays ahead of the game…

Photography
@ANDREWPSALTER
My morning starts with hydration. The body can lose up to 500ml of water overnight, so it's vital to drink plenty of water first thing to bring your body back into balance. The first thing I do when I wake up is have a large glass of water with fresh lemon along with a couple of capsules of BiOptimizers Magnesium Breakthrough – when taken in the morning, magnesium supports brain function and your stress response. I aim to drink a further three litres of water throughout the rest of the day, which helps keep my skin hydrated. 
I double cleanse in the shower. I start by using Heath's Face Wash, which is made with biodegradable particles from black lava and activated charcoal. It's a great way to detoxify the skin and fight blemishes. I then use Aesop's Purifying Facial Cream Cleanse, which contains white clay and nourishing botanicals to remove surface impurities from the skin. On my body, I use Aesop's Citrus Melange Body Cleanse – the light, fresh aroma never fails to wake me up. 
A moringa smoothie is a skin-supporting breakfast. Moringa powder is a rich source of iron, calcium and vitamins A, E and K as well as being packed with antioxidants, all of which are fantastic for the skin. Mixed with berries and kiwis, it also provides an impressive dose of vitamin C, which helps fight the signs of ageing. 
My haircare routine is pared back. My hair is long and I make sure it stays in good condition, but I don't wash it every day, as this can strip essential oils from the hair. When I do wash it, I rate Fable & Mane's shampoo and conditioner – the brand is inspired by Ayurveda. I use a sea salt spray on my hair after washing for texture. I recently started using Olaplex No.3 Hair Protector – a weekly hair treatment which has visibly strengthened my hair. I also use a Remington beard trimmer to keep my beard at a short-medium length. 
Le Labo does great fragrances. I'm currently using the new Matcha 26, but my all-time favourite is Matiere Premiere's Parisian Musc – I've been using it for years. 
Mushrooms are a great health all-rounder. Medicinal mushrooms may sound out there, but countless studies show they can make a real difference with everything from our immunity to brain health. Dirtea's own Mushroom Coffee Super Blend is a blend of Arabica coffee coupled with potent chaga (for immunity and skin), lion's mane (for focus), cordyceps (for energy), maca (digestion) and ashwagandha for its de-stressing properties. One cup of this coffee contains more antioxidants than anything else on the planet – up to 600 times more than blueberries – and it's rich in melanin. It's great for skin hydration and helps prevent acne, eczema and wrinkles, and protects against sun damage. 
An evening workout is the best way to wind down – I always finish a workout with a 20-minute sauna and a five-minute cold shower before heading home.
An evening workout is the best way to wind down. I always finish a workout with a 20-minute sauna and a five-minute cold shower before heading home. When you sweat in a sauna, this draws additional oxygen and nutrients to the surface of the skin. As a result, you benefit from healthier-looking skin and the cold shower constricts blood vessels, which temporarily tightens pores and reduces redness. I find it hard to switch off in the evening, but reishi mushrooms help as they calm the nervous system. A mug of Dirtea Cacao – essentially a healthy hot chocolate with reishi, ashwagandha, vanilla, cinnamon, lucuma and coconut milk – always helps. 
My evening routine is simple. I wash my face with Heath's face wash again – it deeply cleanses and washes away the grime of the day without stripping the skin. I really want to get into the habit of using a face mask – I just never seem to find the time. 
My desert island beauty product would be shea butter. I've been using Fushi's organic shea butter every day for the last 15 years. It's rich in oleic, stearic and linoleic acids, which help protect and nourish the skin to keep it soft and hydrated. It's also rich in vitamins A, E and F, which protects against the elements and maintains the overall health of the skin. It doesn't get more natural than shea butter – it's made from the nuts of the karite tree and if you choose the right product that's 100% organic and raw, it often means supporting cruelty-free practices and fairtrade agreements. It's proof that sometimes the simplest products are the most effective.
Parla's toothpaste tablets are a recent discovery. They're designed by dentists, eco-friendly and I'm now an avid subscriber – I've noticed my teeth and gums are significantly healthier in the six months I've been using them. 
A chiropractor keeps me in check. I work out regularly and have just started Brazilian jujitsu, but spend my days sitting at a computer so make an effort to keep my body ticking. I see Dr Kiran Gill every other week. She's a miracle worker – she's worked on film sets and with pro athletes. Once a month, I book in for a sports massage and a facial specifically designed for male skin – the Four Seasons does a great one.
My biggest splurges happen when I'm in LA. I always drop by Remedy Place, a members club that offers alternative treatments. I love the ice baths, hyperbaric chambers and multivitamin IV drips. If I'm feeling run down, I'll also have an NAD+ shot – it's a potent hit of antioxidants that promotes better overall health and athletic performance, and supercharges brain health. 
---
Shop Andrew's Grooming Essentials
All products on this page have been selected by our editorial team, however we may make commission on some products.
DISCLAIMER: We endeavour to always credit the correct original source of every image we use. If you think a credit may be incorrect, please contact us at [email protected].