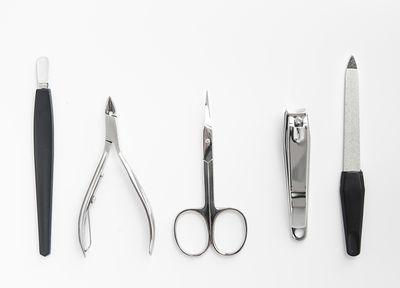 A Guy's Guide To Pedicures

---
As we head towards summer season, now's a good time to get your feet fit for display. Aldwyn Boscawen is the founder of Fitzrovia's Aldwyn & Sons, the first salon in the UK to offer pedicures just for men. He spoke to SLMan about the basics of keeping your feet neat and what you can be doing at home right now…
So, Aldwyn, why is looking after your feet key?
The most important reason to look after your feet is to prevent potential problems that could cause great discomfort. There are a number of nasty ailments that can affect your feet, but these can be avoided with good footcare. And, of course, self-care is important – and can directly contribute positively to mental health.
What exactly is a pedicure?
A pedicure is really a deep clean of your feet. Trained nail technicians can identify any issues that you may not realise exist, before they cut and file your nails, which shapes them to avoid ingrown nails. They will also clean your nails and push back cuticles, which promotes the healthy growth of nails. Lastly, technicians will have the dead skin removed from your feet and give you a foot massage, which promotes circulation.
Pre-lockdown, you were seeing an increase in men getting pedicures?
Yes – and manicures too. My aim has been to show men these are treatments that benefit you from head to toe, with great mental and physical benefits.
What can you do yourself from home?
Keep your nails trimmed. Cut straight along the free edge (white line) and, most importantly, do not cut below the free edge.
Clean your feet properly. Having your feet in the shower tray does not clean them and does not prevent bacteria from growing.
Wash between your toes properly. Use hot water and soap. Allocate a specific time during your daily shower to do this.
Buy a pumice stone to tackle dead skin.
If you have dry skin, invest in a moisturiser to use post cleaning. Make sure your feet are completely dry before moisturising.
What's the best way to tackle dry and cracked soles?
Moisture. Like with other parts of the body, if your foot skin gets too dry it will end up cracking. To combat this, keep your feet clean and get some highly nourishing balm or petroleum jelly. Remember, just because you put it on doesn't mean it will stay there if you get up and go walking straight away. You need to apply the cream all over and then put your feet up – with lockdown, it's not as if you don't have the time!
How do you incorporate good footcare into your daily grooming routine?
After your bath or shower, dry your feet properly. This includes between and under your toes, as this where you are most likely to get a bacterial infection. Bacteria love warm and wet climates, which is why athlete's foot is so common. Drying your feet properly is a simple step for maintaining good foot hygiene. Plus, it doesn't require buying any products.
Should you moisturise your feet regularly? If so, why and what product should you use?
This depends on how dry your skin gets after you wash your feet. If you suffer from dry skin, I recommend you moisturise after you've washed and dried your feet every day. If you are suffering from cracked heels, you're going to need a stronger, more nourishing cream.
How often should you cut your toenails?
More often than you think. I would strongly advise to cut less off and do it more often. Most men will cut as low as possible with the thought they will have to do it less often. It is better to be more consistent in length and tend to your nails regularly. Also, in summer your nails will grow quicker, due to the extra sunlight they get, so you should be cutting them more.
Once you've established a good footcare routine, would you still need the odd pedicure?
Yes, pedicures use salon products that will give you a more thorough and professional treatment. Also, they are far more relaxing than doing it yourself.
Visit AldwynSons.co.uk
Shop Our Pick Of Footcare Products Below...
DISCLAIMER: We endeavour to always credit the correct original source of every image we use. If you think a credit may be incorrect, please contact us at [email protected].