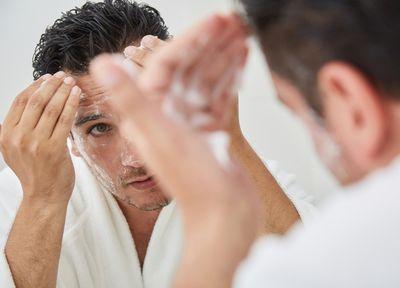 How To Deal With Dry Skin

---
Dry, flaky skin can be irritating and pretty unpleasant, but with a few skincare hacks and lifestyle swaps, you can sort it out and even prevent it occurring altogether. Three experts told SLMan what you need to do…

Photography ©OHLAMOUR STUDIO/Stocksy United"
How do you know if you have dry skin?
"Dry skin has a genetically lower oil content, so tends to retain less moisture and thus feel dry. All skin types can go through periods when the barrier is impaired for various reasons, resulting in a dry feeling. The skin will feel tight or irritated and in severe cases there can be itching and flaking." – Dr Ifeoma Ejikeme, general medical consultant, CeraVe
What causes dryness?
"Dryness occurs when normal functioning of the skin is compromised. If the water content in your epidermis falls below 20% for an extended period of time, it will manifest as dry skin – think flaking, scaling or irritation. The purpose of moisturising is to restore the elasticity and flexibility of the top part of your epidermis and rebuild its barrier function. From an aesthetic point of view, moisturising helps restore the skin's appearance to make it look soft and supple." – Dr Anjali Mahto, consultant dermatologist, Skin55
"There are so many reasons that skin can go through periods of dryness. In men, this can be due to shaving, using products that are too harsh for the skin, over-exfoliating, or even the change of season." – Ifeoma
"The hormone testosterone determines the masculine characteristics of male skin and gives it a different structure to female skin. For example, men have more sebaceous glands than women, meaning they produce more sebum, but this doesn't stop them from experiencing dryness which can be exacerbated by lifestyle choices." – Dr John Quinn, founder & director, Quinn Clinics
What lifestyle factors play a part?
"Diet, exercise and sleep. Investing in your overall health by eating a balanced diet, drinking enough water, exercising and sleeping well doesn't guarantee good skin, but we do know that not doing those things means the entire body will not function optimally, including skin." – Ifeoma
"Cold weather, central heating, air conditioning, excessive skin washing and overly complicated regimes (often featuring high-strength active ingredients) can all contribute to dry skin. Sun exposure is another culprit." – John
"Cold weather, central heating, air conditioning, excessive skin washing and overly complicated regimes can all contribute to dry skin."
Are men more prone to experiencing dryness?
"Not necessarily. However, it's worth noting that the typical male dermis is about 20% thicker than women's skin and men have been found to be more susceptible to UVA and UVB damage. As a result, men must be even more diligent with sunscreen. To prevent dry skin occurring, or worsening, ensure you apply a daily SPF every morning." – John
So, what's the best way to treat it?
"First, review your products to ensure you are not stripping the skin. Don't use too many exfoliators in your routine. Try and match your cleanser to your skin type – a hydrating or non-foaming cleanser is usually a good choice. Look at how you wash the skin and make sure the water is not too hot. Finally, look out for moisturisers that have ingredients shown to support the barrier function of the skin." – Ifeoma
"There are three basic categories of ingredients to look out for in moisturisers:
Humectants
Humectants attract and bind water from the deeper layers of the skin or environment if ambient humidity is over 80%. Hyaluronic acid is one of the most common humectants found in skincare and has the ability to attract 1,000 times its own weight in water. It has a light texture and can often be found in facial serums, as well as creams, and can temporarily plump up fine lines with its hydration effects. Other common humectants include glycerine, hexanediol, butylene glycerol and sorbitol.
Occlusives
These create a barrier over the skin and prevent water loss. Common occlusives found in moisturisers include dimethicone, squalene, propylene glycol, lecithin, cocoa butter, shea butter, lanolin, petrolatum, paraffin and beeswax. 
Emollients
These moisturising agents work by filling in the gaps between skin cells and replacing skin lipids. Ingredients which can act as emollients include dimethicone, trisiloxane, ceramides, linoleic acid and caprylyl glycol, to name a few." – Anjali
What if you have sensitive skin? Should you treat it differently?
"If there is sensitivity, you need to treat it first and understand why the skin is sensitive and what might have caused it. That could involve removing fragrances and exfoliators from your routine for a short period of time." – Ifeoma
"Sensitive skin can be hard to manage as it's often unpredictable. If you do suffer with sensitivity, harsh soaps, toners and astringents should be avoided. Watch out for sodium lauryl sulphate, ammonium lauryl sulphate, salicylic acid, AHAs and alcohol. Facial oil can also make things worse, so it's best to avoid them altogether if you're experiencing sensitivity." – Anjali 
"It's always worth seeking advice from a dermatologist when it comes to skincare concerns, particularly if there is an ongoing issue."
What kind of skincare routine would you recommend?
"It needs to be a routine you can stick to. A lot of men I see in my practice want products that are straight to the point and evidence based. I often find products that do multiple things help to streamline the routine. The essence of a good routine starts with a cleanser and moisturiser, followed by sunscreen in the day and a cleanser and moisturiser at night. If you can add in an eye cream, even better. When you find products that perform multiple functions, like a moisturiser that has hyaluronic acid and an antioxidant it in it, it's a win." – Ifeoma
At what point should you seek professional help?
"It's always worth seeking advice from a dermatologist when it comes to skincare concerns, particularly if there is an ongoing issue. A dermatologist will be able either to diagnose and treat any concerns you might have, or to exclude them. If the issue is becoming problematic and your skincare routine isn't making a difference, book in with your GP to check there isn't an underlying skin condition such as eczema or psoriasis." – Anjali
Are there any treatments worth knowing about?
"At Adonia Medical Clinic, we offer prescription facials to help heal and restore the barrier function of the skin. Technologies like LED, which boost collagen, and oxygen treatments are also very popular with my patients who suffer with dryness." – Ifeoma
"Dry skin can benefit in the short term from hydrating masks. Exfoliation can be carried out, but with caution – limit it to once or twice a month." – Anjali
"A HydraFacial can be extremely beneficial." – John
For more information, visit CeraVe.com, Skin55.co.uk and QuinnClinics.co.uk
You can find the products our experts recommend here...
DISCLAIMER: We endeavour to always credit the correct original source of every image we use. If you think a credit may be incorrect, please contact us at [email protected].