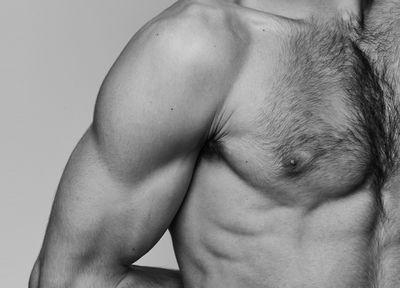 How To Remove Body Hair The Right Way

---
Whether you like to keep your body hair to a minimum, or you're tempted to give waxing a try, there is a range of hair removal techniques and tools to know about. We asked the experts to break it down, one body part at a time.
BEST OPTION: Waxing
 
Jack Dunn, founder, Jack Dunn Male Grooming
"The most popular place for men to wax is the torso, specifically the chest. For a long time, the back, neck and shoulders were the most popular waxing areas, but more recently, we've seen a huge increase in the number of men having their chest and abs waxed too – it helps to show off all the muscle definition.
We would always recommend a professional salon service for the best results, though if you do wax at home, preparation is key. Ensure the hair is the right length, around ¼ inch, and exfoliate the area a few days beforehand. In terms of effectiveness, waxing is one of the best temporary hair removal methods, though it needs to be carried out carefully so as to avoid the risk of ingrown hairs and skin damage.
In between waxes, use an anti-bacterial wash every time you bath or shower, and exfoliate the skin to prepare for the next wax. We also advise our clients not to touch the hair in between treatments – around four to six weeks – as this could disrupt the cycle and prevent the hair being removed from the root."
Visit JackDunn.co.uk
 
BEST OPTION: Laser Hair Removal
Tania Zahoor Rashid, co-founder Aesthetics Lab 
"You would normally associate any kind of hair removal procedures with women, but more and more men are choosing to get rid of unwanted hair in recent years. In our London clinic, we have certainly seen an increased number of men coming in for treatments, including laser hair removal for more permanent results.
 
With laser hair removal, it's best to have it on body parts where you are sure you would never want to see hair ever again – the most popular being the back and shoulders. In just six to eight sessions, you can be free of any hair growth and dramatically reduce the risk of ingrown hairs, too."
 
Visit AestheticsLab.co.uk
Lenka Anthony, clinical aesthetician at Tempus Belgravia
 
"At Tempus we use an advanced laser by Asclepion as it uses the latest innovative technology that has maximum power, short pulses and a large spot size. What this means for clients is that we can treat larger areas, such as the back, in as little as 15 minutes. Most people need six treatments on average, spaced at four to six weekly intervals, after which patients observe between an 80% and 90% hair reduction, although most of my patients report a slower hair growth and reduction in hair density after their very first session.
 
If you're thinking about laser hair removal, autumn is the best time to start as you're less likely to spend too much time in the sun – laser treatments cannot be performed on skin that has been exposed to UVA rays, even sun kissed skin. It's also worth noting that this type of treatment should not be used on very fine, blond or white hair as it is most effective on thick, darker hairs."
 
Visit TempusBelgravia.co.uk
BEST OPTION: IPL Hair Removal Devices
 
Emily Buckwell, product expert, CurrentBody.com
 
"IPL stands for Intense Pulsed Light. It's a form of light therapy used in salons and at home for treating unwanted hair. Designed to help break the cycle of hair growth by targeting the hair root or follicle, light energy is transferred through the skin's surface and is absorbed by the hair shaft. For a small area such the forearm or armpit, IPL is a great at-home treatment for men wanting to permanently remove their hair. The beauty of a home device is that you can reach for it as and when you feel you need to top up your treatment.
 
When choosing an IPL device, look for one that is most effective for your skin type. Smoothskin's Bare+ comes loaded with a huge number of flashes and is an excellent choice for a fast at-home treatment. This is also a great alternative to more expensive salon treatments, especially as more of us are spending more time at home."
 
Visit CurrentBody.com
BEST OPTION: Body Groomers
 
Kieran Tudor, Remington session stylist
"When it comes to mastering the art of manscaping, it can entirely depend on the type of body hair and your preferred style, but the key is to ensure you're using the right tool for the job. For an all-in-one solution for head-to-toe styling, the Remington G6 Graphite Multi Grooming Kit comes with ten versatile attachments, which can create up to 14 different grooming styles, specifically designed for men looking for manscaping down below. The graphite coated blades ensure a smooth glide which help prevent nicks and cuts on sensitive areas.
Before starting any sort of hair removal, it's important to prep your skin. As a starter, try to get into the habit of trimming once a week for manscape maintenance and introduce more regular exfoliation and moisturising to soften the hair. Grooming with cold water can also offer a more precise trim."
Visit RemingtonUK
 
Tyler Ball, founder of BALLS
 
"BALLS has been specifically designed with testicles in mind. Unlike other trimmers which are created and tested on chest, leg and facial hair, BALLS has been tested on the area of intended use, making it much safer for use down there.
 
The inbuilt SackSafe technology uses a ceramic blade which gives you a close shave without getting too close to the skin, meaning you won't get any nasty nicks or cuts. The blade is also designed to tackle coarse body hair, plus it's waterproof and shock-resistant too – ideal for wet and dry shaving."
 
Visit BALLS.co
SHOP THE BEST MEN'S HAIR REMOVAL PRODUCTS BELOW...
DISCLAIMER: We endeavour to always credit the correct original source of every image we use. If you think a credit may be incorrect, please contact us at [email protected].