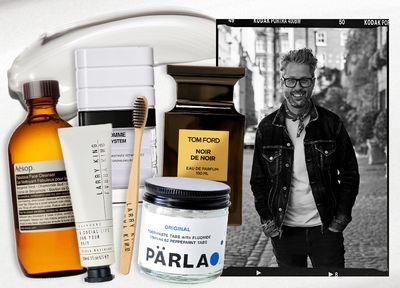 A Leading Stylist's 10 Top Grooming Tips

---
Larry King is the definition of a grooming guru. He's got salons in South Kensington and Notting Hill, his own haircare range, and has been called in for cover shoots by GQ and Vanity Fair. Here, he shares his own grooming rules and must-have products.
All products on this page have been selected by our editorial team, however we may make commission on some products.
01
Keep your morning skincare routine is minimal.
A cold shower is an early morning non-negotiable – it's my own form of cryotherapy that never fails to wake me up. I don't use a cleanser on my face in the morning and head straight in with ADC's High Performance Moisturiser, a great product formulated by make-up artist Adam de Cruz. It's a plant-based moisturiser which contains ingredients proven to reduce inflammation, blemishes, redness and puffiness, and it leaves skin with a fresh finish.
02
Never discount oral hygiene.
I couldn't be without my Oral B electric toothbrush and Pärla toothpaste tabs, which are genius dehydrated toothpaste tablets made with 100% clean ingredients. The tablets come in a reusable glass jar, reducing plastic waste, and you can set up a subscription to ensure you never run out – it's clever stuff.
03
Don't be afraid of using a little fake tan.
I appreciate that using fake tan may seem daunting but if you're looking pale it can work wonders. My favourite product is Bare By Vogue's Face Mist, a clear, lightweight facial spray that subtly develops in as little as four hours for a streak-free, golden colour. As it's a spray formula, there's no need to buff it into the skin, just mist evenly across your face and you're good to go. When I haven't seen the sun for a while, I use the light shade, then move to the medium variant when I have a little more colour. You'll always find a bottle of this in my shoot kit too.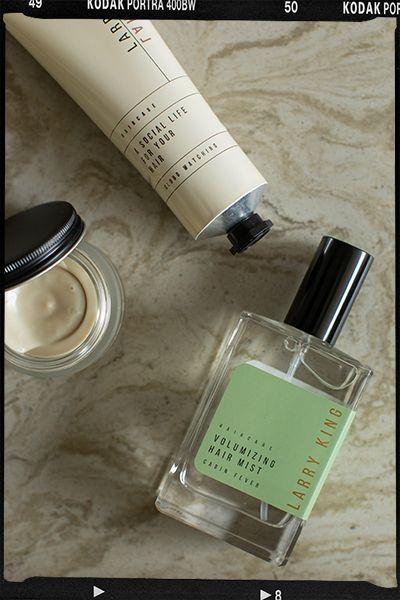 "If you're looking to establish a solid skincare routine, my advice is to keep it simple, especially if your skin is prone to breakouts."
04
Go to Aesop for cleansers.
Cleansing is a vital part of my evening routine, and Aesop's formulas never let me down – they smell incredible too. Once my skin is clean, I apply Aesop's Mandarin Facial Hydrating Cream, which absorbs quickly into the skin without any stickiness and leaves the skin feeling cool and balanced. If my eyes are in need of some TLC, I apply a few drops of Kiehl's Midnight Recovery Eye, which helps smooth and restore the delicate eye area as you sleep. This would probably be my desert island beauty product – it really does work.
05
Don't overcomplicate your skincare routine.
If you're looking to establish a solid regimen, my advice is to keep it simple, especially if your skin is prone to breakouts. Keep it simple and always smell good – you can't go wrong with that. If you really have no clue where to start, brands like Aesop do starter kits, which come with a cleanser, toner and moisturiser depending on your skin type, so they do the hard work for you. If you want to splash out, try Dior's grooming range – the Dermo System is great for blurring pores and correcting imperfections, while the Anti-Fatigue Firming Eye Serum leaves the eye area refreshed.
I buy Tom Ford Noir on Noir on repeat, but also love F**king Fabulous – it just hits the right note, and the scent lasts all day. When I have time, I love heading down to Selfridges and perusing the fragrance hall, although I am pretty loyal to one brand.
So many guys don't think twice when it comes to it, choosing whatever's on offer in the supermarket or mainstream brands they recognise. If you want your hair to look good, there's more to it than you think. How often have you loved a shampoo to find it then starts to make your hair feel heavy and greasy? This is because your hair needs different things on different days. Some days, it needs moisture while on others it needs to look on point for a big meeting. There may even be days when you don't want it to be too clean – remember you always need a bit of volume and grip for styling.
"Blow-drying your hair may seem extra, but it takes five minutes and makes all the difference as it allows the hair to hold shape for longer."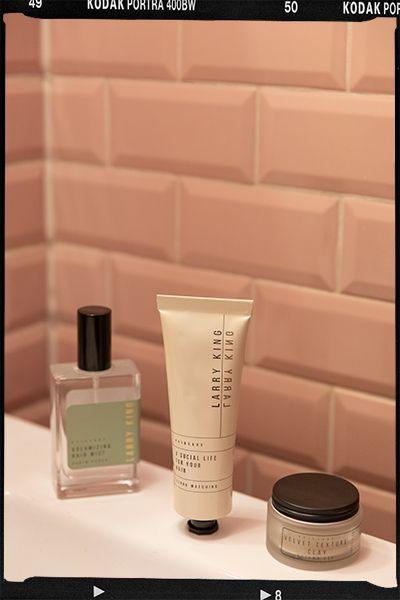 08
Every guy needs a Dyson hairdryer - buy one.
Blow-drying your hair may seem extra, but it takes five minutes and makes all the difference as it allows the hair to hold shape for longer. When you come out of the shower, instead of applying a finishing product, use a styling product, grab your hairdryer, and then use a finishing product. A styling product can help control your hair and make it look healthier – if you have thick hair, use a mousse, or if you have curly hair try a creme that helps de-frizz (Redken does a great one). Once you've dried your hair, it's about using the right finishing products. It might be that you've grown a crop cut out, in which case consider using a textured clay which can give great texture – my Velvet Texture Clay gives plenty of hold with a non-greasy finish.
09
Use a clean toothbrush to tame flyaway hairs.
My Flyaway Kit, which contains a bamboo toothbrush and finishing cream, was instantly one of our bestselling products. Using a toothbrush on your hair may seem odd but it's a top hairdressing hack. It tames stray hairs and hairline fluff, and can instantly take a slightly bewildered hairstyle back to smooth, styled and in control within seconds. It's a great one to keep in your gym bag.
10
The right supplements can support your skin from the inside out.
I dislike taking capsules but can't be without HW Labs' Fortify Gummies, which are great for healthier skin, hair and nails. I take two of these daily – they contain a whole host of vitamins and minerals, including zinc, selenium and biotin, all of which have been proven to support your grooming routine from the inside out.
Shop Larry's go-to products here…
DISCLAIMER: We endeavour to always credit the correct original source of every image we use. If you think a credit may be incorrect, please contact us at [email protected].