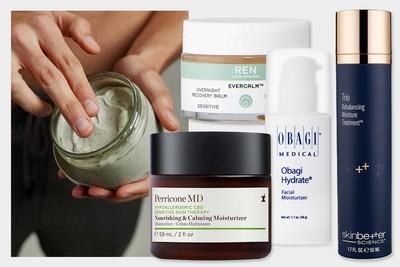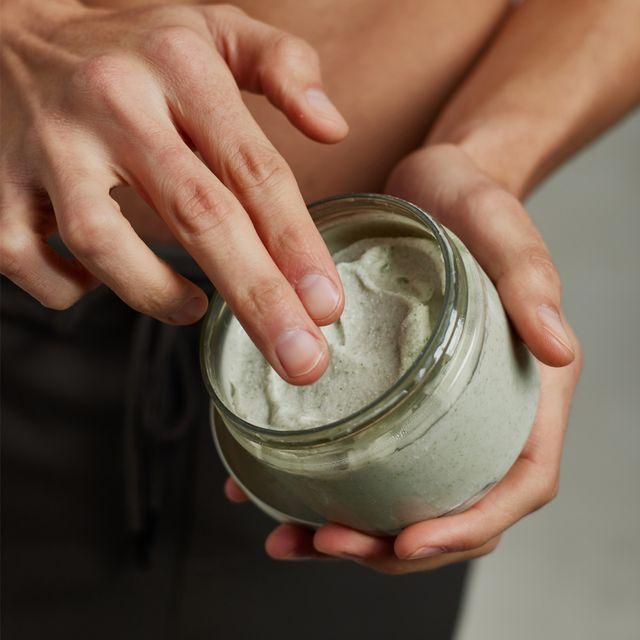 A Man's Guide To Moisturising

---
If you're not already moisturising, you've got some catching up to do. More and more men are finally realising the quietly excellent work it can do – reducing the impact on their skin of anything from booze and coffee to ageing and air-con. Here are three issues a decent moisturiser could solve for you…
Photography JAVIER DIEZ/STOCKSY UNITED
All products on this page have been selected by our editorial team, however we may make commission on some products.

OHLAMOUR STUDIO/STOCKSY UNITED
What To Look For
If your skin often feels tight, itchy or is prone to flakiness, chances are you need a moisturiser. There are several ingredients that really make a difference, says Gregor Jaspers, founder of The Grey. "Hyaluronic acid may not sound nourishing but it's a humectant – that is, it can hold up to 1,000 times its own weight in water. It's lightweight yet moisturising, so a key ingredient if you don't want anything too heavy. Also look out for ceramides, which form part of your skin's natural protective barrier and keep irritants out." Squalane is also very effective, Gregor continues. "Structurally, it's very similar to sebum, which keeps the skin soft. Yet unlike sebum, squalane feels light on the skin and acts like an emollient, and it absorbs easily. Also keep an eye out for lactic, glycolic and polyhydroxy acids, which are other effective humectants."
What To Avoid
Alcohol and fragrance are two big no-nos, says Gregor. "Stay away from products that contain SD alcohol, isopropyl alcohol and denatured alcohol, as well as artificial fragrances, which can irritate dry skin and lead to an eczema flare-up."
Top Tips
Keep things simple, reckons Gregor. "Find a formula that works for you and stick with it. Wash your face with water in the morning and a gentle cleanser in the evening, always applying your moisturiser to clean, damp skin. Moisturiser prevents water from evaporating from the skin and creates a gradient to push it into the skin, so applying it to damp skin is a clever hack. For an extra boost of hydration, use a comforting face mask or serum that contains vitamin B5 a couple of times a week."
MOISTURISING CREAM
CeraVe, £4.50
"With hyaluronic acid and ceramides, this affordable option will restore the skin's natural barrier. It's also recommended by countless dermatologists." – Gregor
Available at LookFantastic.com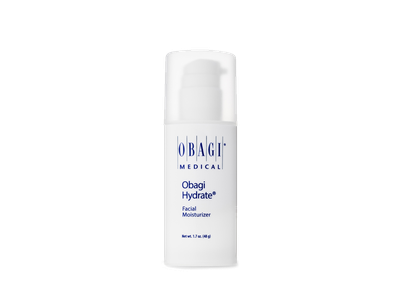 Hydrate Cream
Obagi, £49.50
"This derm-approved, fragrance-free formula provides instant relief and long-lasting comfort for dry skin." – Dr Ashwin Soni, dermatologist at GetHarley
Available at SkinStation.co.uk
Phytoactive Cream
Royal Fern, £140
"Pricey, but amazing. If you're looking to invest in your skincare, this rich and deeply moisturising formula is the one." – Gregor
Available at Niche-Beauty.com
Cicaplast Balm
La Roche Posay, £15
"I'm a big fan of pharmacist brands like La Roche-Posay. This balm is a saviour for dry skin." – Gregor
Available at Boots.com
Rebalancing Moisture Treatment
Skin Better, £136
"This triple-action formula brings moisture back into the skin and restores hydration balance." – Ashwin
Available at Neo-Derm-Clinics.co.uk

OHLAMOUR STUDIO/STOCKSY UNITED
What To Look For
If your skin's oily that doesn't mean it doesn't need moisturising, says Dr Ginni Mansberg, GP and founder of ESK Skincare. "Oily and acne-prone skin may seem like it has all the hydration it needs, but it can actually be quite dry and the oil can hide the fact there isn't much hydration in the skin." It may sound counterintuitive, but if you strip oily skin of moisture, it reacts by producing more oil. The solution is using targeted products to keep oil – and breakouts – in balance. "Hyaluronic acid also works well for oily skin," adds Gregor. "Retinol is great too, as it works on both the surface and middle layers of the skin to unclog pores and improve tone and texture. Meanwhile, salicylic acid can help control sebum and reduce the appearance of blackheads, while niacinamide is a great anti-inflammatory to treat acne, and dimethicone is a silicone-based ingredient that keeps the skin matte while hydrating at the same time."
What To Avoid
As a general rule, the experts agree it's vital to steer clear of harsh and heavy formulas. "Always use products that match your skin type," Gregor advises. "Look for the terms 'oil-free' and 'noncomedogenic' (non-pore-blocking) on the label." 
Top Tips
Avoid being overly harsh with your skin, says Ginni. "It may be tempting to want to get rid of the oil but scrubbing and harsh ingredients will damage the skin and increase the risk of breakouts," she warns. If in doubt, says Ashwin, opt for the lightest moisturiser you can find. And if you struggle with oiliness and blemishes, try retinol, says Gregor.
NS1 Anti-aging Night Serum
Patricks, £88
"This contains hyaluronic acid and peptides for hydration as well as a form of retinoid that's mild to the skin. It also contains probiotics to control sebum." – Gregor
Available at Patricks.co.uk
Effaclar Mat Moisturiser
La Roche-Posay, £18.50
 "This has a lightweight, oil-free texture and reduces the appearance of oil on the skin." – Ashwin
Available at Boots.com
Hydro Boost Hydrating Water Gel
Neutrogena, £12.99
 "Intensely hydrating yet super lightweight, this refreshing gel absorbs instantly." – Ashwin
Available at Boots.com
Daily Moisture
SkinCeuticals, £70
"This formula contains seven botanical extracts to gently hydrate and reduce the appearance of pores." – Gregor
Available at MalluciLondon.com
B Calm Moisturiser
ESK, £54
 "With a neutral pH, this science-backed moisturiser helps calm redness and acne." - Ginni
Available at EskCare.com

OHLAMOUR STUDIO/STOCKSY UNITED
What To Look For
Your skin may be sensitive if it's prone to redness, blotchiness or sensations of burning or itching after exposure to certain ingredients, Gregor tells us. "Sensitive skin isn't something you're born with. You can experience it at any age, and it overlaps with dry skin, as dry skin triggers sensitivity," he says. Ginni adds that sensitive skin is also more prone to inflammation. "Niacinamide – aka vitamin B3 – has fantastic anti-inflammatory and skin barrier repair qualities. Look for a moisturiser that contains 1-5% niacinamide for the best results. Hyaluronic acid can also help with rosacea and dermatitis, while ceramides can improve the skin's barrier."
What To Avoid
"Hyaluronic acid is the exception when it comes to acids," says Ashwin. "If you have sensitive skin, avoid AHAs, BHAs, glycolic acid and salicylic acid, which can irritate the skin and cause skin barrier disruption." 
Top Tips
The ideal sensitive skin routine is minimal, says Gregor. "You should be using just a few products, one of which is a solid moisturiser. In the morning, cleanse with a lightweight formula and use a richer, heavier cream in the evening. Since sensitive skin is easily triggered and the wrong moisturiser can clog pores, look for fragrance-free products with only a few ingredients. Bonus points if it's labelled as noncomedogenic and hypoallergenic."
Renewal Calming Cream
Epionce, £65
"This is great for sensitive skin. It's made with cholesterol and ceramides to protect the skin barrier, and also contains nourishing colloidal oatmeal." – Ashwin
Available at Skincity.com
Toleriane Ultra Cream
La Roche-Posay, £16.43 (was £19.50)
"This ticks the boxes of being super mild yet intensely moisturising. It gets rid of dryness, redness and any form of discomfort." – Gregor
Available at LaRoche-Posay.co.uk
CBD Moisturiser
Perricone MD, £61
"The addition of CBD in this nourishing cream helps revitalise and soothe problematic skin." – Gregor
Available at FeelUnique.com
Science Hydration Boosting Cream
Skinbetter, £80
"This non-irritating moisturiser uses a combination of ceramides and botanical lipids to hydrate even very sensitive skin." – Ashwin
Available at TheBeautyBistro.co.uk
Evercalm Overnight Recovery Balm
REN, £37.92
 "Part of REN's range for sensitive skin (also try the mask), this soothing formula calms irritated skin and aids regeneration." – Gregor
Available at feelunique.com
DISCLAIMER: We endeavour to always credit the correct original source of every image we use. If you think a credit may be incorrect, please contact us at [email protected].