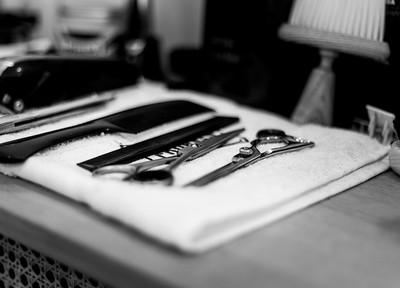 The Pro Guide To Cutting Your Hair At Home

---
It's now at least a month since you last went to the barber – probably longer. Lockdown is still running and how long can you hold out? If you feel you have no choice but to take matters into your own hands, SLMan asked Ruffians head barber Craig Meggs, and Sean and Nick of The Hair Bros, for their home haircut tips…
For those that have never done this before, where do you even begin?
Craig: Before you cut your own hair, ask yourself whether it's necessary. Barbers are there for a reason: it takes years for us to master our craft and the same result won't be achieved from a DIY job. If you do feel you need to cut your hair, my advice is to do as much research as possible, and figure out how much length you want to take off before starting.
If you've decided to go for it, what are the easiest styles to go for?
Craig: If you are using clippers and scissors, it's best to go for a buzz cut or French crop. If you are only using scissors, the simplest cut is a short finger-length trim.
 
Tools wise, will any scissors do?
Craig: Proper hairdresser scissors are very sharp and will slice through hair like a knife through butter. This is so the result is sharper. If you don't have a professional pair at home, the best advice I can give is: the smaller the better. The longer the blades, the more damage can be done to the hair.
 
The Hair Bros: You certainly need something sharper and smaller than a regular kitchen scissor – an £8 to £20 pair from a drugstore would be fine.
What else are you going to need?
Craig: Get yourself two mirrors – one to sit in front of and one to use to see the back – as well as a water spray bottle. If you're going for a shorter cut, you'll need clippers too.
 
The Hair Bros: And a comb, that's for sure. Denman does some pretty basic ones. Also some sectioning clips – they will make your life so much easier.
What area should you start with?
The Hair Bros: Start with the sides. Section your hair from both the outer edges of the eyebrows. Any hair that starts above the height of your eyebrows, use those sectioning clips to keep it out of the way.
 
Should you cut it when it's dry or wet?
The Hair Bros: The hair you section off above the eyebrows at the sides and above the occipital bone at the back, you will want to cut wet. But the hair beneath it, which tends to be shorter, you should cut dry. Start with the sides and the lower back. Once you have done that, wet each small section that has been clipped out of the way and use the scissors on it.
 
Craig: Start with clean washed hair, dried in its natural growth pattern. If you're clipping the lot or just the back and sides, you will want to work on it dry, but if you want to wear the hair longer, then those areas will need to be wet for scissor cutting.
What do you do about the back?
Craig: Be prepared to cut the back by touch as you won't be able to fully see it, even with a mirror. Move your head as much as possible, so you can see the areas you're cutting as best you can.
The Hair Bros: Once you do the sides, section off all the hair from your occipital bone – the one you can feel at the back of your head – and clip it out of the way. I wouldn't even suggest using scissors for the back, I would use a clipper on a high guard (5 or above). Turn the clipper off and on, working your way through the back in a small horizontal pattern. Use the scissors for the rest of your hair.
If you fancy a buzz cut, how can you work out if it'll suit you?
Craig: A buzz cut is usually a one-length clipper cut all over the head. This won't suit everyone, especially if you have a round-shaped face. If you've done your research, you will know what face shape you are. Try and look for pictures online with guys that have similar features to your own and assess whether it suits them. If you are still unsure, opt for a longer number. That way you can always reduce the sides and back shorter to define a different shape.
The Hair Bros: Good cheekbones help, as does a definitive jawline. A tight-cropped haircut can really help to emphasise well-proportioned, angular facial features, or be the perfect complement to a well-groomed beard. This is also a solid option for somebody that doesn't want to spend any time blow drying or styling the sides of their hair.
Can you just use a beard trimmer?
Craig: Hair clippers are larger and generally have a more powerful motor which means the blades move quicker and remove the hair cleaner. Beard trimmers may be slower and less efficient.
The Hair Bros: Beard trimmers are fine, but can leave you with a slightly uneven trim. They also tend to be wireless, and can have a tendency to die half way through, so just bear that in mind.
Is it possible to achieve a fade at home?
The Hair Bros: With great caution and precision, yes. However, it's not easy so don't rush it. Start with a higher/longer guard rather than jumping into your desired length straightaway. This will help keep a clean blend with good transitions.
What's the best way to get to tricky areas such as around the ears, neck and sideburns?
Craig: Work straight up the sides and float into the air and away from the head. Some professionals call this a C-shape technique. The back should be cut roughly two inches lower, so as not to disturb the crown formation.
The Hair Bros: Mini clippers are amazing to get into these areas. They allow you to cut with precision around your ears and remove all neck hairs.
What if you've got long hair?
Craig: When it comes to longer hair, less is more. Using a comb and scissors, you can work your way to the very ends of your hair in sections; cut into the ends using just the points of the scissors. Make sure you hold the hair in your fingertips no more than an inch from the tips of the length. Same goes with fringes. Always try and follow the shape of the previous cut if you just want to maintain the length.
The Hair Bros: Quite often long hair looks great when it's been left for a while without a haircut. Try to embrace the length. However, if your ends are dry, trim the very bottom using a point-cutting technique: up into the hair for a softer, 'piece-y' effect as opposed to a straight-across blunt line.
And if you fancy growing long hair?
Craig: If you want to grow it from short, try and keep the bottom tidy and grow the rest first. That way you will be more motivated to continue. Trimming the sideburns is also going to give you a tidier appearance while growing it out.
The Hair Bros: The hardest part of growing your hair is getting past the infamous 'awkward stage' – what better time is there to go through this phase than when you're not allowed to leave the house? If anything, tidy up your sideburns with some mini clippers and leave the rest.
Any tips for cutting curly hair?
The Hair Bros: Cut it when it is dry and cut in very small, careful pieces. Curly hair has the tendency to spring up when it's been cut, so cutting the hair dry will allow you to see exactly how your hair is sitting. Follow the shape of your last haircut to avoid any upsets in shape.
 
What if I make a mistake?
Craig: To avoid mistakes, it is best to trim lower and longer than you want it. That way you can practice. Once you are more confident, you can introduce the shorter lengths.
The Hair Bros: Try and fix it once. If that's not working, just leave it alone. If you feel your clipper guard is taking off a lot of hair, up it to a higher/longer guard and work your way down to the shorter guards. Always follow the shape of your head and use a circular motion going into your hair at the bottom and away from your head at the top.
Finally, would it be better to get someone else to cut your hair for you?
Craig: If you are not home alone and have someone that can assist you or – even better – do the cutting for you, this will be much easier. They will have the advantage of seeing the hair from all angles and mistakes are less likely to happen. They will also be able to provide you with a second opinion.
The Hair Bros: Of course having an extra set of eyes will help for cutting around the back of your neck, around your ears and any other awkward areas. Just be very clear with each other on what the desired outcome of the haircut is. 
The Ruffians Step By Step Guide To Giving Yourself A Trim
1. Wash your hair and let it dry naturally. 
2. Once dry, start at the top of your head and work forwards.
3. Take a section of hair as wide and as thick as your fingers.
4. Comb straight out at a 90° angle from your head.
5. Consider how much hair you're leaving rather than how much you're cutting, and trim off what you feel you don't need or looks dead.
6. Work your way around the head in panels, remembering to comb the hair at 90° to the shape of the head.
7. After cutting, re-wash and style as you like.
 

Shop SLMan's Pick Of Hair Cutting Tools Below…
DISCLAIMER: We endeavour to always credit the correct original source of every image we use. If you think a credit may be incorrect, please contact us at [email protected].