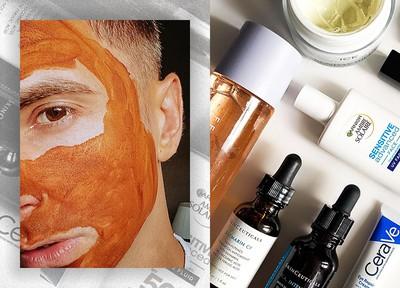 A Skincare Expert Shares His Grooming Essentials

---
From using SPF every day to double cleansing at night, grooming guru Andrew Wheatcroft told SLMan how he looks after his skin…
Photography INSTAGRAM.COM/ANDREWDWHEATCROFT
A skincare regime doesn't have to be complicated. My morning routine used to consist of dozens of products, but I've recently stripped it down to just three or four. All of this now takes five to ten minutes max. I start with a gentle cream cleanser – Pai does a great one – and then apply an eye cream (I'm currently loving Algenist's new Complete Eye Renewal Balm). Next I go in with Skinceuticals Silymarin CF Serum, which is a must for oily, blemish-prone skin. I then moisturise with Sunday Riley ICE Ceramide Moisturising Cream, which ticks all the boxes for a moisturiser. If it's sunny outside, I'll also add a layer of SPF – Murad's City Skin is phenomenal. For me, a morning routine is more than just putting products on my face – it's about starting the day right and getting yourself in the right headspace.
You should be cleansing your face, and in the evening, you should be doing it twice. This is called double cleansing, which is exactly what it sounds like: cleaning the skin twice to get rid of SPF and grime, and to ensure your skin is a clean canvas for the rest of your routine. I tend to start with a balm cleanser (I rate Emma Hardie's Moringa Cleansing Balm) and then go in with a gentle cream cleanser, such as Fenty Skin's Cleanser. Once the skin is clean, I apply an eye cream – either the same as in the morning or I'll switch to Estée Lauder's Eye Repair – and then retinol, a derivative of vitamin A, which is one of the body's key nutrients for boosting cell turnover. Using retinol in the evening will help with fine lines, wrinkles and blemishes, evening out the skin tone, lightening any dark spots and generally brightening the complexion. Once this has absorbed, use a hydrating serum like Estee Lauder's Advanced Night Repair Serum, then a moisturiser. Just remember to always use an SPF the day after using a product containing retinol.
 
When it comes to ingredients, keep an eye out for retinol. Retinol is a form of vitamin A that's become a buzzy skincare ingredient thanks to its multiple proven benefits (increasing cell turnover, declogging pores, boosting collagen). However, it's essential to build up your tolerance to retinol. This is the reason I love Medik8's Crystal Retinal: it's available in four strengths and is great for all skin types. If you're new to retinol-based products, go for level one; if you've used a retinol before, go for the third level. Remember slow and steady wins the race when it comes to retinol, but stick with it and it will genuinely change your skin. This is the product I buy on repeat. 
Load your skin with hydration to hide a hangover. As well as drinking plenty of water, the best way to load tired, dull skin with hydration is to mist your face while it's still damp, and then apply a hyaluronic acid serum. Hyaluronic acid is a magnet for moisture and can hold up to one thousand times its own weight in water molecules. As you age, your levels of hyaluronic acid in the skin deplete, and that loss of moisture means drier, rougher and lined skin. Medik8's Hydr8 Intense serum is my favourite hyaluronic acid product. If you have a facial steamer, you can also try cleansing your skin before using a steamer and then apply a clay-based mask, such as Dr Roebuck's Uluru Purifying Mask, which won't dry the skin out, like many clay masks tend to do. This will leave you with dewy, bouncy skin – no hangover in sight. 
"You should be cleansing your face, and in the evening, you should be doing it twice."
Consider using a face mask to instantly perk up tired skin. Dr Levy's R3 Cell Matrix Mask is genius – it makes your skin look like you've had eight hours' sleep, even if you haven't. It instantly lifts and firms, and makes you look more alive. 
Acids might sound extreme but they're good if you get spots. If your skin is breaking out from wearing a mask, consider a deep cleanse using an acid mask – Oskia Renaissance Mask is one of my favourites. It's fuelled with acids to cleanse and purify the skin to keep blemishes at bay. Niacinamide is also a good ingredient if you are suffering from acne. It's an anti-inflammatory which helps reduce redness and can make pores appear smaller too. 
Don't over-exfoliate. No one needs to exfoliate every day. Instead, keep your skin barrier in check with plenty of hydrating products morning and evening. And instead of a physical scrub, try peel pads – Dr Dennis Gross does a great product. These contain AHAs and BHAs, two forms of acid, to gently get rid of any dead skin and clear out the pores from a deeper level. They are pricey but worth every penny. 
Remember skin is skin. A pet peeve of mine is skincare products aimed specifically at men. This is rubbish. Don't be lured into this trap. 
"No one needs to exfoliate every day. Instead, keep your skin barrier in check with plenty of hydrating products morning and evening."
The high street is full of great skincare. You don't have to spend a fortune. For example, Avène is a great brand that never lets you down. I adore its Xera Calm body cream. Sanex's shower gel is a fantastic high-street product. I also swear by Harry's razors, which you can find in Boots. 
If you invest in one skincare product, make it a decent SPF. If you don't wear SPF every day, you may as well throw your entire skincare routine away. A decent SPF would be my desert-island beauty product – it may sound extreme, but you don't want to be looking 75 when you're 35. 
Don't discount self-care. I recently discovered the Deep Relax range from Aromatherapy Associates, which is incredible if you are feeling stressed. Sometimes you need that moment of calm and nothing puts me at ease more than this. If you struggle to nod off, try the sublime bath oil, and the pillow mist is great too. 

For more from Andrew, visit AndrewDWheatcroft.com and follow him @AndrewDWheatcroft
Shop Andrew's Grooming Essentials
DISCLAIMER: We endeavour to always credit the correct original source of every image we use. If you think a credit may be incorrect, please contact us at [email protected].