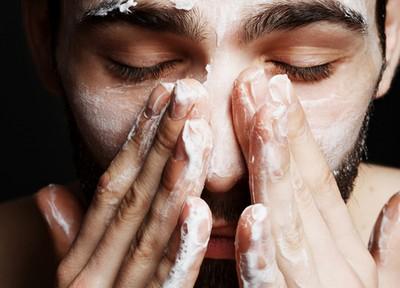 The Skincare Questions You've Always Wanted To Ask

---
A solid skincare routine is the cornerstone of good grooming. But where do you start with skincare? SLMan sat down with two experts to answer your burning questions. Here's what they had to say…
Photography OHLAMOUR STUDIO/ STOCKSY UNITED
All products on this page have been selected by our editorial team, however we may make commission on some products.
Firstly, what's the most common mistake men make with their skincare?
"Don't even think about using your shower gel to wash your face. A proper facial cleanser is a must, although lots of guys don't even use this. Washing your face with shower gel will leave residue on the surface of your skin and will clog your pores. Another common mistake is using the wrong moisturiser. A moisturiser that isn't designed for the face can clog the pores and lead to spots." – Dr Martin Kinsella, anti-ageing cosmetic doctor
I want to start a skincare regime – where do I begin?
"A good foaming cleanser is a must. I rate Medik8's Gentle Foaming Cleanser as it's suitable for all skin types and won't cause irritation. Secondly, a vitamin C serum is beneficial – vitamin C is an antioxidant, which means it can help the skin repair damage and protect against future damage. SkinCeuticals' CE Ferulic serum is a great one to try, and Obagi Medical also does a great range of professional vitamin C serums. Lastly, and most importantly, always use an SPF 30 or above. Your skin is constantly under attack from both UVA and UVB radiation – even on a cloudy day the UVA levels are the same as on a sunny day, and it's UVA that causes skin ageing. Look for an SPF that offers both UVA and UVB protection. Lots of SPFs can feel thick and greasy but Clarins UV Plus (not the specific men's version, it's part of their classic range) gets my vote. Another brand to look out for is Dermaceutic Sunceutic." – Martin  
Should I be using a separate SPF even if my moisturiser already contains SPF?
"Use a standalone SPF if possible. When SPF features in a product, such as in a moisturiser, it tends to be an added component and isn't as effective as it's diluted. Try and use a dedicated SPF, and always remember to use one that offers both UVA and UVB protection." – Martin 
How often should I wash my face?
"Cleanse your face twice a day – once in the morning after showering and always before bed. You don't need two different cleansers, just find one that works for your skin. Washing your face in the evening removes grime that may have accumulated during the day, while washing it in the morning removes dirt that may have built up overnight or transferred from your bedding or hands. If you've started a new skincare regime, it's especially important to wash your face in the morning to allow for the best absorption of subsequent products you apply." – Martin
"An SPF is essential to protect the skin from ageing – even on a cloudy day the UVA levels are the same as on a sunny day, and it's UVA that causes ageing."
I am prone to blemishes and have oily skin – what products should I use?
"Oily and blemish-prone skin tends to produce larger amounts of sebum (oil) than normal skin types, so try to look for oil- and paraben-free products. When it comes to buzzwords, look out for terms like gel-based and lightweight. If you have acne, look for salicylic acid on the ingredients list. Salicylic acid is a beta hydroxy acid; it breaks down and removes dead skin cells, penetrated oil deep within the pores, and reduces and kills many of the bacteria that cause acne. Cetaphil and Neutrogena produce a good range of affordable high-street products suitable for oily skin types." – Martin
"Ingredients such as silicones can clog the pores, so look out for these and avoid anything that'll be heavy on the skin. You are looking for ingredients that can help restore and maintain sebum balance. Green tea-based ingredients, such as camellia sinensis leaf water and camellia sinensis catechins, are great ingredients to look out for." – Brian Oh, CEO & co-founder, VENN Skincare
My skin is dry and sensitive – what should I be using?
"The main ingredient to avoid if you suffer from dry and sensitive skin is alcohol, which often appears as 'ethanol' on an ingredients list. It is often used in toners and creams to provide a quick, dry finish, but it strips the skin of moisture and can exacerbate dryness and cause irritation. Also avoid sulphates, specifically sodium lauryl sulfate (SLS) and sodium laureth sulfate (SLES), which are often found in cleansers and shampoos. They also cause the skin to lose moisture, resulting in dryness and irritation." – Brian
"Look for products containing ingredients like aloe vera, d-panthenol, colloidal oatmeal or ceramides. Avoid anything containing acids such as glycolic, lactic and salicylic. High-street brands to keep an eye out for include La Roche Posay, which makes great cream-based cleansers that soothe the skin, and CeraVe, which does a range of affordable moisturising lotions. If you want to spend a little more, SkinCeuticals' Triple Lipid Restore contains vitamin E and ceramides, and does an excellent job of repairing the outer layer of the skin. Products containing vitamin B3, azelaic acid and niacinamide are helpful if you are looking to reduce redness." – Martin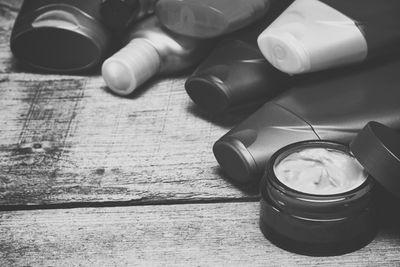 My skin is dull – what's the solution?
"There are two ingredients to combat tired skin. Firstly, use a vitamin C serum during the day; in the evening, use a vitamin A product like retinol or retinoic acid. Vitamin A-based products cause the skin cells to turn over more quickly, allowing older surface cells to die and make way for new cells. This helps to strengthen the skin and improve its appearance by increasing skin thickness, improving hydration and reducing fine lines." – Martin
"Think about using products that will improve the skin's moisture barrier. This will, in short, keep the skin adequately hydrated throughout the day. Hyaluronic acid may sound harsh but it can help generate hydration from within the skin and is great for an instant glow." – Brian 
Should I be exfoliating my skin?
"Yes, but be careful what you are using to exfoliate your skin. Physical scrubs (these tend to have a grainy texture) can damage and irritate the skin. Instead, consider using acids to exfoliate – these products tend to be in a liquid formula and are applied like a toner. The best acid exfoliants contain alpha hydroxy acids, such as glycolic acid." – Martin 
Is it true you should use an eye cream?
"When it comes to fine lines around the eyes, specifically on the upper and lower eyelids, prevention is better than cure. So yes, an eye cream or serum is a great addition to your skincare regime, especially if you are over the age of 30. Try Obagi's Elastiderm, an excellent product which also contains caffeine to reduce puffiness. Apply small amounts round the eye, keeping to the bony areas just around the eye as the skin on the eyelids will also draw the serum in." – Martin 
Should I be moisturising my beard?
"Yes – a beard moisturising oil is a must. Moisturising your beard helps soften the hair, preventing skin irritation and reducing the risk of ingrown hairs. It also helps repair damaged hairs, and it makes your beard easier to style. An oil is better than a moisturiser as it will absorb into the follicles more easily." – Martin 
Finally, what should I be doing pre- and post-shave?
"Always start by prepping your skin. Make sure you wash it properly and try to warm your skin before you start shaving. A good way to do this is to wet some hand towels in very hot water and then wring them out, wrapping them on your face and neck to soften the hairs (a little like what a barber would do). Use a shaving oil when shaving (don't use soap or foams), and make sure your razor is sharp and not old. This will reduce irritation and prevent damage being done to your skin. Afterwards, apply a cold cloth to ease any sensitivity and then use an alcohol-free aftershave, ideally one containing aloe vera and witch hazel, which will protect your pores. Finish by applying a beard oil to condition and moisturise. To avoid ingrown hairs when shaving, keep the skin warm, use a clean and sharp razor, shave in the direction of hair growth, rinse your razor after every stroke and always remember to apply aftershave." – Martin 
For more expert advice, follow @DrMartinKinsella and visit VennSkincare.com
DISCLAIMER: We endeavour to always credit the correct original source of every image we use. If you think a credit may be incorrect, please contact us at [email protected].