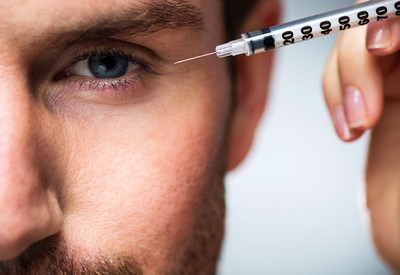 Time For A Tweakment?

---
From Botox to fillers, a growing number of men are getting a little work done. SLMan caught up with cosmetic surgeon Benji Dhillon to find out why these skin tweaks – which come with no anaesthetic, scars or downtime – are ushering in a new era of male grooming …

Photography
iStock / PIKSEL
Revitalised Eyes
"Ageing tends to strike first around the eyes due to the delicate skin in this area, and this is more the case with men who tend not to look after their skin as well as women," says cosmetic surgeon Benji Dhillon. "Men also have thicker skin with stronger facial muscles, causing lines to become deeper a lot earlier. You only have to look at Gary Neville and his very deep frown line to see that a little bit of Botox over the years could have stopped these lines from becoming so deep."
 
Botulinum toxin (aka Botox) is one of the most popular non-surgical treatment options, especially among men. Botox is injected into certain muscles of the body – typically in the upper part of the face – to diminish wrinkles by temporarily paralysing them. It can be preventative too. "A sprinkling of Botox around the eyes can work wonders for crow's feet," says Benji. "If you have very dark circles, you could also explore the option of having a little filler under the eye, which can improve volume loss to make you look fresher and less tired."
 
Botox is virtually painless, takes around two weeks to kick in and lasts for three to four months. "Don't get rid of all your lines, though," Benji cautions. "Soft lines reflect maturity in a positive way – just look at David Gandy or David Beckham. Do it strategically to enhance your natural features."

The Power Profile
A strong jawline is typically associated with masculinity, but as you age, your facial bones change and decrease in volume, resulting in a less-than-defined jaw. To sharpen up your angles, Benji is a fan of filler, which does just that: it fills areas of the face that have lost volume and helps balance asymmetry. "Jawline contouring done with filler is one of the most popular treatments for men, helping to improve a weak chin for a more masculine appearance," he says.
 
Wary of filler? We hear you. "So many men are sceptical of filler, but I challenge you to spot the natural results. There are more than likely more women who've had filler that no one knows about than those that are starkly obvious. If performed by a reputable doctor, dermal filler treatments should never be obvious." Fillers in the jawline take around half an hour, delivering an instantly more masculine silhouette.
 
If a double chin is getting you down, CoolSculpting could be worth exploring. The procedure works by freezing areas of fat, such as under the chin, until the cells die and are gradually reabsorbed into the body. "An increasing number of men are having CoolSculpting on their love handles, chest or under their chin, especially as they get older, when it can be tricky to shed stubborn pockets of fat." A typical CoolSculpting appointment takes around 45 minutes but results aren't immediate, usually taking one to three months to take effect. 

Vampire Treatments
The range of tweakments on offer is increasing. Whereas once there was a huge bridge between getting a facial at a spa and scary Hollywood-style plastic surgery, there's now a plethora of options sitting in the middle ground. Platelet-rich plasma treatment (PRP or the 'vampire facial') is increasingly popular among men, says Benji. Blood is taken from your arm and put into a centrifuge until the red blood cells separate from the plasma. This is then injected back into the skin and has been found to aid rejuvenation. Sound like too much? Results usually last for at least 12 months, so you don't have to go through it time and again. Benji also says PRP is a great option for those looking for a fuller head of hair. "PRP is fantastic for hair loss. I have lots of clients who use PRP alongside medication and special shampoos. PRP injections directly into the scalp can stimulate hair growth to delay or even negate the need for a hair transplant."

The 15-Minute Nose Job
Filler is increasingly used not just to plump up lips, but to replace procedures that would previously have been done by plastic surgeons. A liquid nose job in your lunch hour may sound too good to be true, but Benji says it's a savvy shortcut to a better profile. "The ideal candidate for a non-surgical nose job is someone who has a pronounced bump on the bridge of their nose, including men who have broken their nose in the past. By filling the area around the bump, you can create the illusion of a perfectly straight nose," he says. In his clinic, Benji uses a cold compress to help numb the area, so the pain is moderate, with the tip of the nose being the most sensitive area. You may be a little red or bruised for a week, but you can go straight back to work after the treatment and results last up to 12 months.

Injected Moisturiser
If you're after brighter, better skin but flummoxed by products, consider booking in for Profhilo, an injectable that combines two types of hyaluronic acid (a natural moisturiser) to rejuvenate lacklustre skin. This super skin booster not only hydrates skin from the inside out, but increases collagen and elastin production (the stuff that gives skin its bounce) and remodels skin to make it firmer. "Profhilo really helps improve skin quality," says Benji. "The product is injected into the top layer of the skin where it helps to brighten and rejuvenate without going down the filler direction." Profhilo consists of five injections on each side of the face and there's minimal downtime. To maintain the results, you'll need top-up treatments every six months.
 WANT TO GIVE SOMETHING A GO? THESE ARE THE NAMES TO KNOW… 
Dr Benji Dhillon
Previously based on Harley Street, Benji recently opened Define Clinic in Beaconsfield. This one-stop shop for aesthetics offers everything from cosmetic dentistry to Botox, fillers and more. His easy nature and eye for detail will leave you looking perkier and more youthful.
 
Visit DefineClinic.com
 
Dr David Jack
With a background in plastic and reconstructive surgery, David knows his stuff and his Harley Street clinic is the place to go for injectables, filler and cutting-edge facials. His belief in natural-looking results has earned him a discreet but loyal following.
 
Visit DrDavidJackClinic.com
 
Dr Tapan Patel
With nearly 20 years' experience performing wrinkle-relaxing injections, dermal fillers, IPL, laser and more, you rest assured you're in safe hands with Tapan. If you can't get an appointment with him, book one with a member of his team – you won't be disappointed.
 
Visit PHIClinic.com
 
Dr Stefanie Williams
The founder and director of multi-award-winning clinic Eudelo, which fuses cosmetic and medical dermatology, Stefanie is often referred to as one of Britain's best cosmetic doctors. Try her signature treatment, the Eudelo Pillar Lift, which is a form of full-face contouring that will redefine the jaw and facial structure.
 
Visit Eudelo.com
 
Dr Richard Sibthorpe
If you're apprehensive about getting something done, go see Richard, a dab hand in the less-is-more approach. As well as delivering Botox and filler that'll leave you looking rested, he specialises in hormone therapy.
 
Visit DoctorSib.com
 
Dr Bibi
With over 12 years' experience in aesthetic medicine, Dr Bibi is the name to know for forward-thinking treatments – she's currently undertaking a thesis focusing on rejuvenation of tear troughs with dermal filler. She's also good for non-surgical rhinoplasty and defining jawlines.
 
Follow @Doctor.Bibi
DISCLAIMER: We endeavour to always credit the correct original source of every image we use. If you think a credit may be incorrect, please contact us at [email protected].