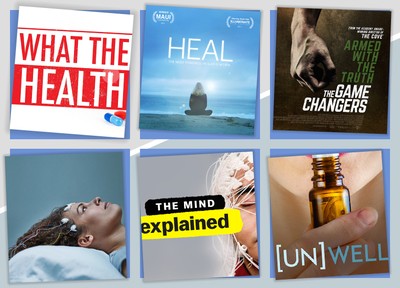 The Best Health Documentaries To Watch Now

---
Whether you're interested in plant-based living or alternative therapies, there's a documentary out there covering whichever wellness topic takes your fancy. Some might be old, some are new – regardless, these are the ones to watch.

Heal
Exploring the connection between mental and physical health, this documentary features interviews with spiritual leaders, leading doctors and those suffering from chronic illnesses who believe our thoughts and emotions have a significant impact on our ability to heal. Tapping into the minds of leading scientists, Heal implies we have more control over our health than we have been taught. An educational and thought-provoking watch.
Visit Netflix.com
The Game Changers
Created and presented by James Wilks, a former Ultimate Fighting Champion who discovered the power of plants while recovering from a potentially career-ending injury, The Game Changers showcases the high-level athletes who swear by plant-based eating, including Lewis Hamilton and Novak Djokovic. An eye-opening watch for even the most ardent of carnivores, the documentary challenges conventional wisdom about protein, proving there's more to being strong than steak and eggs, and that switching to a plant-based diet can save the planet, too.
Visit Netflix.com
Take Your Pills
Adderall and Ritalin, stimulants intended to treat ADHD, are only available on prescription in the US, but the majority of subjects in Take Your Pills have found ways round the system, using the drugs for cognitive benefits. Taking a clear-eyed look at a billion-dollar industry, this insightful documentary explores the pros and cons of psychostimulant medications – watch and decide for yourself.
Visit Netflix.com
Unrest
Chronic fatigue syndrome (CFS) is often misunderstood as everyday tiredness. However, it can be a debilitating condition, with sufferers experiencing life-changing symptoms. Unrest tells the story of Jennifer Brea, who experiences a sudden onset of CFS despite doctors claiming her symptoms are only in her head. After carrying out her own research, Jennifer discovers a community of people who live with the illness, confirming her diagnosis. Unrest raises awareness for both CFS and also the challenges those living with chronic conditions face on a daily basis.
Visit Netflix.com
Heroin(e)
Since the late 90s, the US has been at the centre of an opioid epidemic, and Heroin(e) focuses on Huntington, West Virginia, where the opioid overdose rate is ten times the US average. The Oscar-nominated documentary follows three women on the frontline of the region's response, who have dedicated their lives to fighting the epidemic. As well as exploring the stories of individuals affected by opioid addiction – dealing with everything from homelessness to prostitution – the film also shows what can be achieved when communities work together.
Visit Netflix.com
The Goop Lab
Following Gwyneth Paltrow, Goop's head of content Elise Loehnen and other Goop employees as they explore alternative methods of healing, The Goop Lab is made for wellness junkies. While it has come under criticism for promoting pseudoscience, each of the six 30-minute episodes delves deeper into various wellness practices – think cold therapy, orgasmic meditation, magic mushrooms and exorcisms – featuring industry experts and first-hand experience. Since its release earlier this year, the show has won awards for its coverage of women's health, and it was recently confirmed it will return for a second season.
Visit Netflix.com
The Mind Explained
A five-part docuseries narrated by Emma Stone, this documentary answers thought-provoking questions about the mind, exploring topics such as memory, anxiety, dreams, mindfulness and psychedelics. Despite the complexity of the subject matter, each episode is just 20 minutes in length, making this an entertaining and informative option ideal for the time poor keen to delve deeper into science and human anatomy. 
Visit Netflix.com
What The Health
If you have a friend who recently went vegan, chances are they've seen What The Health. This controversial documentary draws links between consuming animal proteins and cancer, type 2 diabetes and more. Critics say some of the film's more outlandish claims (such as eating eggs is as bad as smoking) are without proof, while supporters say there's nothing sensationalist about the merits of a plant-based diet. What The Health may cherry-pick studies to make the case for veganism, but it certainly makes for a gripping watch.
Visit Netflix.com
(Un)Well
With each episode dedicated to debunking health fads – think bee venom treatment, drinking breast milk, fasting and ayahuasca – (Un)Well examines some of the pros and cons of the wellness industry. Each of the six episodes features interviews with experts, medical practitioners and footage of first-person experiences to offer authenticity, although the documentary also explores the darker side of the industry and reminds us to take care when encountering wellness 'gurus'.
Visit Netflix.com
Period. End Of Sentence.
This Oscar-winning documentary tells the story of a group of women who use a machine to make low-cost sanitary pads in a village in central India's Hapur district in a bid to improve female hygiene, women's empowerment and development. The 25-minute film documents the journey of the village's women as they learn to use the machine and explores the deep-seated stigma surrounding menstruation in India. An inspiring tale, this documentary highlights the importance of supporting menstrual hygiene and education as well as enabling social and economic growth.
Visit Netflix.com
Food Inc.
How much do you really know about the food you buy at your local supermarket? That's the message behind this cult 2008 documentary, which exposes the deep and unknown parts of the American food system and how it impacts our health, farming and the environment. Featuring interviews with experts and forward-thinking social entrepreneurs, Food Inc. reveals surprising truths about what we eat, how it's processed and where we go from here.
Visit Amazon.co.uk
DISCLAIMER: We endeavour to always credit the correct original source of every image we use. If you think a credit may be incorrect, please contact us at [email protected].