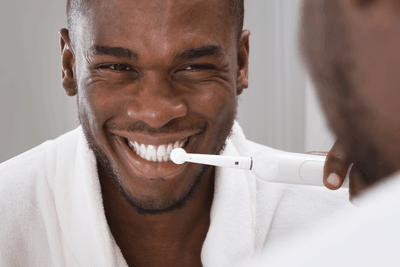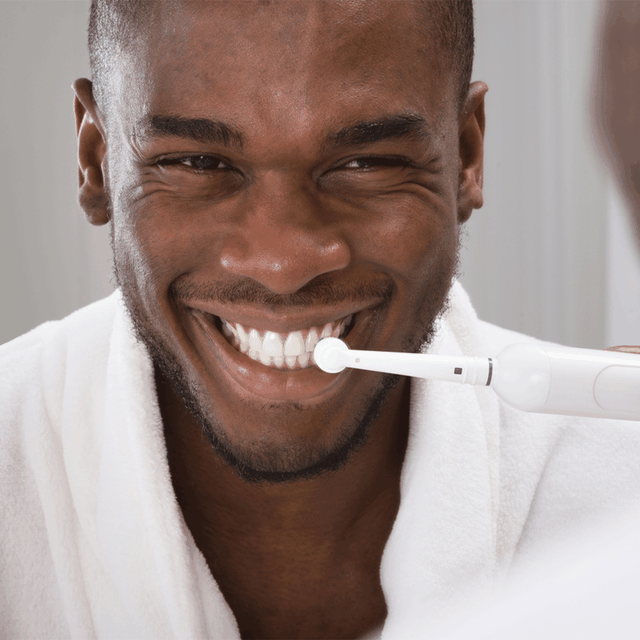 A Dentist's Guide To Using An Electric Toothbrush

---
For a dentist-clean feeling at home, nothing comes close to an electric toothbrush. To find out more – including the best technique, tips and tools on the market – we asked five leading dentists to share their dos and don'ts…
Photography ISTOCK/ANDREY POPOV
All products on this page have been selected by our editorial team, however we may make commission on some products.
Ditch Your Manual Toothbrush
"It may not be the most exciting of purchases, but an electric toothbrush that cleans deeply and thoroughly could make a significant difference to your oral health, and general health too. In fact, studies have linked gum disease to an increased risk of developing heart disease. An electric toothbrush is up to seven times more effective at cleaning teeth and removing plaque than a manual toothbrush due to its oscillating (rotating) action. They do the work for you, are easy to use and much more efficient than a manual brush." – Dr Mervyn Druian, dentist at The London Centre For Cosmetic Dentistry
Use One If You Have Braces
"Using a small-headed electric toothbrush – such as an Oral-B – is essential if you have fixed braces or use Invisalign. The beauty of an electric brush is that it makes it easier to remove plaque in hard-to-reach areas, such as around brace fixtures. Countless studies show electric toothbrushes remove more plaque and decrease the risk of gum disease over time, compared with a regular manual brush." – Dr Krystyna Wilczynski, cosmetic dentist
"When you're buying an electric brush, start by looking for a major brand that's backed by clinical and scientific research. A timer is also an essential feature to stop you overbrushing. And often, you get what you pay for. One of the most notable features of more expensive models is that they can reach far higher speeds than their lower-market competitors. With speeds from 6,000 to 30,000 strokes per minute, there will be minimal effort involved when it comes to brushing your teeth." – Krystyna
"When you're using an electric toothbrush, move it gently over your teeth in circular motions rather than up and down. This will prevent you from overbrushing and will ensure you clean all surfaces of the teeth and remove the maximum amount of plaque." – Krystyna
If you apply too much pressure with an electric toothbrush, this can lead to gum recession, which is irreversible.
"A sonic toothbrush resembles a manual oval toothbrush and has the feel of a manual brush albeit with the power of an electric brush. It uses sonic waves (i.e. vibrations) to break off food or plaque at the gum line up to 4mm away from where the bristles touch your tooth. The main difference is that an electric toothbrush rotates, whereas a sonic toothbrush vibrates. The two feel very different, but many people say a sonic brush is a good go-between if you're looking to make the electric transition." – Krystyna
Make The Most Of The Different Settings
"Any decent electric toothbrush will have a variety of pre-set modes. Investigate what they do, and don't be afraid to mix it up. For everyday plaque removal, a daily clean mode is fine, but if you have sensitive gums, use a gentler setting that has less power. Whichever setting you use, make sure you keep an eye on the pressure sensor – some toothbrushes reduce the motor pressure when you press too hard, while others stop altogether." – Dr Tara Francis, dentist & advanced facial aesthetician
"Scientifically, you only need the equivalent of 25g of pressure on your teeth when you brush, which translates to simple fingertip pressure, nothing more. Remember to get all the surfaces of the teeth when you brush, not just the parts you see when you smile." – Dr Nilesh Parmar, dental implant surgeon
"A dentist secret is that most brands use the same motor and brush head designs across their ranges, so compare the power a brush claims to offer as well as the brush design. A more expensive model may get you a Bluetooth connection to your phone so you can record how well you brush, and even send the data to your dentist, but this isn't for everyone. Do your research and buy an electric toothbrush you like the look of and is a sensible price." – Nilesh
"One of the most common mistakes people make when using an electric toothbrush is pressing too hard down on the teeth when brushing. Instead, gently guide the brush along as it does the work for you. If you apply too much pressure, this can lead to gum recession, which is irreversible." – Krystyna
"Plaque and bacteria can accumulate in any part of the mouth – your teeth, gums and tongue. It's therefore important to ensure all these areas are cleaned. You shouldn't brush your gums, but gently massage them clean. The most common place for plaque to collect is around the gum-to-tooth margin, so focus here with your toothbrush for a cleaner mouth." – Krystyna
Brush For More Than Four Minutes
"Most electric toothbrushes have a two-minute timer, which should be enough time to brush your entire mouth, but if you need longer to make sure you've brushed each individual tooth well, that's fine. If you brush more than twice a day, for longer than four minutes in total, you could wear down the enamel layer that protects your teeth. When tooth enamel erodes, this exposes a layer of dentine, which can lead to sensitivity and irreversible damage." – Tara
Forget To Change Your Brush Head
"Make a note in your diary to change your brush head every three months. If the brush head looks splayed before this point, you're using too much pressure when brushing." – Mervyn
BEST FOR GUM HEALTH
Philips Sonicare, £169.99
"You can't go wrong with any of the models in the Sonicare range. Not only do they deeply clean, but they're proven to quickly improve the health of the gums." – Nilesh
Available at JohnLewis.com
BEST ALL-ROUNDER
Oral-B Genius 8000, £84.99
"This brush has won countless awards, and with good reason. Its round brush heads remove up to 100% more plaque in 30 days than a manual toothbrush, and it gently removes stains for a whiter smile." – Tara
Available at Amazon.co.uk
BEST FOR BATTERY LIFE
Nano N-1 Sonic Toothbrush, £124.95
"This stylish brush offers a deep clean, removes plaque and keeps gums healthy. It has three brushing modes and an impressive battery life." – Krystyna 
Available at WhiteWashNano.co.uk
BEST HIGH-TECH OPTION
OralB iO9, £250
"The round head on this brush is excellent for cleaning all the surfaces of the teeth and is small enough to reach the back molars, which can be tricky. The brush itself also has clever tech to encourage optimum brushing. I recommend this to all my patients." – Krystyna 
Available at Shop.OralB.co.uk
BEST FOR A HYGIENIST CLEAN
ION-Sei Sonic Electric Toothbrush, £129.99
"Using ionic technology, this toothbrush not only removes plaque but suppresses the bacteria that causes plaque, too. Its state-of-the-art design also reduces the root cause of many common dental problems." – Krystyna
Available at Amazon.co.uk
BEST EASY-TO-USE OPTION
Colgate ProClinical Whitening Toothbrush, £33.80
"This brush offers up to five times more plaque removal compared to a manual toothbrush. It features soft bristles, too, which are gentler for gums." – Krystyna
Available at Amazon.co.uk
DISCLAIMER: We endeavour to always credit the correct original source of every image we use. If you think a credit may be incorrect, please contact us at [email protected].