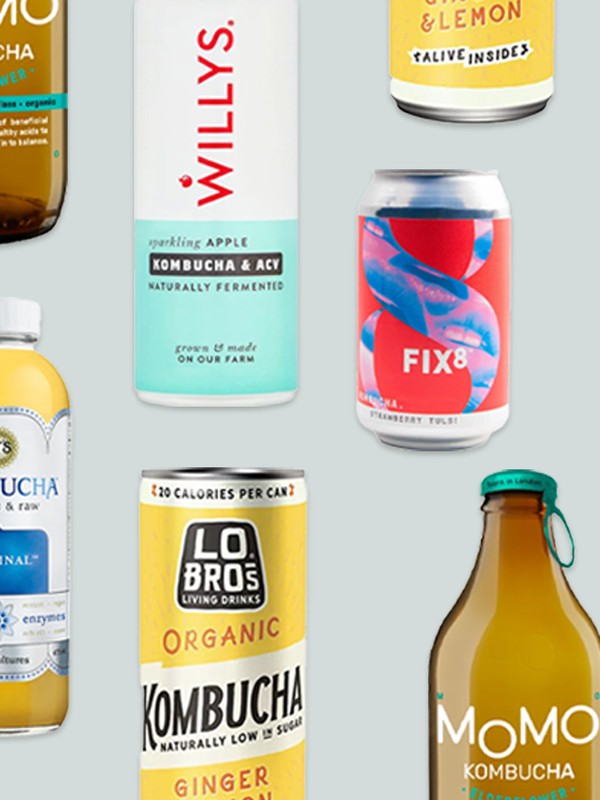 7 Kombuchas Rated By A Nutritionist

---
Full of probiotics and naturally low in sugar, kombucha is fast becoming the fizzy drink of choice. But not all kombuchas are as good for you as you may think. Before your next shop, here's what two nutritionists had to say about these supermarket bestsellers – plus their picks of the best…

It's Good For Your Gut & Brain
If you've never tried kombucha before, it's a lightly fizzy drink that's made through the fermentation process. It's produced by fermenting tea – usually black or green tea – using a colony of bacteria and yeast known as a 'scoby'. The fermentation of the bacteria creates a drink that's rich in healthy probiotics, antioxidants and nutrients such as B vitamins. "A quality kombucha can be a great source of probiotics, which have been shown to support digestive health and the immune system," says Belinda Blake, registered nutritional therapy practitioner with the Institute for Optimum Nutrition. "Tea is also a natural source of the amino acid theanine, which has been shown to help increase levels of a calming neurotransmitter called GABA." 
It Should Ideally Be Kept Chilled
For a kombucha to be labelled as a health drink, it typically needs to be chilled, explains Belinda. "Live kombucha will often be stored chilled. If it's not stored in the fridge in the supermarket this can mean it's pasteurised and won't contain the valuable probiotics." However, brands such as Remedy Kombucha, which is not pasteurised, use a long-age fermentation process to brew out all the sugar, which means that it's live while also being safe to store both chilled and not, so you'll find this out of the fridge.
Dark Packaging Is Best
Look for kombucha that's packaged in a dark bottle or can. "Light damages probiotics, so aim for kombucha packaged in dark bottles or packaging for the most health benefits," adds Hope Pointing, registered associate nutritionist and private chef. This means that kombucha in a tin still ticks the boxes as the live cultures are protected from light.
It Will Contain Some Sugar 
Kombucha is naturally lower in calories than traditional fizzy drinks although it's not entirely calorie free. "Authentic kombucha should contain a small amount of sugar, as this acts as food for the microorganisms, keeping them alive in the bottle," says Belinda. "Levels of around 2.5-3.5g of carbohydrate per 100ml seem to be average. In comparison, a glass of orange juice contains around 10g of carbohydrate per 100ml." If you're looking for a sugar-free kombucha, Remedy is a brand to try - its high-tech brewing process naturally brews out all sugar without affecting the delicate live cultures.
---
Shop The Nutritionists' Picks Of The Best Kombuchas On The Shelves…
VERDICT: With a great selection of flavours (we love raspberry lemonade) and an affordable price point, Remedy's kombucha is popular and easy to find in supermarkets. "This kombucha uses black and green tea, and it's a zero sugar product, with a carbohydrate content of just 1.5g per 100ml," says Belinda. Sweetened using two 100% natural and organic sweeteners, it's a great option if you're looking to cut back on your sugar intake.
RATING: 8/10
Available at PlanetOrganic.com
Fix8 Kombucha, £24 For 12
VERDICT: There are plenty of sugar-filled kombuchas on the shelves that resemble fizzy pop more than a health drink, but Fix8 brings together stylish packaging with great flavour and fermented benefits. Produced in small batches at its London microbrewery, each batch is fermented for 14 days to achieve optimum flavour and bacteria count. With just 3.9g of sugar per 100g, it's naturally low in sugar, too. 
RATING: 8/10
Available at Fix8.com
VERDICT: An organic kombucha that's brewed in small batches in the UK, this kombucha is made in the traditional way. It comes in four flavours – ginger and lemon, turmeric, elderflower and raspberry and hibiscus – and is packaged in dark glass to protect the delicate probiotics inside. It's also Belinda's kombucha of choice: "It contains sugar that's derived from raw cane sugar and natural fruit juices and extracts, meaning it has a reasonable sugar content of 3g per 100ml." 
RATING: 9/10
Available at PlanetOrganic.com
VERDICT: Willy's is known for its apple cider vinegar (which has its own health benefits) and brings it together with kombucha to create a unique drink. "This is a really interesting blend," says Belinda. "It contains five clean ingredients, including both black and green tea as well as sugar derived from cane sugar. While the product has a fairly high sugar content of 6g of carbs per 100g, the apple cider vinegar brings additional health benefits, and the fresh taste is well suited to someone who may not like more classic kombucha."
RATING: 7/10
Available at Ocado.com
VERDICT: A solid all-rounder, Profusion's kombucha ticks several boxes, says Hope. "If you haven't tried kombucha before, this is a great place to start as the brand offers some interesting flavour combinations – I love the ginger, turmeric and lemon version. They do contain more ingredients than other kombuchas, but they are mostly natural, as well as being ethically and sustainably sourced." At around 90 calories per serving, it contains marginally more sugar than other brands, but is authentic and packed with probiotics, says Hope. 
RATING: 7/10
Available at Ocado.com
GT's Original Kombucha, £5.25
VERDICT: For an authentic product, look no further than GT's kombucha. Fully fermented, it is bottled unfiltered, ensuring maximum purity and potency. "I would always opt for a kombucha that has natural and few ingredients, and one that's flavoured naturally with ginger or fruit juice, and this kombucha is just that," says Hope. "However, it's also made without sweeteners so may be best for more experienced kombucha drinkers as it's quite intense. Nonetheless, you can find it at Planet Organic in several different interesting flavours, such as ginger, cranberry and spirulina."
RATING: 9/10
Available at PlanetOrganic.com
Lo Bros Kombucha, £5 For 4
VERDICT: This is one of the only kombuchas that clearly shows the amount of living cultures on each bottle, so rest assured it'll support gut health. It's also very low in sugar, making it a good option if you're conscious of your sugar intake. "I like the fact this says how many cultures it contains," Belinda adds. "In every serving, there are more than 100 million cultures. It's also brewed slowly in the traditional way and is organic, too."
RATING: 9/10
Available at Ocado.com
DISCLAIMER: Features published by SheerLuxe are not intended to treat, diagnose, cure or prevent any disease. Always seek the advice of your GP or another qualified healthcare provider for any questions you have regarding a medical condition, and before undertaking any diet, exercise or other health-related programme.
All products on this page have been selected by our editorial team, however we may make commission on some products.
DISCLAIMER: We endeavour to always credit the correct original source of every image we use. If you think a credit may be incorrect, please contact us at [email protected].