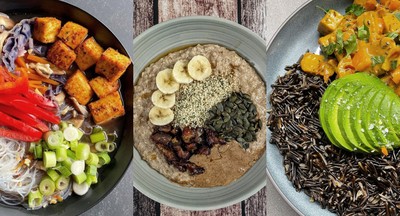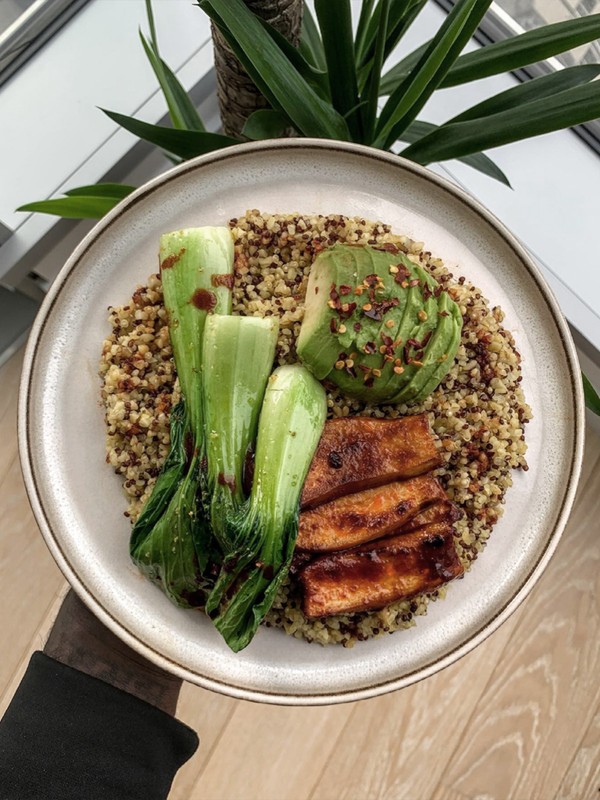 Everything A Plant-Based Health Coach Eats On Repeat

---
A plant-based diet could improve your health, enhance your energy levels and reduce your risk of some chronic diseases. From morning rituals to go-to protein sources, here's how health coach Jeffrey Boadi makes meat-free meals work for him…

I always start the day with a bowl of protein oats. Not only are they a nutritious breakfast option – being rich in fibre and a variety of vitamins and minerals – they're versatile and cost effective. I add berries, nuts and seeds, and stir in superfood powders like cacao and maca. My non-negotiable is to add in a scoop of plant protein to round out the amino acid profile. I'm a fan of Vivo Life protein powder – it contains hemp and pea protein and is a staple in my routine. A dose of healthy fats is also essential, either in the form of nuts and seeds or nut butter. A top tip is to use jumbo oats, not instant or quick-cook oats, as these are slower to digest and will keep your blood sugar stable for longer.
Medicinal mushroom tea features in my morning routine. I'm a big fan of wild-crafted medicinal mushrooms and have been taking them for the last six years. I alternate between reishi, chaga and lion's mane tea, and will also have a black coffee, which is a great performance enhancer for big gym sessions. 
I went fully plant-based seven years ago. If you're a traditional meat eater, remember you don't need to give up meat entirely – just aim to eat a diet that's 80% plants, with some animal products on the side. If you're not sure where to start, try adding mung bean or lentil sprouts to salads, or swap regular pasta for legume pasta, like black soya bean spaghetti, which can contain over 40g of protein per 100g serving – far higher than wholewheat pasta. 
Scrambled tofu is a great swap for eggs. I'm a creature of habit and will often stick to a bowl of oats on the weekend, but if I do venture out, it'll be a savoury breakfast with scrambled tofu, sliced avocado, mushrooms, tomatoes, sauerkraut and a couple of slices of sourdough toast. If I fancy something sweet, I'll make protein pancakes. Gail's sourdough is the best. I'll always pick up a loaf of potato and rosemary sourdough on the weekend.
You'll always find antioxidant-rich berries in my fridge. Whatever dietary pattern you follow, it's important to eat more antioxidants from various plant sources to reduce oxidative stress, and the different diseases that can potentially arise because of free radical damage. In my fridge, you'll also always find some tofu or tempeh, which I add to most meals. I aim to get 40-50g of protein with every meal, and tofu and tempeh are great plant-based sources. Tempeh is particularly good as it's fermented, making it a great choice to improve gut health. I always have a stash of other fermented foods like kimchi and sauerkraut, as well as plenty of fresh vegetables. 
You don't need to give up meat entirely – just aim to eat a diet that's 80% plants, with some animal products on the side.
I'd never buy a ready meal. I appreciate they can be useful from a convenience standpoint, but packaged foods are typically jacked up with excess sodium and fat to make them palatable. Since switching to a plant-based diet, I have also cut out white, processed carbs. Carbs get a bad rap, but complex carbs like sweet potato, oatmeal, quinoa, lentils, beans, buckwheat and teff are all nutrient-dense options.
When it comes to snacking, I keep things simple. If I'm at home, my go-to snack is a bowl of organic soya-based or coconut yoghurt with blueberries and cacao nibs. Simple, effective and tasty. If I'm out and about, I'll grab a banana, some dates or a protein bar. I love coconut water, too. I can't walk past a Planet Organic without buying something – my debit card has taken a hammering there in the last seven years.
A buddha bowl is a great WFH lunch. They're easy to make: I'll throw together baked tempeh or tofu with a variety of spices, quinoa, avocado, sauerkraut, black beans and hummus. I eat a lot of legumes like lentils, beans and chickpeas. Something like a mung bean stew is great to make in bulk and reheat for a speedy lunch. It pairs perfectly with a wholegrain like quinoa or buckwheat. Mung beans are underrated – they're incredibly tasty and pack a ton of nutritional value. 
Roasting vegetables is a great way to up the flavour. If you haven't tried roasted broccoli and cauliflower, you haven't lived. Add plenty of herbs and spices for a great side dish. I also like roasting a whole bulb of garlic – you can then add the cooked cloves to everything from soups to curries for an incredible depth of flavour.  
Herbs and spices are a good way to mix things up. I used to be obsessed with shito – a spicy black pepper sauce from Ghana – but I don't eat it anymore as one of the base ingredients is dried fish. I'm on the lookout for a plant-based version. In the meantime, I cook with a lot of tahini, coconut aminos (a lower sodium version of soy sauce), wholegrain mustard, balsamic vinegar and extra virgin olive oil. I eat a lot of hummus, too. 
Pasta is my go-to entertaining dish. I make a creamy cashew pasta with crispy tempeh, cherry tomatoes, sautéed kale and a cashew sauce made with basil, garlic, nutritional yeast, olive oil and various spices. It's always a winner with friends. That and a plant-based cheesecake. Use nuts and dates for the base; cashew cream and coconut milk for the filling; and other ingredients like blueberries and nut butter for flavour.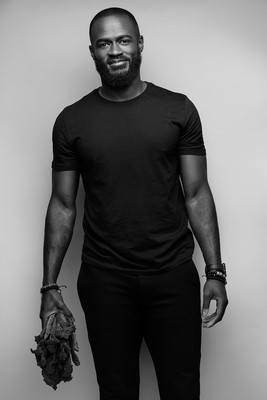 Cinnamon is the one ingredient that makes everything taste better. It gives great flavour to oatmeal and protein pancakes, and I often add it to energy balls made with dates, bananas, seeds and maple syrup. A generous amount of cinnamon is a must for my oatmeal and raisin cookies – a staple recipe in my kitchen. 
The choice of healthy restaurants has never been better. Eating out is a treat, but it doesn't need to be unhealthy. Farmacy is one of my favourite lunch spots – it's an organic, biodynamic, plant-based restaurant that serves classic and seasonal dishes. I can't get enough of its plant-rich bowls, soups and salads, and flatbread pizzas. If I'm ordering a takeaway, it'll be Lebanese, which can be a surprisingly healthy option. Hummus, falafel, tabbouleh salad and flatbread makes a decent, plant-based meal. 
If I'm feeling run down, I make soup. It's easy to digest and you can pack in a variety of vegetables. 
My top label-reading tip is to always check the fibre content. Most of us don't get anywhere near enough fibre in our diet, and we could all benefit from eating more. When looking at a label, aim for a food that ideally has more than 6g of fibre per 100g to make sure you're getting a decent intake. At the same time, it's important to remember that not all packaged food that has a label is necessarily unhealthy. Hummus, tofu and fresh sourdough, for example, all come in a packet and are foods I regularly eat. 
Start by finding a few dishes you love. Transitioning to a plant-based diet won't happen overnight, but it's all about small changes. Diversity is important in our diet, but having consistency in the overall structure of your meals across the week will help reduce decision fatigue. For example, I have oats pretty much every day, but constantly mix it up, adding fruit, nuts, seeds, superfood powders and nut butters. Find some basic dishes you enjoy – it could be a pasta dish, curry, soup or salad – and get creative. 
For more plant-based inspiration from Jeffrey, follow @JeffreyBoadi on Instagram
---
SHOP JEFFREY'S HEALTHY KITCHEN ESSENTIALS HERE
All products on this page have been selected by our editorial team, however we may make commission on some products.
DISCLAIMER: We endeavour to always credit the correct original source of every image we use. If you think a credit may be incorrect, please contact us at [email protected].