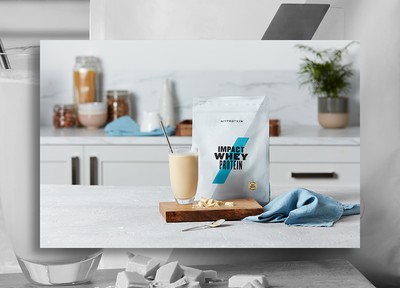 How To Choose The Right Protein Powder

---
These days protein powders are mainstream thanks to their ability to help boost performance, improve recovery and build lean muscle. But which one is best for you? From whey to casein and plant-based formulas, "Myprotein" makes it easy to decide. Here's the full range, including everything its products can do for you and why we rate them so highly…

CREATED IN PARTNERSHIP WITH MYPROTEIN
BEST FOR ALL-ROUND FITNESS: Impact Whey Protein
If you exercise for more than 2½ hours a week, whether pounding the pavements or lifting weights, it's worth increasing your protein intake. Research suggests it could be worth eating up to 2g of protein per kg of bodyweight, and whey is an easy way to pack in the protein. One scoop of Myprotein's Impact Whey contains 21g of protein in an easy-to-digest format. There's a reason why this is one of the UK's most-favoured whey protein powders: it's an ideal all-rounder, perfect for those something fuss-free and effective for a reasonable price.
Available here
BEST FOR SOMETHING DIFFERENT: Clear Whey Isolate
A juicy alternative to traditional shakes, Myprotein's Clear Whey Isolate is the product you've been waiting for. Providing 20g of protein in a water-soluble formula, there's no milky taste or texture and it's low in sugar. Simply mix a scoop with water, shake and leave to settle for 15 seconds. Plus, with just 0.1g of fat, 0.3g of sugar and less than 90 calories per shake, it's the perfect way to stay hydrated throughout the day.
Available here
BEST FOR TONING UP: Impact Diet Whey
This whey product is for those who take their gains seriously. Its taste is sweet, but never sickly, and it mixes well with both water and milk. It packs a punch too, containing 39g of protein per serving alongside ingredients proven to support healthy weight loss – think green tea, choline and conjugated linoleic acid (CLA). With minimal carbs per serving (just 6g per two scoops) and a hefty dose of fibre, it makes for the perfect post-workout fuel or breakfast option when time is short. It also contains glutamine, which naturally occurs in protein and helps repair new muscle – important when you're looking to tone up. 
Available here
BEST FOR PEAK PERFORMANCE: The Whey
The Rolls Royce of protein powders, Myprotein's The Whey is worthy of a gold star. With 25g of protein per serving, this ultra-premium blend of whey concentrate, whey isolate and hydrolysed whey is unlike anything else out there, boasting serious nutritional credentials for improved performance. Whey is made from a milk derivative and has long been lauded as the best form of protein powder because it's around 70% protein – higher than many plant-based options. It's easily digested and also contains all the essential amino acids. For the best results, take The Whey as part of a shake within 30 minutes to an hour of finishing a workout, so it can contribute to muscle growth. Bonus points go to the 6.5g of branched-chain amino acids (BCAAs) per serving, which will aid muscle repair.
Available here
BEST FOR RECOVERY: Slow Release Casein
Another dairy by-product, casein is a favourite among gym goers for its fat-blasting reputation . If you're on a mission to improve fitness levels and build strength, it could be worth seeking out casein, which contains high levels of glutamine, known to boost the immune system and speed up recovery. It's also one to try if you're on a mission to get lean as casein is digested more slowly than whey and also prevents muscle breakdown, enabling you to lose weight without losing precious muscle. Our top tip? Take in the evening for the best results. One study found taking 40g of casein pre-slumber improved protein repair rates by 22%, effectively speeding up your gym progress by around a fifth.
Available here
BEST FOR A PLANT-BASED OPTION: Vegan Protein Blend 
If you struggle to digest lactose or are vegan, Myvegan Protein Powder is one to try. A blend of pea and fava bean protein isolates, it contains 22g of protein and 110 calories per serving, as well as a full amino acid profile to ensure your muscles receive all the benefits. If you're looking to enhance muscle recovery, this blend could be for you, as studies show pea-based protein powders are naturally rich in arginine, of which 6-12g a day has been shown to significantly boost fitness performance. Plant-based protein powders are also easier to digest, making this vegan blend ideal if you struggle with post-workout stomach issues.
Available here
For more information, head to Myprotein.com
 
DISCLAIMER: Features published by SLMan are not intended to treat, diagnose, cure or prevent any disease. Always seek the advice of your GP or another qualified healthcare provider for any questions you have regarding a medical condition, and before undertaking any diet, exercise or other health-related programme.
 
DISCLAIMER: We endeavour to always credit the correct original source of every image we use. If you think a credit may be incorrect, please contact us at [email protected].